Whether you're looking to start your own certification program or simply want to learn more about the process, read on!
What is a certification program?
A certification program is a system that allows individuals to demonstrate their competence in a particular skill or profession.
Professional organizations or educational institutions administer certification programs, often requiring passing an examination or completing a certification course of study.
Some certification programs may also require continuing education or periodic recertification to maintain the individual's credentials.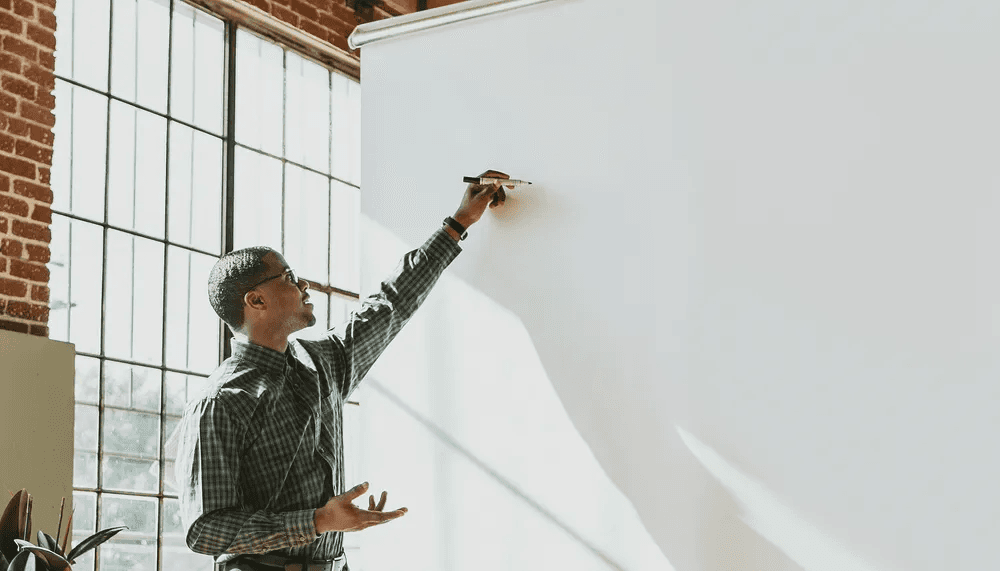 Benefits of a certification program 
Whether you are an individual who decides to learn something new or a company that organizes a new certification course for your employees, everyone can benefit from online certification programs (or in-person ones). 
Here are a couple of the benefits of certification training:
Investing in your employees' skills
For businesses, certification programs can help ensure employees have the necessary skills and knowledge to do their job correctly. For example, any leadership role might require certification in the agile approach to project management.
Workers are the backbone of every company, so the better they are trained, the more productive and profitable a company can be. Therefore, it is essential and advantageous for companies to invest in their employees' skills by providing training programs.
Creating an educational environment at work
You can create an educational environment at your workplace by providing a training program. So, your company would be a great place to work for those willing to expand their knowledge, gain new skills, and be a professional in a particular industry.
Training helps employees learn new skills, stay up to date on industry changes, and improve problem-solving abilities. 
Attracting high-quality employees and improving customer satisfaction
You can also use both in-person and online certification programs to attract and retain high-quality employees and improve customer satisfaction.
Certification also shows that employees are dedicated to their careers and are willing to invest time and effort into learning new things. So, attracting more ambitious workers is possible when they see that a company they want to apply to provides such certified courses.  
The sense of development for individuals
For individuals, certification programs can provide a sense of accomplishment, completion, and pride and improve job prospects and earnings potential. 
If you, as an employee, are not quite sure about participating, you can ask for a free demo of a new certification course you are planning to take part in.
How to create a certification program
Now that we've covered a certification program and some of the benefits of having one, let's look at how you can create your own. There are four main steps you'll need to take:
Step 1: Developing the program content – its goal is key
The first step is to develop the program content. It will include determining the objectives of the certification course and what topics you want and need to cover.
Once you have a clear idea of the program's goals and scope, you can begin developing the actual content, including course materials, test questions, and so on.
Step 2: Creating the application process
The next step is to create the application process. It will involve designing an application form and setting up a review process to ensure that only qualified applicants are accepted into the program.
Step 3: Certifying individuals
After completing the application process, it's time to certify individuals. It will involve administering exams or completing courses of study, as well as providing individuals with a credential that they can use to demonstrate their competence. If you are wondering how to certify participants, we will be talking about certificates in a moment.
Step 4: Maintaining the program
Last but not least, maintaining the certification course is essential. It will involve periodically reviewing and updating the program content and monitoring compliance with the program's requirements. 
Additionally, it's essential to ensure that certified individuals remain current in their knowledge and skills by requiring them to complete continuing education or recertification.
By following these steps, you can create a certification program that will benefit both businesses and individuals. So, you may also find these tips helpful if you're about to start your own program or learn more about the process.
Certification program – good practices
We've got you covered in terms of good practices worth incorporating before and during organizing a certification program. Here are some crucial ones.
Make it easy to get started
It is always challenging to take the first step. So, it's a good practice to make it as easy as possible for people to start your certification program. One way to do this is by having a clear and concise getting started guide. The guide should include a detailed description of the steps they need to follow and what resources are available to help them.
Make it valuable
Your certification program should be valuable to your company and the individuals who complete it. This means that you need to carefully consider what skills and knowledge are needed for someone to be successful in your industry. 
Before starting a certification program, identify the areas in which your workers need to improve, so your company and employees can benefit. Figuring it out will help you create the program by giving you hints and suggestions for enhancement. 
Make it affordable
A certification program's affordability is another crucial aspect to consider. You want to ensure that your program's price is accessible to as many people as possible. 
There are many ways to do this, such as offering discounts for early registrants or providing scholarships for those who cannot afford the program's total cost.
Make it flexible
Flexibility is another key consideration when creating a certification program. You want to ensure that individuals with different schedules and commitments can complete your program. 
One way to do this is by offering a variety of delivery methods, such as online, in-person, or self-paced options.
Make it enjoyable
Finally, you want to make sure that your certification program is enjoyable for those who complete it. Therefore, try to make your program engaging and interactive, for example, by incorporating games and challenges into the learning process.
How can Certifier support your certification program?
Certifier is software for building digital credentials and would be a great asset to your certification program. It is a win-win situation for your brand as well as for participants. Receiving a digital certificate is a way to reward participants for their effort and dedicated time. In addition, it motivates them to keep striving for more.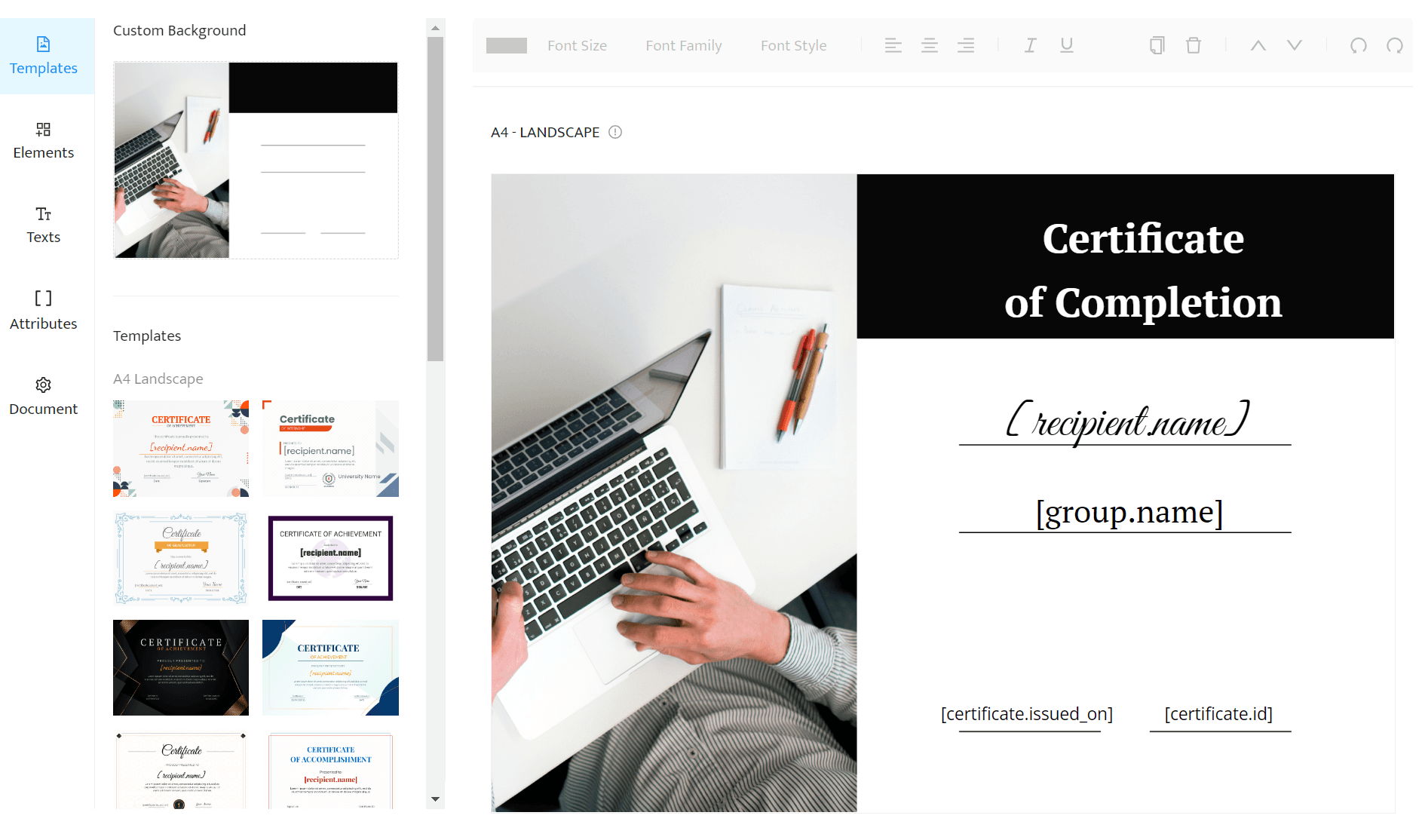 Thanks to many Certifier features, you can produce impressive certificates for your certification program. Let's take a look at some most vital ones.
Sending certification in bulk
If your certification program counts many participants, creating manually digital credentials will take a lot of time. But it doesn't have to. When you have a list of participants prepared previously in a CVS file, the process of sending documents in bulk is a piece of cake. 
What should you do exactly to send thousands of certificates in bulk with Certifier? 
Prepare a list of participants (their names and email addresses in two separate columns).
Create a certificate using a template or make it from scratch.

Upload the list.

Send documents to attendees.
As you can see, there aren't many steps to take to send numerous credentials.
Getting marketing insights
Getting insights is valuable if you want to analyze certificates' performance after sending them. For example, you can see how many attendees share their documents on LinkedIn, Twitter, or Facebook. And monitor how many certificates are published and opened.
Also, is it possible with Certifier you want to generate an automatic congratulatory email. It is fully personalized, so every attendee receives an individual message with a thank you note. 
You may think it's like running an extra mile, but don't worry. Saying thank you in that way will pay off. Although it may seem like a detail, it would positively influence any type of certification program and its successful completion. 
Manage recipients after sending 
Even if you discover a typo in the participant's name or email address, you can manage all issued credentials in one place. By using Certifier software, you can handle the entire certificate distribution process and correct something as a case of little mistakes.
Use templates or build your certifications from scratch
If you don't have much time for creating your documents from the group up, use Certifier's template. There are many available so that everyone will find something suitable. 
How to make certificates using a template?
All you need to do is to choose the template you find the best and fill in the information (for example, participants' names, names of the program, organizations, signatures, or anything relevant to you). 
The next vital step is to map dynamic attributes to the information on the certificate. Thanks to the attributes, you can send the documents later to all your recipients only with a few clicks.
If you are interested in how the attributes exactly work and how to use them, here is the article ➡️ How To Use Dynamic Attributes To Create and Send Certificates in Bulk.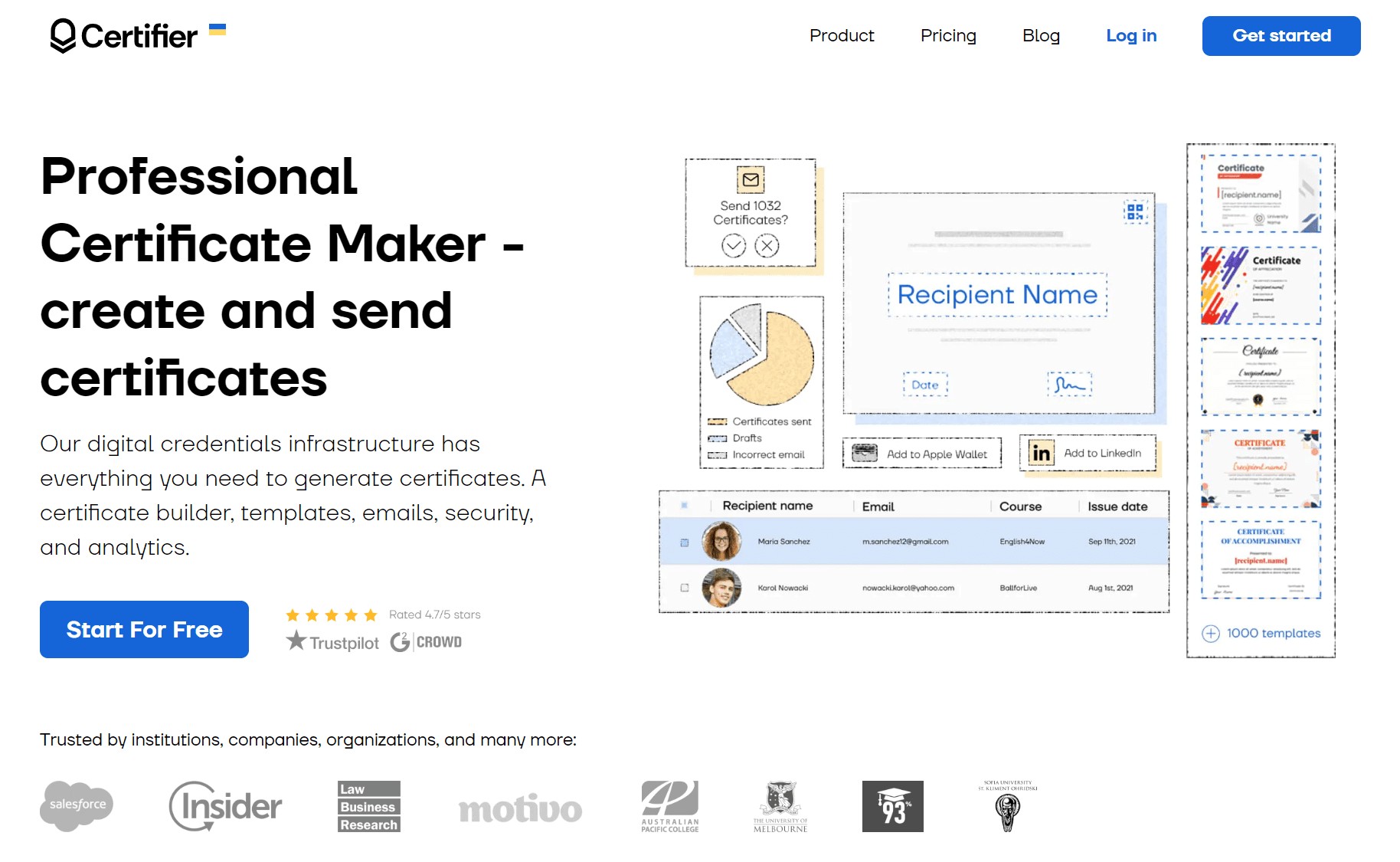 How to make certificates from scratch?
The second option is to create digital credentials from scratch. But, again, it's pretty straightforward with Certifier. 
You can upload your own background if you have one. If not, choose the template you like, and then, in the upper right corner, there is the Custom Background choice. Click on it, and you will see a chosen template with no text on it.
Once you have finished building your certificate from scratch, remember to map the dynamic attributes.
Did you know that you can issue your certificates in 15 minutes? For more details, here is the guide ➡️ How to Make DIY Certificates in 15 Minutes
Certifier and is excellent support for your certification program
To conclude - you can create and distribute digital credentials with Certifier and, at the same time, save a lot of time and money. Of course, you can hire a professional to design certificates for those who completed the program. However, it may be costly. The other thing is that you will need to distribute them manually anyway. 
So, if you want to try Certifier, click here to start a free 14 day trial!
Certification Program FAQ
If you have some questions, check the FAQ section below. Maybe the answer is there!
1. What is a certification program?
To put it short, a certification program is a way to ensure that an individual has the skills and knowledge needed to be successful in a particular industry. Companies, professional organizations, or even educational institutions can offer certification programs.
Most certification programs will require individuals to complete a certain number of hours of training, pass an exam, and/or maintain a certain level of experience. In some cases, certification programs may also require individuals to complete continuing education credits to maintain their certification.
2. What are the benefits of certification?
There are a number of benefits that come with certification. For individuals, getting certified can lead to improved job prospects, higher wages, and greater career satisfaction. It's also about commitment to professional development as well as a way to stand out from the crowd. 
Certification can help companies improve employee retention rates and attract high-quality applicants. Certification programs can also help improve the quality of your product or service. Additionally, the programs boost employees' confidence. It's also a way to stand out from other job seekers.
When done right, certification programs can be a win-win for both individuals and companies.
3. How long does it take to become certified?
The time it takes to become certified will vary depending on the program. Some programs may only require a few hours of training, while others may require several months or even years. In most cases, individuals will need to complete a certain number of hours of training and pass an exam before being certified. However, some programs may require individuals to complete continuing education credits to maintain their certification.
4. How much does it cost to become certified?
The cost of certification will also vary depending on the program. Some programs may only require a few hundred dollars, while others may be several thousand. In most cases, the cost of certification will include the cost of training, exams, and materials. Some programs offer discounts for early registrants or provide scholarships for those who cannot afford the program's total cost.
5. What is a recertification process?
The recertification process is required to maintain certification. In most cases, individuals will need to complete a certain number of continuing education credits every few years. In addition, individuals and companies need to remain current on the latest trends and industry standards through the recertification process.
6. What resources are available to help me prepare for the certification exam?
Several resources are available to help individuals prepare for certification exams. The most crucial ones we want to mention are: offering study guides, practice tests, and other resources that can be helpful and provided by professional organizations. Additionally, many online courses and tutoring services can help individuals prepare for exams.
Share this article

WRITTEN BY
Sergey Butko
Tech entrepreneur. Forbes 30 Under 30 Europe. Digital Marketer.