We compare two certificate makers - Canva, a popular graphic design tool for non-designers, and Certifier, a full-fledged tool that enables you to design, personalize, issue, and send certificates in bulk to recipients of your choice.
Every company offering online courses, workshops, webinars, or online studies should create and issue certificates.
What's more, certificate creation should be an integral part of the operations of every such institution. It should have defined objectives and be organized using processes and precise requirements.
Even though it seems like an easy thing to do - you just need to create some kind of design and send it to the right people; it's easier said than done. You need a few crucial elements to set up and implement a smooth and effective certificate creation process.
Obviously, the most important one is choosing a certificate maker.
Certifier - design, issue, and send certificates automatically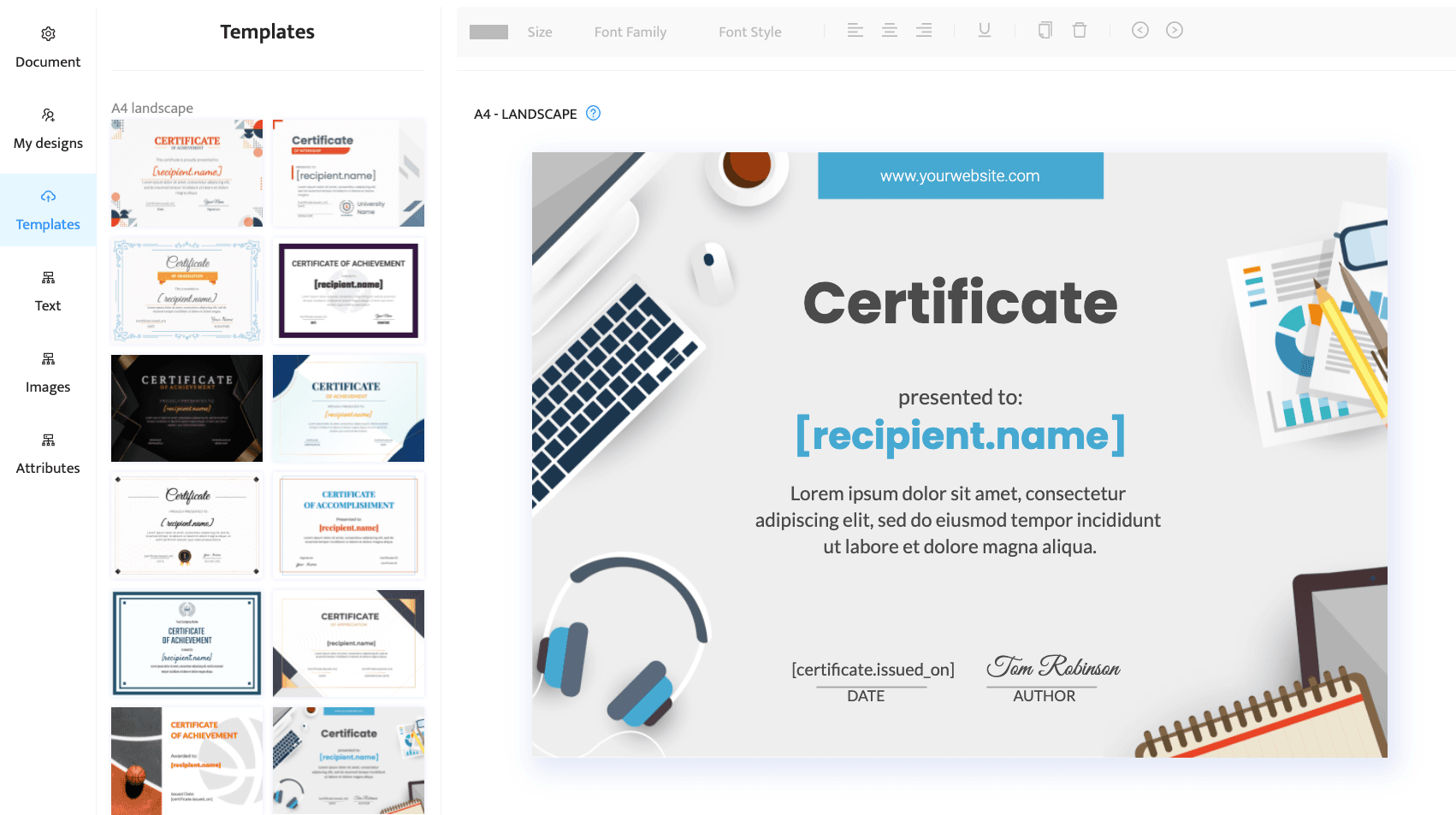 Certifier is an all-in-one certificate maker. It's a tool you can use to either create customized and personalized certificates or choose ready-made certificates from a vast library of certificate templates. Choosing how a certificate looks is just one step.
Dynamic text customization
Next comes customization. With this certificate maker, you can edit and adjust every element of a certificate.
You can use two types of text fields on your certificate: repetitive (like date, heading, certificate name) and unique (recipient name, certificate ID).
Repetitive text fields are used multiple times on different certificates, whereas unique fields occur on one certificate only.
Repetitive text fields are represented on certificates as Attributes and can be placed wherever you want to. Then, you need to adjust the font used in text fields - choose size, color, and weight.
Learn more: How to send emails with certificates to multiple recipients
Images on a certificate
Then come images - in the Images tab, you can select any image you want to place on a certificate.
Usually, it's your logo, visual representation of a price, logos of partners, or some abstract images depicting what the certificate is handed for. And don't forget about a signature at the bottom of the certificate.
Recipients' list
Now comes a crucial step - you have to upload to Certifier a list of recipients (in a CSV file) with all necessary data that will be used to create personalized certificates.
Such a list should include the name and surname of the certificate's receiver, the name of the certificate, issuer's name, certificate ID, date, and any other information you want to present on a certificate.
Sending ready PDF files
The last step is what makes Certifier stand out. You can use this certificate maker to create certificates and send them automatically to recipients.
When all data from a CSV file is uploaded to Certifier, you should click the Publish and Send buttons. This action will prompt a mailing, and every student or webinar or course participant will receive a personalized certificate straight to their inbox.
And this is it - four easy steps that help you create and send certificates hassle-free.
Learn more: 8 Best Tools to Create Certificates for Free
Canva - create certificates manually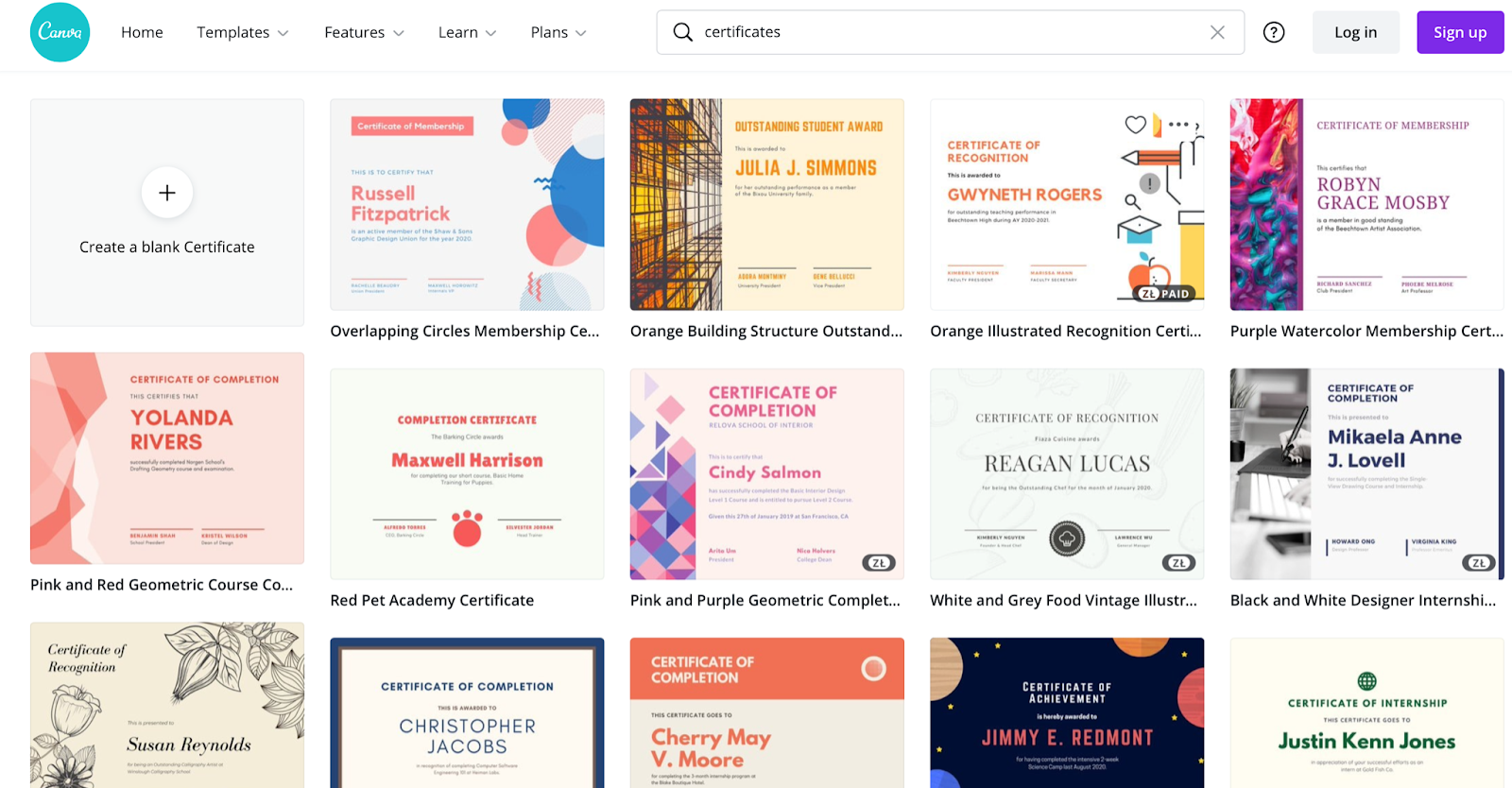 Canva is a well-known graphic design tool for non-designers. It's easy to use, has a super accessible interface, and offers simple navigation. You can use it to create social media images, visuals to use in your blog posts, presentations, headers, and, obviously, certificates.
Canva, similarly to Certifier, offers many certificate templates you can choose from. The certificate library is free and available to everyone with a Canva account.
However, creating certificates with Canva is not as easy as doing so using Certifier. If you want to use Canva for certificate creation, you have to do it manually. There's no way to automate this process.
You have to create a certificate using a drag-and-drop creator and place every element where you want it to be. Then, you need to select text fields and manually implement all data, including certificate ID, course date, name of the recipient, etc.
You can use basic data (that is the same for each certificate) and then duplicate the first design, but then you have to apply data like name and surname or certificate ID manually, one by one.
What's more, when you are done filling out every certificate with the recipients' data, you can just create PDF files and download them on your computer. Here's where Canva's role stops. You can't use it to do anything more.
Canva doesn't provide an option to send certificates automatically to a list of recipients. You have to use a separate tool to do so, which makes the certificate creation process way more complicated and more time-consuming.
Canva is a reliable tool for creating a few certificates you can send by hand. It won't prove useful if you have to make, issue and send 100 or even 50 certificates. You need a far more advanced solution to do so.


Conclusion
There are a few similarities between Canva and Certifier.
Both of these tools facilitate certificate design and offer numerous templates that are easy to customize.
However, Canva capabilities don't go further than issuing certificates. You also can't automatically personalize documents created using this tool; if you want to use the recipient's name, unique certificate or course ID, etc., you need to enter this data manually.
So, if you decide to use Canva as your certificate maker, here's what you'll miss:
automated data distribution,

certificate personalization,

automatic certificate export to PDF,

sending certificates in bulk to multiple recipients.
On the other hand, Certifier offers a vast pool of possibilities in the form of advanced features like certificate personalization using dynamic attributes, uploading lists of recipients and sending emails with certificates in a PDF file automatically.
Thanks to that, Certifier is an end-to-end solution you can use to create and issue and distribute certificates in a few clicks.
You can test this tool for free to see whether it meets your expectations. Just create an account and start creating beautiful certificates in an agile and efficient way.
Share this article

WRITTEN BY
Sergey Butko
Tech entrepreneur. Forbes 30 Under 30 Europe. Digital Marketer.