Life would be boring if you could use only one type of certificate to award your customers – this would be a terrific choice.
Of course, you would be able to issue many digital documents, but with the same design and layout, and that isn't a very optimistic and attractive plan for your business.
But fortunately, there are many creative certificate designs and features so you can build outstanding online diplomas, credentials, and certificates.
Why should you provide different types of certificates?
You already know that a certificate can be a form of award, a souvenir, and a document that proves specific skills and achievements in life. Companies, educational institutions, and specialized groups award certificates to participants who have a certain level of knowledge. Such documents are sometimes requirements for specific jobs, so having them is really beneficial.
So, after all, we have many opportunities and reasons to give out certificates. They may be related to:
school

work

hobbies

competitions

extracurricular activities

etc.
You can benefit greatly if you take advantage of different certificate types and will customize them as they will become more: unique, valuable to your audience, attractive, competitive, and engaging.
It's very important to personalize your certificates and customize their appearance depending on the certificate requirements and reasons you are issuing them.
Using a different project each time doesn't mean you'll have to spend more time on issuing certificates. Also, you don't have to create cool certificate designs or a document from scratch – you can just choose a pack of editable certificate templates and take advantage of cool certificate designs!
You can use several, a dozen, or even hundreds of templates depending on what kind of fabulous certificate you want to issue. The selection itself takes a few seconds – well unless you're into several designs at once. ;)
So what do you think? Still wondering if it's worth issuing different types of certificates and making sure they look good. Or maybe you're confused as to what kind of certificates to issue?
Take it easy. 
We're about to give you over 30 ideas for different certificates! 
30+ ideas for your certificates
#1 Leadership training
Such training can keep you abreast of the latest leadership trends and can help you develop the next generation of leaders in your organization. In addition, a certificate of completion in this field can help you create the most effective leadership skills for your organization.
#2 Winning a contest
Organizing contests can be very engaging, motivating, and fun at work and school. The perfect idea is to give awards like certificates to all participants, or just the first, second and third place winners. You can use a wide range of award certificate templates available in Certifier.
#3 Webinar attendance
Maybe you don't know how to reward webinar attendees and are looking for any creative ideas? Bet on the certificate of participation! This can be a valuable document for all attendees – even more so if your webinar was unique and ended with a follow-up test! Plus, such certificates engage the audience and encourage them to attend future meetings.
#4 Finishing a course
Courses are essential for employee development. They provide up-to-date information and broaden knowledge. For example, studies on social media allow you to learn about the latest trends. Taking courses enables you to pursue your career aspirations. Such studies usually end with an official certificate. 
Also, a certificate of completion is incredibly important in the labor market – thanks to them, employers can see that a job candidate is really interested in the industry and developing in this area.
#5 Workshop attendance
Workshops are meetings where a team of experts imparts specialized and particular knowledge. As a result, employees can gain the skills necessary to succeed in higher positions through participating in such programs. That's why receiving a beautiful certificate from these meetings can be a precious document in career development.
#6 Internal corporate training
If you conduct obligatory in-house training, you can also end them with certificate distribution. Although it is something compulsory, it will make your employees more eager to solve them.
#7 Passing a professional exam
When you conduct a complex and demanding exam, you can also hand out a certificate to all those who have passed. Such a certificate will also be appreciated in the job market or among students who apply for university. This can be a great document to start their career path. If such documents aren't issued, a student can make a certificate request.
#8 Graduation
For all those who have just graduated, certificates can be handed out in addition to their diplomas! This could be an award for high academic achievement, for example, or a gift from the class teacher. But, of course, it will be a great souvenir too!
#9 Getting new qualifications
To recognize students/employees for gaining new qualifications and skills, you can give them a gorgeous certificate - for example, a certificate in content creation. This will highly motivate them to continue working and learning!
#10 Completion of an internship
Completing an internship is an amazing accomplishment that can open doors for you to advance your career goals! It's also the perfect opportunity to present your interns with a certificate of completion and congratulate them for their efforts and hard work!
#11 Participating in club/organization
Being a member of a club/organization is quite a challenge. It requires extra time, commitment and effort. That's why these digital certificates will work well here too. Use plenty of design inspiration and create an outstanding certificate in minutes. A member can then print out such award and hang it on a wall.
#12 An outstanding employee of the month/quarter/year
Looking for a way to reward your employee of the month? In addition to cool benefits, you can give them this digital document to thank them for their service and dedication – just present a certificate of excellence to an exemplary worker!
#13 Achievement in academics
A couple of students stood out for their efforts during the school year? If so, recognize them for their involvement! How to do that? Yes, choose certificates! Such a document can be submitted to the university they will be going to.
#14 Sportsmanship
Fair play is a good thing, so if any player/team stands out in this regard, honor them and award them with a professional-looking certificate. Doing so will set an example to others that fair play pays off.
#15 Community service
Community service is now one of the most important aspects that schools and companies try to do in order to look after not only their profits but also the welfare of society. So if any of your departments/teams/employees are doing this work outstanding, award them in the form of a high-quality amazing certificate!
#16 Perfect attendance
Working remotely allowed people to work from home, but some of them were tireless in going to the office when they could. Thank these employees for their commitment and flawless attendance. Such a certificate of recognition confirms that management knows how important their commitment is.
#17 Customer service excellence
Some of your employees in customer service may stand out in terms of the results they achieve. If you recognize them with a beautiful certificate, you can motivate other employees to improve their performance!
#18 Safety record achievement
We often don't realize the importance of information protection and security in a company, but certain people always step up to the plate and have everything under control. A certificate of appreciation may be the best award here!
#19 Anniversary of employment
The employment anniversary is also a great opportunity to present commemorative certificates. Plus, it can be the start of a tradition at your company!
#20 Promotion
Changing to a better-paid or more prestigious position not only gives the employee job satisfaction, and career advancement but also motivation to continue working. When you promote an employee to a higher position, you already reward them, of course, but giving a gorgeous certificate in such a situation will be like the icing on the cake!
#21 Outstanding performance in a project
Successfully completed an extremely difficult, time-consuming, but profitable project/task? That's great! If you've noticed that the performance of a few employees contributed significantly to the success, don't hesitate to provide them with a certificate!
#22 Performing creativity
If any employee shows great creativity when solving tasks and shares many pertinent ideas with the team, reward them with an artistic certificate for their contribution! Show other employees that you value creativity and motivate them to take action.
#23 Introducing innovation
Innovation can help your company gain a competitive advantage, increase productivity, efficiency, quality of work, and make improvements in an organization or work methods. Therefore, they have great value for your company's performance. You can encourage all your teams to introduce innovative solutions in exchange for the possibility of obtaining a certificate.
#24 CPR or first-aid
You can provide first aid and CPR training to volunteers at your school or business. Everyone who participated and successfully passed the certification exam will receive an official certificate and, above all, will know how to help those in need in the future.
#25 Eco-friendly practices
Environmental education of employees is essential because, without the involvement of the whole team, not much can be changed. Only cooperation will allow for successive progress in saving water, paper or minimizing waste in the office. You can give a certificate to each employee who follows the new rules or introduces new eco-practices!
#26 Event sponsorship
Are you hosting an event and attracting a lot of sponsors? Take a moment to give them certificates and publicly thank them for their support and help! This will further strengthen the bond between you.
#27 Earning extraordinary profit for the company
When your sales rep has had a good time and provided the company with the kind of revenue that has surpassed your every imagination, thank them accordingly! How about perks and certificates? That sounds like a good idea.
#28 Introducing a company to a new market
Has your company just successfully entered a new market? Then it's time to celebrate! Host a company party and present certificates to those without whom this success would never have happened!
#29 Language learning
Have you done your language training, and it's coming to an end? So now it's time for an exam, which ideally should be related to the certificate of completion. Such documents are extremely important as they are required for certain positions and confirm your level of knowledge of the language.
#30 Rewards for loyal customers
Do you have a group of loyal customers who are wondering how to thank them for their purchase? Design certificates for your best customers and improve their experiences even more!
#31 Saving the company money
Or maybe some manager has deployed resources brilliantly and thus provided a lot of savings to the company? After all, that's another opportunity to present a certificate!
#32 Birthday gift for a boss
Your boss has a birthday, and you don't know what to give them? You can choose such a gift certificate among the many personalized gifts, e.g., for The Best Boss in the World or the Most Inspirational Boss Ever. This form is an awesome choice as a unique gift!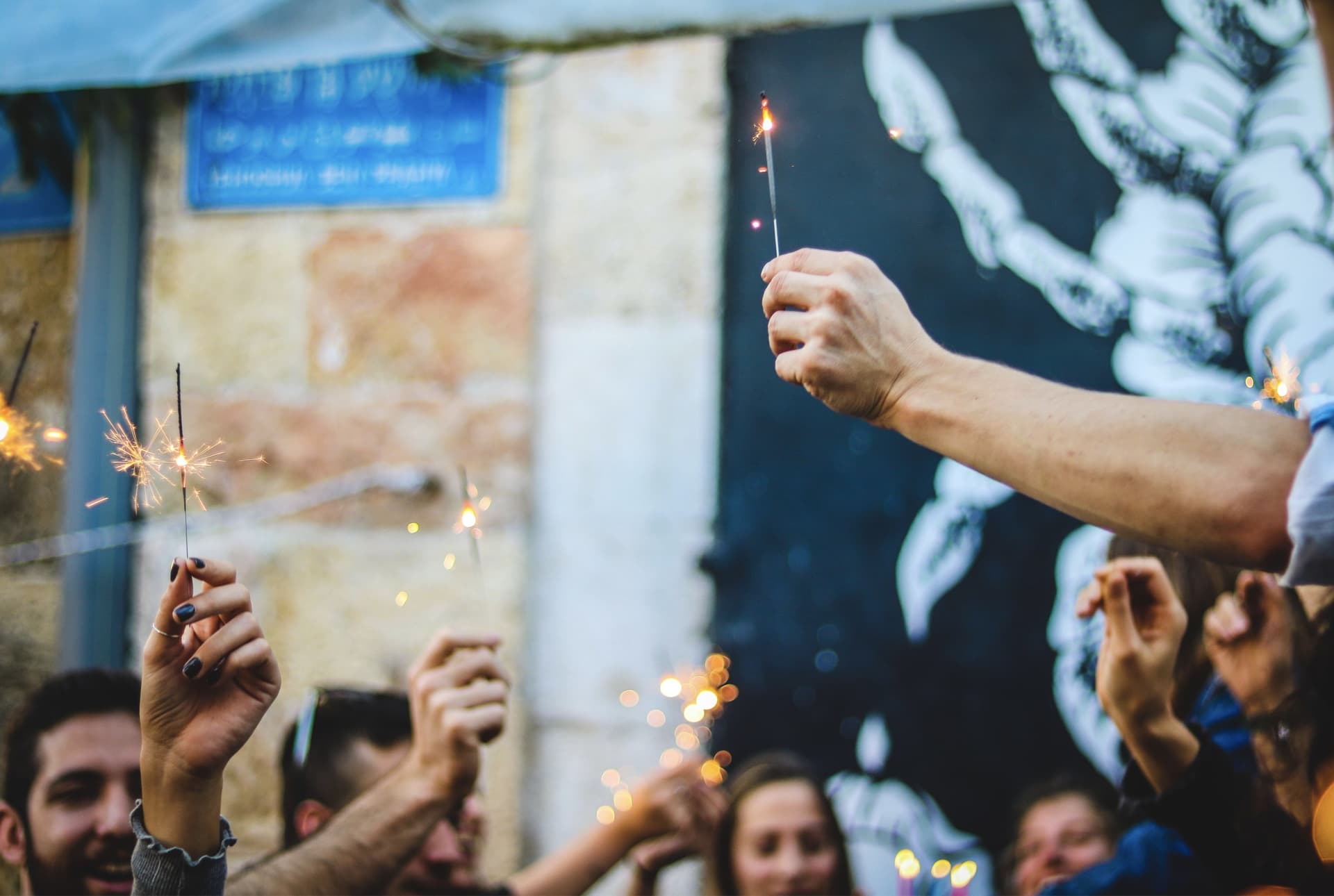 The list doesn't end here, as there are a lot of other certification opportunities out there! But now, we want to present you with an excellent tool for beautiful certificates. 
So, are you looking for some cool certificate design inspiration? Do you want to meet the tool which will provide you with modern certificate design templates? Prepare for Certifier!
Certifier is here for you!
There are ample choices of high-quality amazing certificate programs, but you can create all of these certificate ideas in Certifier – a professional certificate maker that doesn't require installation or downloading. 
This tool has everything you need to generate beautiful certificates, including: 
a builder, 

cool certificate design ideas,

emails, 

security,

analytics,

features and plenty of options,

marketing insights,

unlimited downloads.
That means using this tool, you are able to create, issue, manage, verify, and share any of your certificates very efficiently – you no longer need to involve the majority of your team to issue these documents online. Surely one person can handle the entire process and not spend all day on it!
Certifier is an excellent resource for gorgeous certificates. 
Both small organizations and big companies can take advantage of this platform. Or, if you're just looking to create a couple of certificates and single file downloads, still our software is for you.
Further, this tool provides a management system that allows you to deal with the certificate distribution process from start to finish. It has a suite of tools perfect for creating groups of recipients, quickly issuing, modifying, resending, and deleting or revoking expired certificates.
Try out Certifier to provide your customers with awarding certificates about:
webinars,

courses,

education,

workshops,

product companies,

etc.
Create what you want
Certifier gives you free rein – you can either create documents from scratch or use templates. It's a perfect choice!
You will be able to make an amazing certificate design within minutes with our powerful certificate builder.
Let your imagination carry you away, and build a creative certificate template today. Don't limit yourself to anything! Create 100% your own project thanks to many design options. Use customizable text, change font size, and add objects. Also, change the certificate size and view of the document – choose if you want to issue a horizontal or vertical certificate. 
Use dynamic and customizable attributes, and add personalized branding, colors, and style. Simple fonts look great, but the brand-colored text is a top certificate style trend, so if you've got a well-known brand, keep the colors, fonts, and graphics you use on your certificate consistent with your company.
Is there something you don't like? It's ok! Use modern certificate design elements – add, remove, change, and do whatever you want to create a beautiful certificate design. With our certificate maker app, you can build, for example:
end-entity certificates

award certificate designs

certificate of appreciation templates

gift certificate templates

server certificate templates

or minimalist certificate design
Cover all certificate design elements. Here's how ➡️ Top 8 Best Certificate Design Principles to Create a Lasting Impression
Choose professional templates
Don't have time to create documents yourself? Or do you find that you are not very creative and prefer to rely on ready-made projects? 
That's why we provide you with over 300 certificate design templates - there's plenty to choose from, and create a certificate in minutes!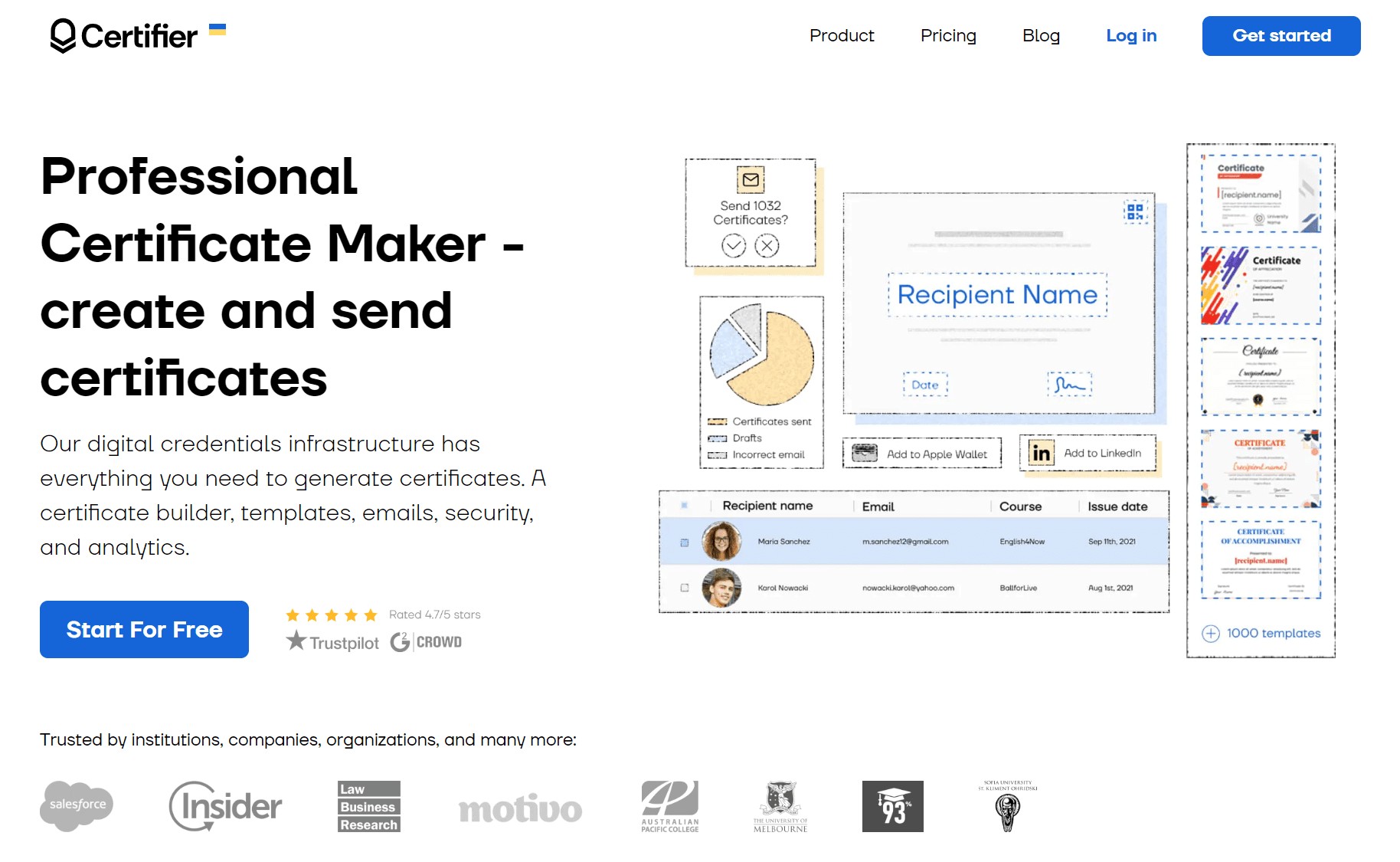 We have many creative certificate design ideas in our certificate maker app.
Templates are an awesome choice. You will find in Certifier design elements perfect for documents intended for schools, employees, competition winners, webinar participants, etc.
How about a minimalist certificate design? Our modern certificate style designs can be edited to your liking so you can remove what you want. Finally, our ready-made beautiful certificate templates are fully customizable to make your work as easy as possible.
What's more, the printable certificate templates also come in different sizes, so you don't have to stick to one variant. Choose a horizontal or vertical certificate – horizontal documents are also a certificate-style trend.
What's your favorite certificate?
So, as you can see, it's a perfect choice to use different types of certificates and create cool certificate designs. This will bring you many benefits, but foremost, it will improve the customer experience! 
It's human nature that we like beautiful things, so if you issue certs, do it well and with Certifier. Our certificate templates collection will sweep you off your feet – it means no more blank certificate designs!
Try out trendy certificate-style backgrounds today and create an account to distribute the best online documents on the web without a certificate emblem.
And remember, the more personalized certificates you use, the more impressive they will become!
Share this article

WRITTEN BY
Sergey Butko
Tech entrepreneur. Forbes 30 Under 30 Europe. Digital Marketer.