Education is changing, and its online era is here.
Now, many platforms offer different types of education and learning as well as degrees for them.
Along with new tools and technologies, students want to develop their skills in to collaborate effectively and get ahead at work.
When it comes to getting an education, there are a lot of different options to choose from. You can study towards a certificate, credential, or degree.
So how do they compare? In this blog post, we will discuss the differences between these three formats and help you decide which one is right for you.
What is a certificate?
A certificate is earned by completing a course or program of study and gives you great job opportunities.
It's typically shorter in duration than a degree and doesn't require the same level of general education or coursework.
Companies, educational institutions, and specialized groups award certificates to participants who have a certain level of knowledge. They can do this through online courses or in person.
Professional certification badges confirm that the participant has achieved a basic level of competence in some subject areas. It also shows employers that this person can cope with the challenges of their responsibilities.
In addition, standard certificates point out successful completion/participation in courses related to a particular topic.
Sometimes certification programs aren't voluntary but are requirements for certain jobs. Professions that demand certification include, for example:
nursing – to specialize in specific areas such as critical care or pediatrics

teaching – to work in public schools and enhance the knowledge

accounting and tool handling – many industries require employees to be certified in the use of specialized tools or software programs (such as ERP software solutions)
While all of these professions also claim specific coursework, you will usually have a hard time finding a job without certifications. It's also important to note that completing a program doesn't guarantee that you'll become certified since some certificates require candidates to pass an exam.
This means that certification recognizes and validates qualifications in a specific field in a formal and final manner. The benefit of obtaining certification is that it helps in your work. And if you don't pass the certification exam the first time, you can always take it again.
Once that is done, you can celebrate ;)
Perhaps you have already seen examples of certificates, or you have more than one in your collection.
Here are some of the certifications you can earn:
Certificate in Marketing

Certificate in Company Management

Certificate in Leadership

Certificate in Advanced Study in Social Media
As you can see, there are countless such certificates available. For teachers, for example, there are specific certification standards that specify what students should be capable of at each grade level.
Certification requires candidates to earn the necessary degree and meet particular requirements. But those seeking a teaching career should inquire about the specific requirements, as different countries and states have various standards.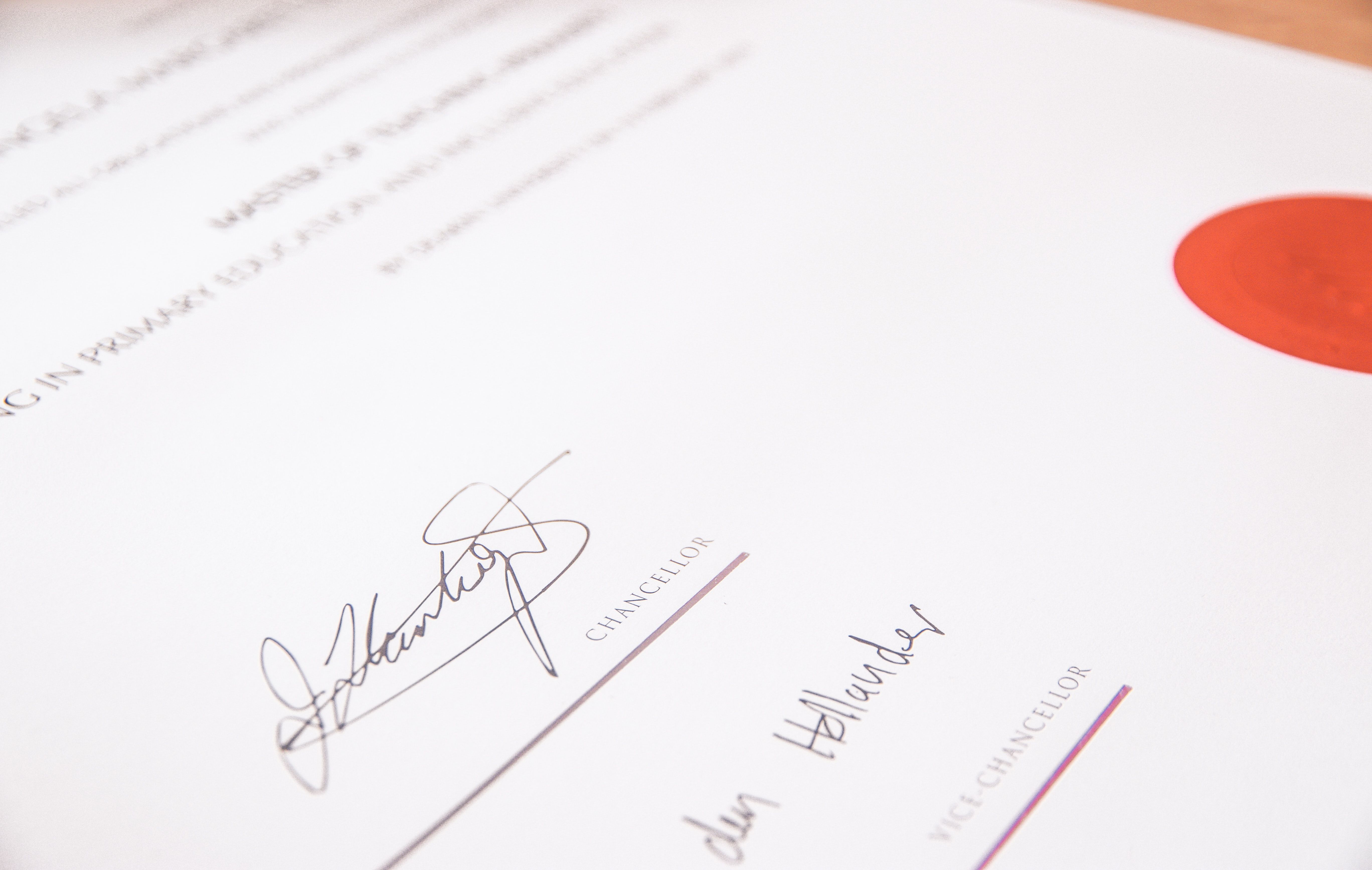 What is a credential?
Credentials (or digital credentials) are excellent for professional development. They give you a competitive edge in your field that employers always seek. They are also a great way to demonstrate your knowledge and willingness to improve your skills in a given field.
However, if you search for educational credentials, you will find information about certificates and degrees. So again, what are the differences? Because there are so many types of certificates, and they sound so similar, it can be hard to distinguish them from credentials.
But yes, they do vary. Examples of credentials are professional or vocational qualifications earned by completing a course or program of study. A credential may be shorter in duration than a degree, but it usually requires more general education and/or coursework than a certificate.
An authorized institution or company can issue credentials, which are also proof of your competence in a given subject. They not only help demonstrate competence and professional skills, but a credential holder can also show the community and employers that they are just adequately trained and equipped to perform their duties.
Much like degrees, earning credentials requires passing exams.
There are certain requirements that a person must meet before taking such exams, including
a certain level of education

extensive experience

a combination of both
This is essential because credentials confirm that the specialist has attained the basic level of competence in their area. What's more, the accreditation of staff ensures that you have a workforce of employees who can handle any challenges related to their job responsibilities.
In the case of credentials, the verification process is more complex because non-governmental organizations verify the knowledge and qualifications of a competitor. NEHA credentials, for example, verify a basic level of competence in environmental health.
These credentials demonstrate expertise and experience in health and environmental protection, and they're nationally recognized. You also need to renew them every two years.
What is a degree?
A degree is an academic qualification awarded to students who have successfully completed a course or program of study at a college, university, or other educational institution.
After graduating, you are awarded a school diploma. A degree typically takes longer to complete (two or more years) than a certificate or credential and requires the completion of even more general education and/or coursework.
You can obtain a degree after graduating from a private or public school. Someone who holds a degree has completed their education in a particular field of study, so they don't need to continue studying further.
However, many choose to do so, continuing to study beyond a bachelor's degree towards a master's and/or a doctorate, for example.
If we go into detail, there are several different types of degrees available for students. Examples include:
Associate degrees – usually require 60 credit hours to complete from a junior or community college

Undergraduate degrees – require at least 120 credit hours to complete

Doctoral degrees – require coursework and published work that goes beyond traditional undergraduate degrees
Furthermore, the most common schedule for students includes:
Contact time – lectures and seminars or laboratory time for sciences

Course work – based on the selected profile of studies

Exams – prove the acquired knowledge and allow students to obtain a degree
Schedules can vary in case of study type. From a few contact hours a week for an English Literature student to 45 hours per week for a chemistry student who is able to work full-time in a university lab.
It's worth mentioning that certificate programs don't confer a degree or a credential. The degree is awarded after completing an educational program (contact time, coursework, and exams) with a recognized degree, such as:
Associate Degree

Bachelor's Degree

Master's Degree

Doctoral Degree
A person who has achieved the required grades is entitled to display these educational qualifications.
Other types of qualifications
We now know a lot about certificates, credentials, and degrees. However, you can obtain other types of qualifications besides these.
Certificates often come with endorsements, which attest to the level or degree of work that the holder is capable of.
There are different kinds of endorsements, but most of them are related to approval or authorization. As a general rule, endorsements are forms of public support and are often made about politicians or products.
So, when you endorse something, it's like saying you approve of that person or product.
What's more, an endorsement is commonly just an add-on that isn't required. Including an endorsement with an existing license is usually easier.
For example, a teacher must first obtain a license and certification before adding an endorsement. The teaching endorsement indicates that they have taken graduate courses in their endorsement area, and most educators add their endorsement after a few years of teaching.
On the other hand, a license is earned by passing the required exams and completing coursework. For example, you may need a license to practice medicine, law, or finance.
The holder of a license is also required to complete ongoing educational courses. However, license holders may need to retake their licensing exams at some point during their careers, unlike certificate holders.
Here are some examples of licenses:
Registered Nurse (RN)

Licensed Specialist in School Psychology (LSSP)

Cosmetology License

Master Plumbing License

Licensed Professional Counselor (LPC)
Main differences between certificate, credential, and degree
While there are similarities between the terms, there are significant differences in the meaning of the achievements and the appropriate use of credentials or acronyms. This is especially true of those that suggest a credential has been earned after completing an educational certificate program.
To sum up: In most organizations, professionals must have credentials before using a professional title. Likewise, education earned in a specific certificate program may also be essential. It's all about what your employer wants – sometimes they won't care about a college degree but demand a specific certified area or practical skills.
Those working in the healthcare career field, for example, are usually required to complete Cardiopulmonary Resuscitation (CPR) certification training, which is an educational degree program that provides knowledge in a particular area.
It requires a certificate only, but field experience is also demanding in such work. Similarly, NEHA, PSGT, and CSE are nonprofessional titles and should not be used as credentials.
You should display a Bachelor of Science (BS) or Master of Education (MEd) degree before a credential as they're more prestigious. It's also crucial that you don't display an acronym signifying completion of an educational program unless it's an accredited degree.
Comparison table: Differences between Certificate, Credential, and a Degree


How to issue your own certificate credential with Certifier?
Perhaps you have just started thinking about searching for a platform to create your own certificates, or you have been looking for the perfect one for a long time already. Certifier is not just a certificate maker, but a solution created for those who want to generate many certificates quickly with minimum effort. 
With Certifier, you can create and issue certificates for your online school students, webinar attendees, or course graduates via one-click automatic emails. You can find many certificate templates to choose from and an option to send certificates automatically to your recipients. 
If you're interested in learning more about creating certificates with Certifier, check out this piece ➡️ How to create certificates online in 3 easy steps
Provide an excellent experience with your certificates
The differences between certificates, credentials, and degrees typically involve time and costs. Each of them helps with professional and personal development and is also a source of new experiences.
Certifier, meanwhile, aims to create attractive certificates that you and your customers will be proud of. Its enormity of functions, intuitiveness of the application, and speed of operation distinguish this tool. If you want to check out the process, sign up at Certifier today.