Certificates bring added value to their recipients. Thus, you should take certificate design very seriously.
In the article below, I will lay down the most effective practices of creating certificate design step by step. In this article:
What is an effective certificate design?
How to create an effective certificate design?
What are the popular mistakes in certificate design?
What is an effective certificate design?
The idea of any award or certificate is to create a memory.
All parts of the design, from the main elements to the small embellishments, set the tone for how the certificate is perceived by the person receiving it.
Make the design of a certificate, achievement, or diploma with care.
Remember, you create something that the person will keep and be proud of.
Effective certificate design is like an effective landing page or an effective advertising banner. With this said, the design of a certificate is one of the key components of its value. 
This is the outcome of the effective certificate design.
Effective certificate design works and delivers visible results for the business. Among those results, one may find a marketing reach and an increase in the power of a company's or individual brand.
Lots of sharing events on social media like LinkedIn or Instagram are also among the effects of a good certificate design.


How to create an effective certificate design in 8 easy steps
1. Set up a goal and clearly define your recipient
"Why are you generating certificates?" - this is the question you need to answer before you create the design. You need to define the goal clearly. Examples of goals that can be achieved with certificates:
increase the value of the education program, course, or webinar

increase the feeling of the importance of the event

increase marketing outreach in social media

keep a warm memory for the recipient of the certificate

compliment and thank to the recipient
You also need an answer to the question: "Who are the recipients of certificates? What is the occasion of granting this award?"
For example:
a young girl receiving an award after a manicure course

a child receiving a prize for excellent behavior

a student getting a diploma after graduation from the business program

a doctor participating in the medical conference
Understanding your receivers strongly impacts the style of the certificate design.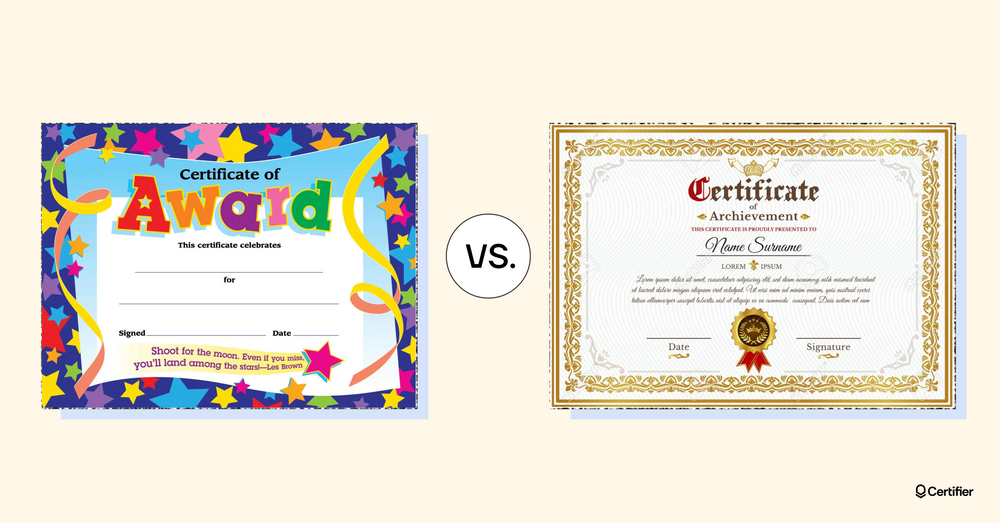 Different recipients need completely different design styles.
2. Create your Certifier account – free certificate maker
To start making designs, sign up for Certifier.me. It is absolutely free. With the help of Certifier, you can quickly create certificate designs and send certificates in bulk by email. It's a ready digital credential infrastructure with all features that you need:
visual drag-and-drop certificate builder

200+ free professional certificate templates

dynamic attributes for names, emails, and other

spreadsheet upload with a list of recipients

certificate email sender with pre-made templates

high-quality PDF features for printing

marketing analytics about certificates usage

multi-language features for certificates

one-click share certificates on LinkedIn and Facebook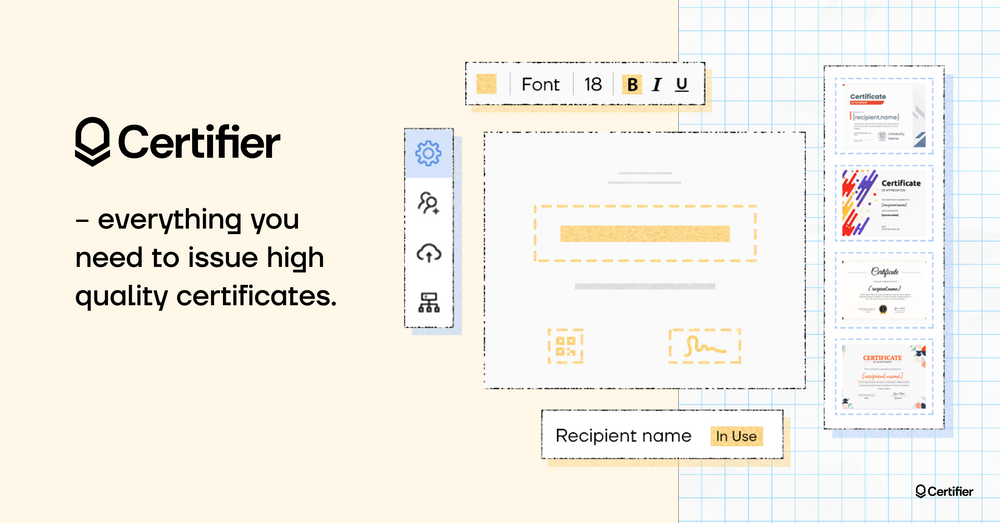 Сertifier is great both for small organizations and for large-scale certification programs. It is the best free certificate maker.
Start for free and make an effective certificate design now >
3. Select a ready-made certificate template
Once you have defined your target group, it is time to create a certificate design. Choose one of 200+ ready-made templates:
colorful or restrained certificate style

portrait or landscape orientation

filled or minimalist design

formal or informal layout

US letter or A4 paper size
Decide on these important elements. Your certificate template should meet the preferences of your recipient. This is a fundamental step in your future design customization.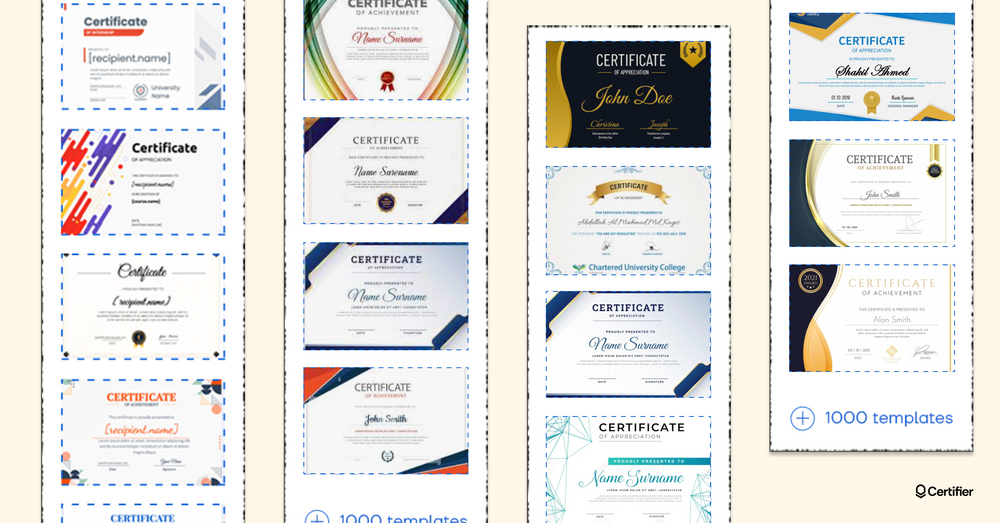 Ready-made certificate template
Your design decision is what makes this certificate significant and remarkable. For instance, most universities use serif fonts and old-fashioned lettering on credentials to add to the ceremonial nature of the document. All pre-made templates are 100% editable. This allows you to remove design elements, as well as upload images and graphics to your certification template.
Do not make a colorful funny certificate for students graduating from a pricey business course.
Important: The certificate design should be attractive, clear, and elegant. If the design is ugly, it decreases the chances that recipients will share their certificates on social media, take pictures with their credentials, and hang them in a frame on the wall.
Read more: 14 best practices of certificate design (Google, Harvard, AWS)
4. Make your certificate designs consistent with your brand
Customize your certificate template to match your branding perfectly.
1) Change colors and fonts: Your design should look like an integrated part of your marketing and correspond to the visual authenticity of your brand.
Harvard's certificate matches the brand colors and fonts.
2) Add your logo or identification mark. Always use the logo in .png format with a transparent background. With Certifier, you can do it very simply.
5. Fill certificate with the main content
Awards and certificates must include key information. The goal of any certificate is to make it memorable to the recipient for a long time. As a rule, the design should contain a few key elements:
Title: certificate, diploma, degree, etc.

Reason for issuing: graduation, achievement, etc.

Full name of the credential receiver

When and/or where the certificate is issued

Issuing organization or company

Unique ID number of the document
These elements can vary from document to document. For instance, the expiration date or grade can be important elements of a particular certificate template.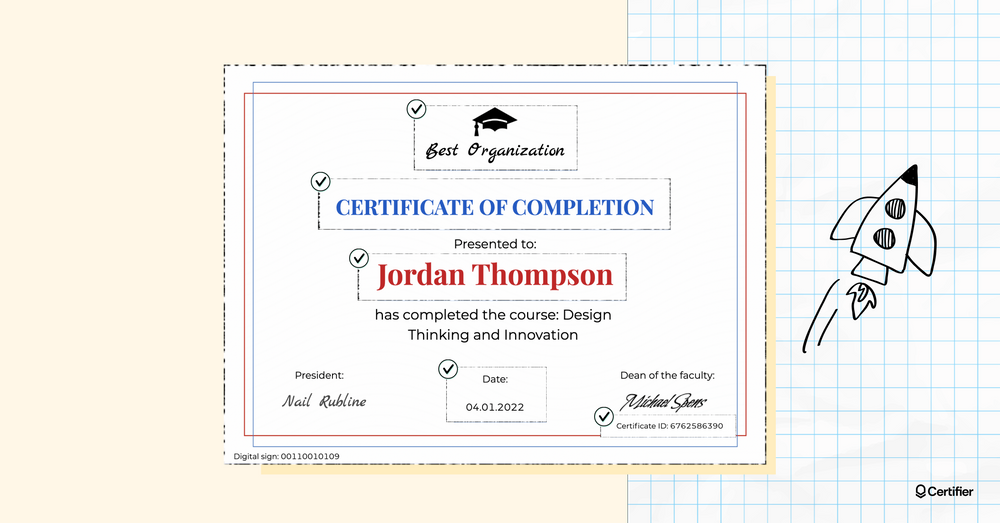 Important elements on the certificate design.
Important: For bulk certificates generation, you should use dynamic elements – the placeholders for recipients' data.
At Certifier, those are called Dynamic Attributes. Most often, these are the names of recipients, their emails, issue dates, grades, etc. Information for the dynamic attributes is added in bulk from the spreadsheet.
6. Decorate the design with extra elements
In addition to the basic items on the design, you can add decorative elements: to create legitimacy and increase the value of the credential in the eyes of the receiver.
Examples of certificate design extra items could be:
Signatures of persons who issued the certificate

QR-code with a link to the certificate

Site and details of the issuing organization

Stamp or digital signature of the certificate

Icons of organizations, badges of standards
You can also add a design feature that makes your certificate design stand out from the others. For example, each type of credential might have a specific frame or background color.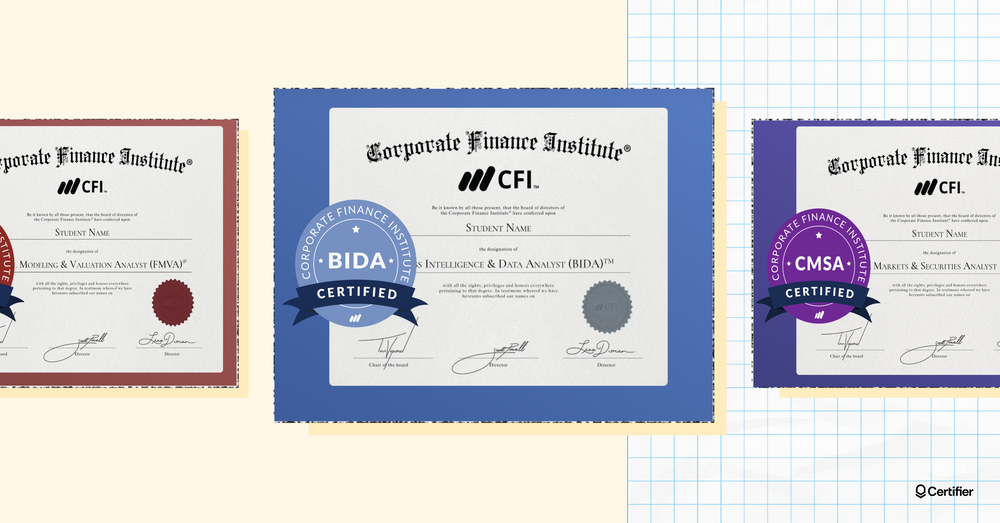 Each course has is associated with a specific color
Important: Use all elements and author's signature in .png format without background. You can make png signature free with SignWell.
7. Check the clarity and details
The design of your certificate is almost done. Look at it as a complete document. Imagine people sharing it on Facebook, taking pictures, adding this digital certificate on LinkedIn and resumes.
Do not forget to check whether:
all the details match visually

everything looks logical and clear

all the elements are lined up
Important: Some recipients have very long names, and they might overlap with other elements when the certificate is rendered. Increase the width of the [recipient.name] attribute to the fullest. In this way, all the names will be placed within the limits of the attribute's box regardless of their length.
If you are sure that your piece of art is esthetically pleasing, your certificate design is ready!
8. Set up certificate issuing process
An effective certificate is not only the design of the document but the overall certification process that includes:
Way of sending a digital or paper certificate

Design of email template for the recipient

Credential management (name changes, expiration)
These things can make the impression from certificate stronger or completely ruin it, and devalue your hard work on the design template. Fortunately, bulk sending of certificates, as well as credential management are available in Certifier.
Read more: How to send emails with certificates to multiple recipients?
What are the popular mistakes in certificate design?
Want to keep you safe from mistakes in certificate design? Here is a list of the few most popular mistakes that creators make:
⚠️ Blank certificate
In this case, the design looks weak, pathetic, and unconvincing. Here is an example:
⚠️ Clumsy and overloaded design
In this case, there are a lot of small elements on the certificate. This ruins the overall impression, and the design seems overloaded.
⚠️ Design is made carelessly
Badly chosen elements, lines are not aligned, pictures added with the background. This damages the overall appearance.
⚠️ Styles do not fit
Imagine business authors issuing colorful funny certificates for marketing webinar graduates. This style is better for children than for business-oriented people.
⚠️ Not shareable certificates
When a certificate is not shareable on social media (LinkedIn, Facebook, etc.), credentials will be uselessly stored in the Gmail mailbox. The certificates you issue should work for your goals and give reach to your brand.
Important: Let the recipients share their certificates in one click on their social media or add them to their LinkedIn profile.
⚠️ Incorrect bulk sending of certificates
Emails with attached certificates often appear in spam and do not reach their recipients properly. Email providers do not like distributing bulk PDF attachments.
Use a special service for mass sending certificates like Certifier. If for some reason you send emails manually, set up SMTP in your email provider and optimize the size of the PDF files before you send them.
⚠️ Crumpled and shattered achievement*
We do not recommend sending printed certificates, but if you do, make sure that they arrive safely. Also, a frequent problem with physical achievements is the quality of the printing, colors, paper, and packaging. All the pleasure from a diploma can be destroyed by an absolutely defective delivery.
*Only for physically printed certificates.
Summary
Make certificate design step by step, avoid the most common mistakes, and you will be surprised at the results. It does not matter whether you create a certificate for a few kids in a school or conduct a mass certification program for thousands of people. You should create an effective design that will get results. I hope that this article helps you do it.
Here is the sum-up checklist: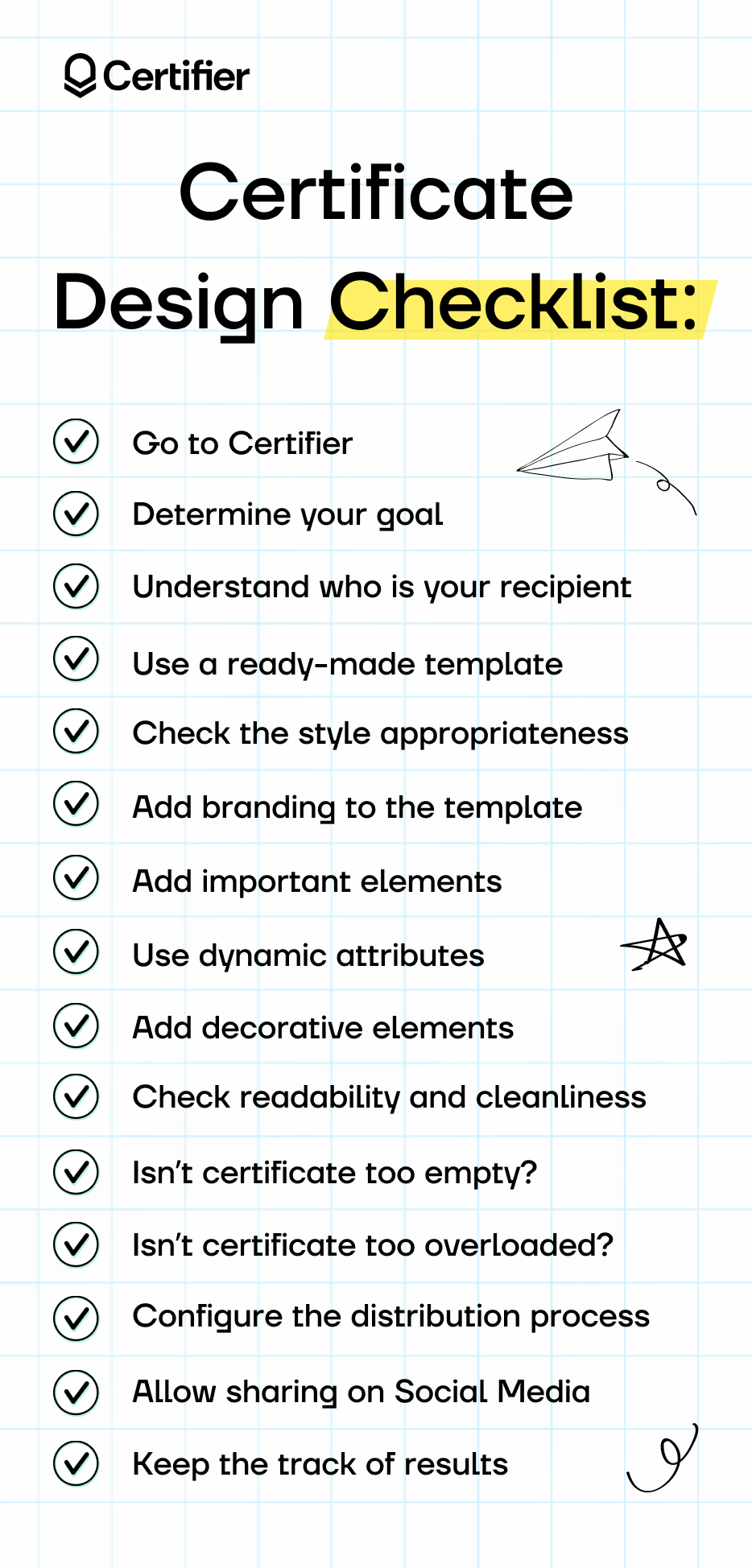 It's time to start. Create a free Certifier account, design a certificate or use a template, add recipient lists, map attributes, and send certificates in one click.