Digital badge platforms are designed to streamline the workflow, automate the process, and give you ready-made solutions on the table. Certif-ID is a notable name in this space. It's been around, make waves, and gain trust.
But with so many Certif-ID alternatives out there, how do you know which is the right choice? Certif-ID goes with two solutions for digital credentials – CredSure for badges and TalentSure for recruitment. Today, we take a closer look at the first one.
(Scroll down to see the comparison table with all Certif-ID alternatives worth your look.)
Quick overview of Certif-ID for digital badges
Certif-ID platform for badges promises a lot – a one-stop solution for all your digital credentialing needs. It claims every badge is super secure and reliable with its blockchain technology.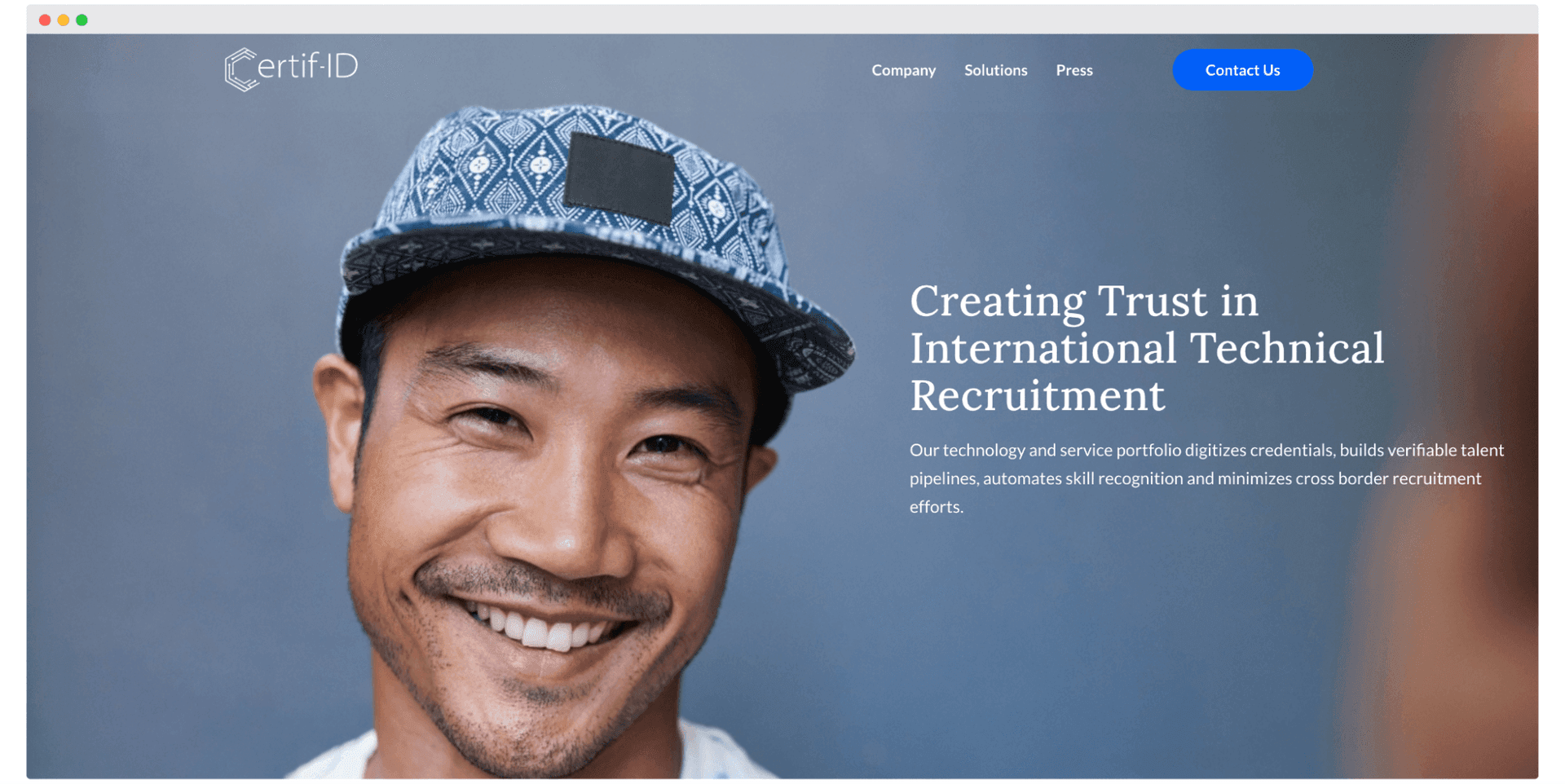 Big names in the industry seem to trust it too, so it must be an effective tool for credentials, right?
By going deeper into CredSure, you might start to see the cracks. It's like buying a high-tech gadget with a thick manual. Sure, it's powerful, but do you have the time or patience to figure it all out? If you're someone who likes things simple and straightforward, CredSure by Certif-ID might feel like trying to put together a puzzle without a picture.
Certif-ID pricing
Certif-ID solution for virtual badges is not the cheapest option. For 1000 credentials, plans start at about $1,000 per year. Higher subscription levels are priced individually. No free trial is included.
The downsides of Certif-ID
Taking a long time to issue certificates

Too complicated for the average user

Pricey without a free trial
Certif-ID user ratings uncover some flaws. While the platform talks about its advanced technologies, the tool can feel a bit cumbersome. Waiting ages for a certificate to be issued? Not ideal. And if you're not a tech wizard, integrating it with other systems can be a headache too.

Source: G2
In a nutshell. While Certif-ID has its strengths, it's not everyone's cup of tea. The complexities and hidden costs may lead you to consider another option. Maybe it's worth exploring a few more Certif-ID alternatives before settling?
Compare all Certif-ID alternatives: Comparison table
Are you busy? Check out this comparison table for a quick overview of all Certif-ID alternatives.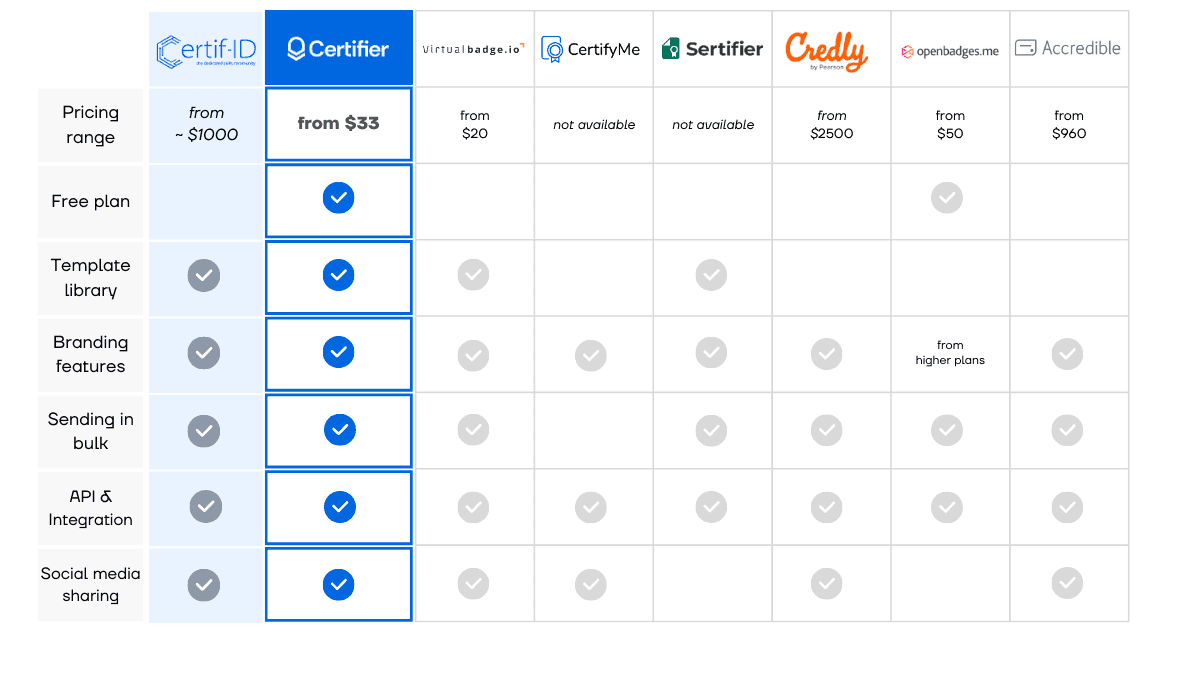 #1 Certifier - the best online tool for pro digital badges
If you're a fan of drag-and-drop interfaces (and let's be honest, who isn't?), Certifier is your dream tool for appreciation tokens. It allows you to manage badges without any technical skills. It's affordable, reliable, and perfect for businesses of all sizes.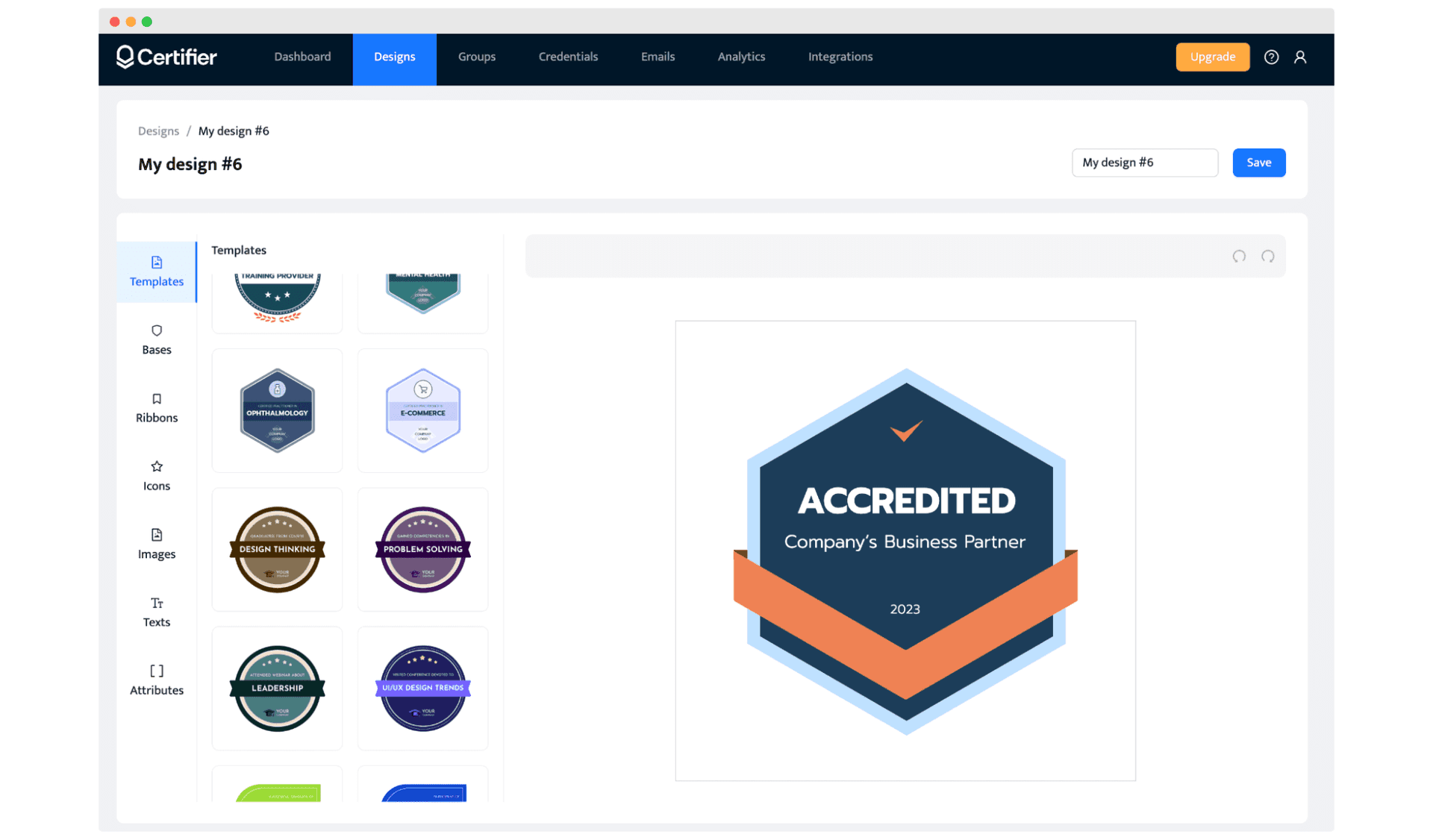 Certifier is a super intuitive tool, which makes it the best choice if you value your time. With a few clicks, you can create a badge, upload the recipient's email address from Google Sheets or Excel, and send badges to recipients' inboxes automatically.
But it doesn't stop there. This platform offers powerful tracking and analytics capabilities, all from a user-friendly dashboard. So that you can see, e.g. who opened the email or shared the badge on their LinkedIn.
Certifier features
Vast library with customizable badge templates

Intuitive drag & drop builder with the best User Experience

Status tracking

Dynamic attributes for automated workflow

Bulk sending options with editable email template

Seamless API and Zapier integrations

Maximum security
What makes Certifier better than Certif-ID?
Certifier is fast. Digital credentials can be sent in a flash, even hundreds.

Source: G2
You can also customize everything from the badge design to the email, so the entire process can be tailored to your brand.
Certifier pricing
Certifier understands that everyone's needs and budgets vary. That's why they've created three pocket-friendly pricing plans. On top of that, they've got a forever-free plan that packs in most of their comprehensive features. If you're thinking of going premium, it starts at just $33 a month. Non-profits get a 15% discount for life.
#2 Virtualbadge.io - integrated approach to badges
When it comes to creating and managing digital credentials, Virtualbadge.io stands out from Certif-ID with its intuitive and integrated approach. It makes it easy to issue and verify digital badges.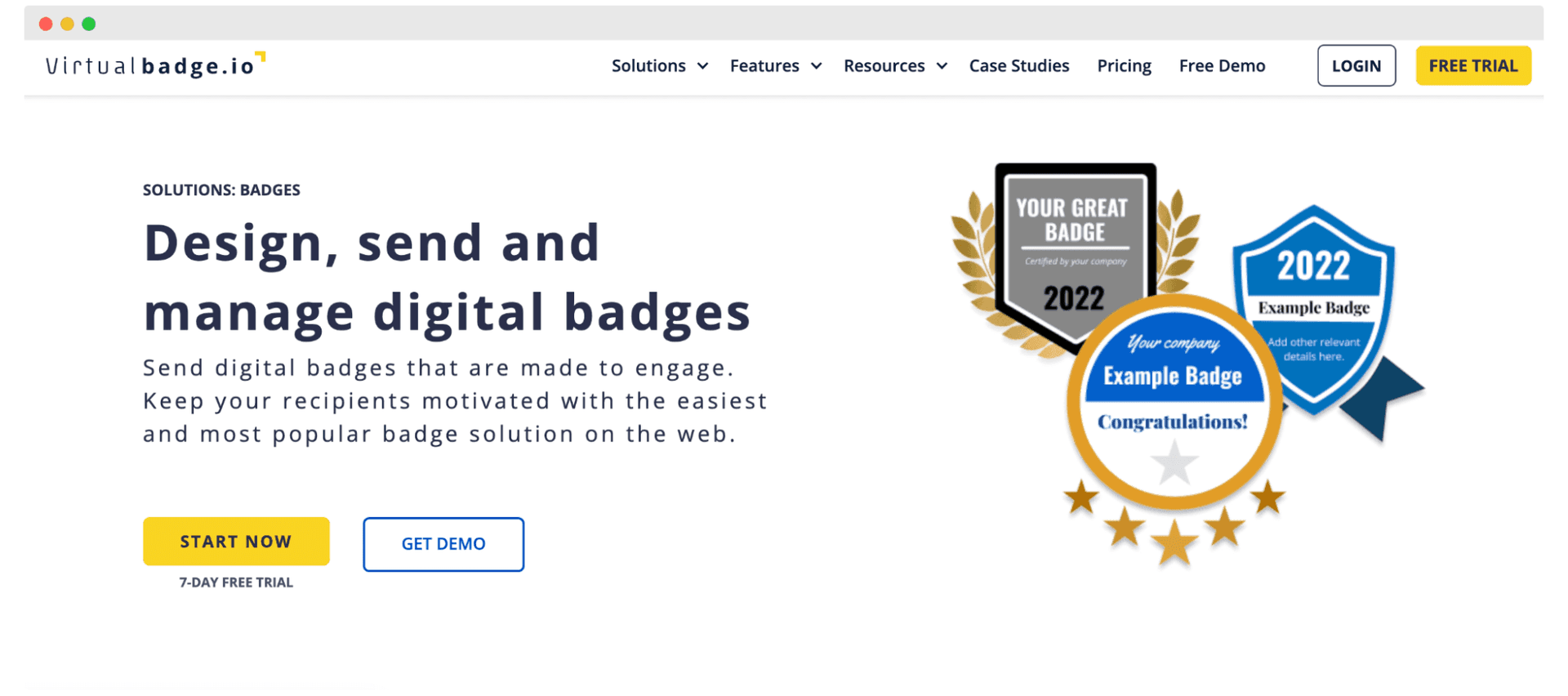 Virtualbadge.io platform emphasizes verifiability. It means that it allows recipients and employers to verify certificates via a QR code. It boosts trust in credentials while offering a fully customizable private label option.
Virtualbadge.io features
Template library

Bulk email service

Social sharing

Analytics to track claims, shares, and downloads
What makes Virtualbadge.io better than Certif-ID?
Virtualbadge.io offers a more intuitive design tool where users can either upload their designs or modify existing templates to create badges.
Virtualbadge.io pricing
Starter pack costs $20 per month (for 300 badges). There is a free trial available.
#3 CertifyMe - digital badge software for education
CertifyMe is another trusted name on the list. It offers a wide range of features, including the ability to create and manage digital badges, store and share documents, and track student progress.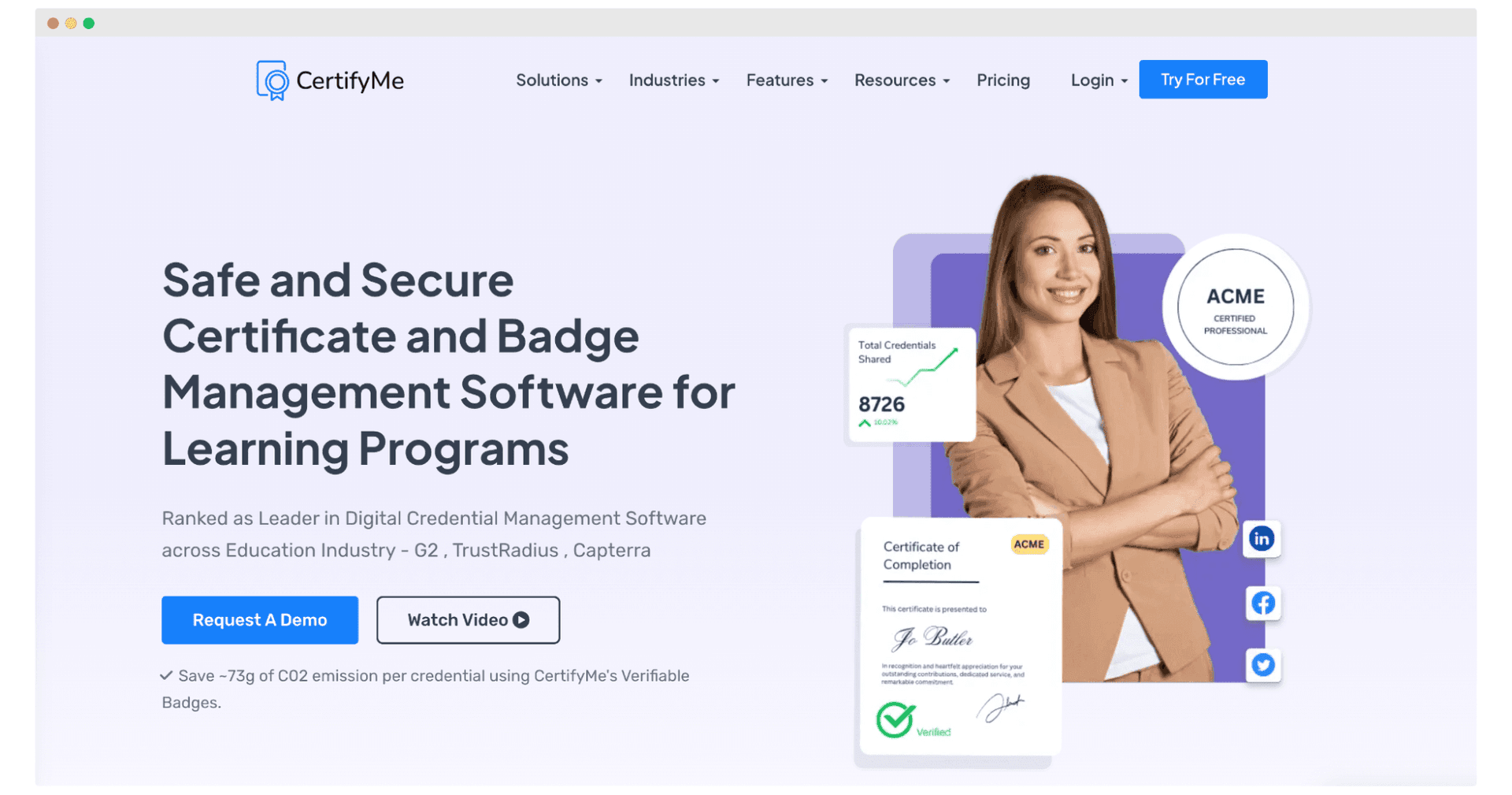 CertifyMe is a solution focused on the education sector more than on individual users. It's best for creating digital badges tailored to complex learning programs.
CertifyMe features
Suitable for higher education institutions

Ability to integrate open badges into corporate training programs

Portable micro badges with verification link

Analytics dashboard to track engagement
What makes CertifyMe a better option than Certif-ID?
When it comes to integrating the system into a learning program, CertifyMe is a better option than Certif-ID. Certif-ID works better in the recruitment environment.
CertifyMe pricing
CertifyMe offers 50 free credentials to get things started. But here's the catch – it doesn't specify what it'll cost you afterward. This lack of clarity might be a big concern, especially if you're trying to save money. It means you won't really know the full financial commitment until you've already spent time using the platform.
#4 Sertifier - digital credentialing tool for badge program managers
Sertifier is a comprehensive platform with a holistic approach to digital credentials. At its core, level of security is supreme. Every digital badge issued is not only valid but also tamper-proof.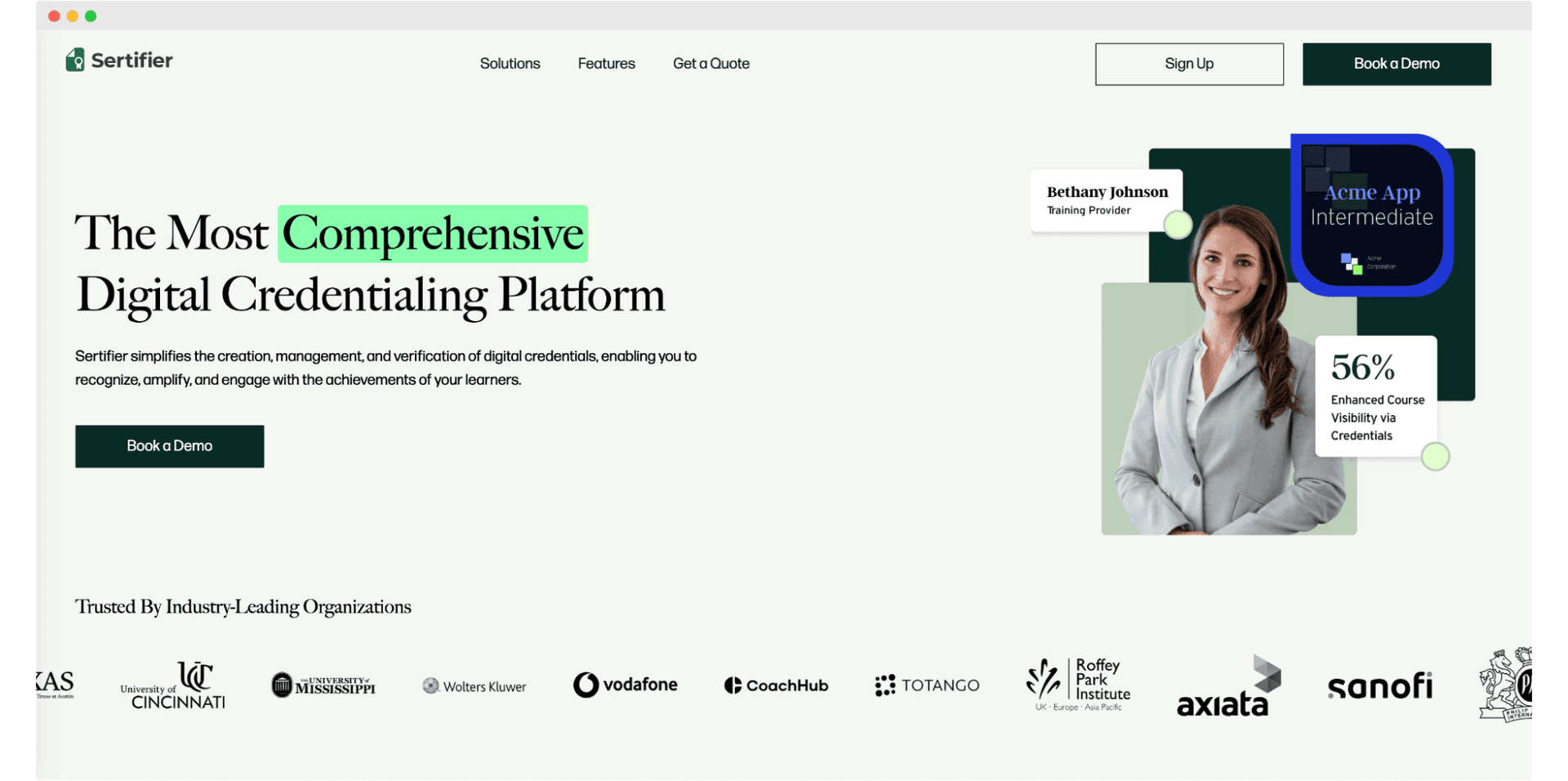 Beyond its security features, Sertifier is designed to be user-centric. This end-to-end solution gives users complete control over their badge system (even if it can cause some difficulties from time to time).
Sertifier features
Blockchain-based credentialing platform with verifiable documents

Integration with major Learning Management Systems, including Zoom and Moodle

Flexible digital badge design
What makes Sertifier a better option than Certif-ID?
For those who prioritize social security, verifiability, and integration capabilities, Sertifier might be a preferable choice over Certif-ID.
Sertifier pricing
Sertifier doesn't provide any pricing information on its website. To learn more about Sertifier's pricing structure, you have to contact them directly. A demo is available upon request.
#5 Acclaim by Credly - business tool for digital credentials
Credly digital credentialing platform deserves attention on this list as well. It covers all aspects of badge management, from creation to monitoring. And it's quite good at what it does.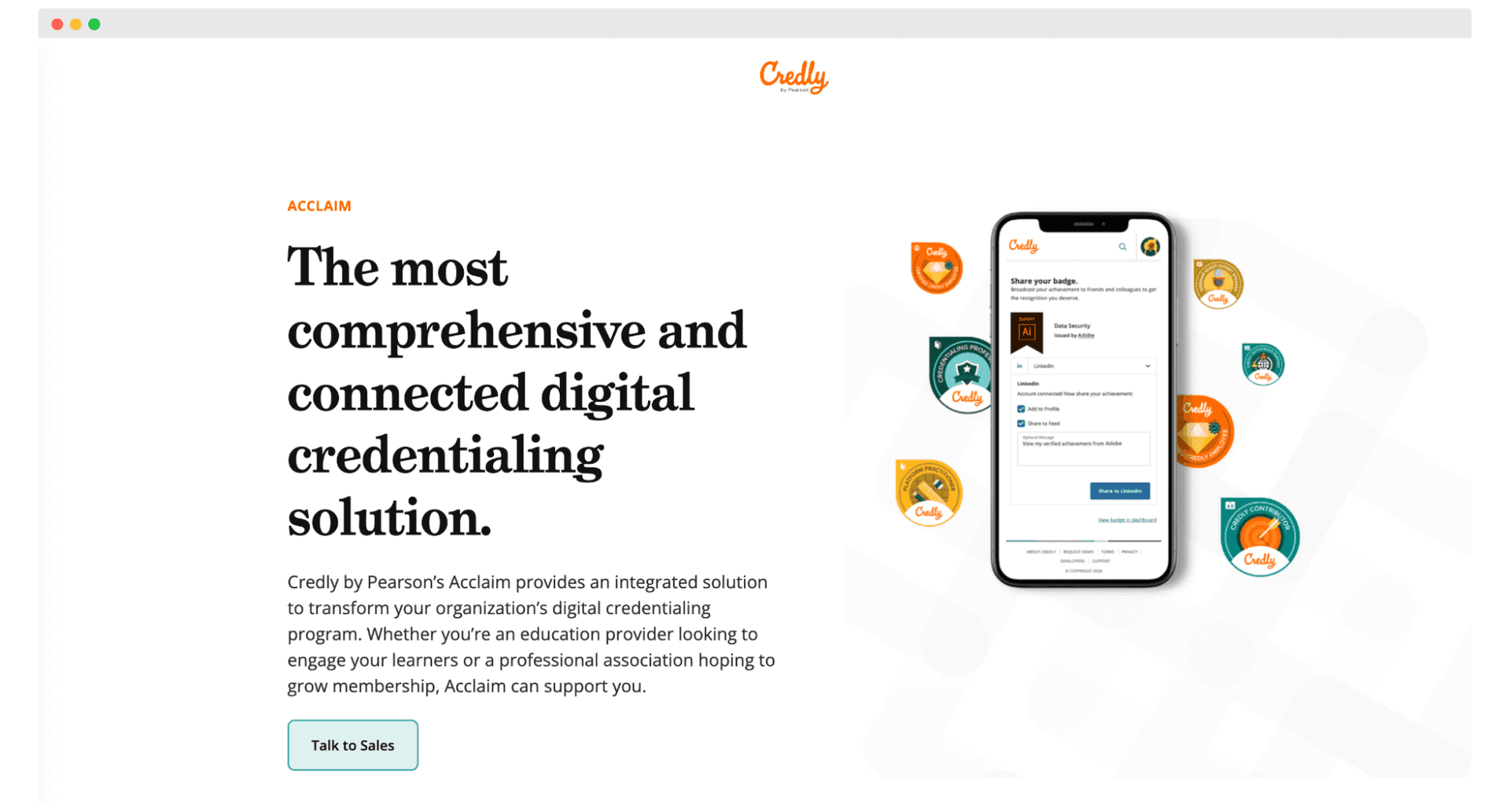 Although expensive, Credly serves as a dynamic business instrument. With it, individuals can quickly earn credentials, while large enterprises can expand their global credentialing programs. Credly provides its own tool for badge creation as well. It's called Acclaim.
Acclaim features
Extensive features for badge implementation

Networking opportunities for badge earners

Security with multiple ISO certifications
What makes Acclaim a better option than Certif-ID?
Acclaim offers a comprehensive solution that is tailored to both – educational providers and professional associations. It's suitable for a wider range of use cases.
Credly's Acclaim pricing
Credly pricing is shrouded in considerable mystery. However, the Certifier team managed to find out some information about its costs. To get detailed explanations, read this article about Credly pricing.
#6 Openbadges.me - reliable digital credential platform
Openbadges.me is not the average digital credentialing program. It's a comprehensive tool that lets you design, award, manage, and store badges with ease.

Need to issue badges for assessments or portfolio submissions? It's got a built-in authoring tool for creating badge graphics, a full admin system for user and role management, and a badge backpack feature that lets recipients share their achievements on social media. 
Openbadges.me features
Built-in authoring tool for creating badge graphics

Management tools with admin roles

Secure storage for all issued badges

Powerful reporting
What makes Openbadges.me a better option than Certif-ID?
Openbadges.me stands out with its IMS certification, a standard originally developed by Mozilla. This means it's recognized and trusted by many organizations in the education and training sector and gives an extra layer of the verification process.
Openbadges.me pricing
Up to 50 dedicated credentials, Openbadges.io is free. Then the pricing models with additional features vary between $50 to $150 per month.
#7 Accredible - simple digital badging platform
With Accredible, you can create, issue, and manage secure and appealing digital badges. Its digital badges are flexible and customizable. It provides features that allow organizations to align the badge design with their brand identity.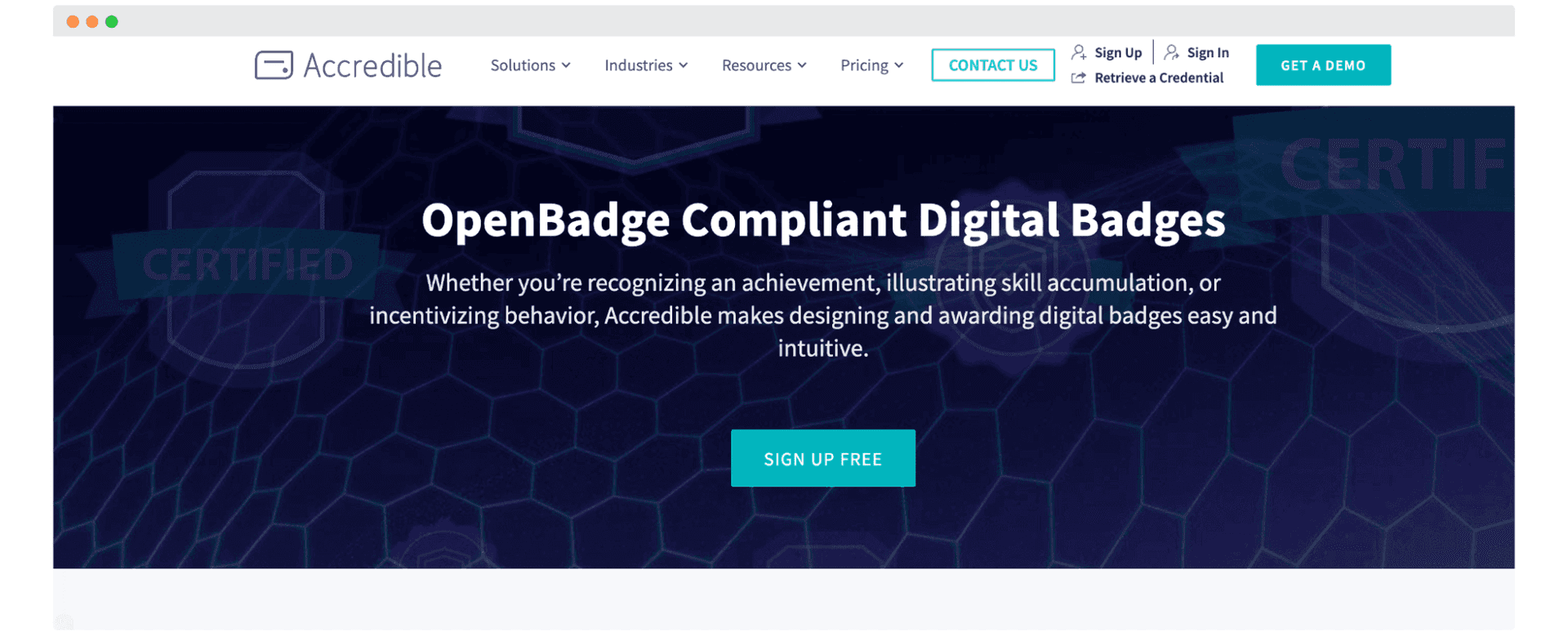 What's more, these badges aren't just static images. Each achievement is embedded with meta-data, providing context and details about it for anyone interested in checking or understanding it more.
Accredible features
Encoded badge information

Social sharing tools

Analytics dashboard
What makes Accredible a better option than Certif-ID?
It provides a more user-friendly dashboard, and as it's quite simple in features, it's easier to master.
Accredible pricing
Accredible pricing isn't fully available, but their entry-level plan begins at $960 annually. This translates to $80 a month (they don't offer monthly billing options). You can request a demo, but they don't provide a free trial.
Sum up all Certif-ID alternatives
That wraps up the exploration of the Certif-ID alternatives. With so many badge design tools available, it is difficult to choose just one. But we trust our list has provided some clarity and simplified things for you.
As a final note, quick reminder! With Certifier, you can start immediately without any credit card details. Ready to craft some badges? Sign up here!
Share this article

WRITTEN BY
Sergey Butko
Tech entrepreneur. Forbes 30 Under 30 Europe. Digital Marketer.