Step 1: Conduct your awesome webinar

Step 2: Prepare a list and design

Step 3: Send personal certificates in bulk
Mass generation of certificates with dynamic attributes
Forget about creating certificates for your webinar attendees manually. Certifier allows to automatically generate thousands of certificates with individual names and other information, using webinar visitors list and individual design of the certificate.
Automated certificate sender for all webinars attendees
Mass emailing of certificates to all webinar participants happens instantly. Every webinar attendee receives an individual certificate thanks to the built-in mailer system. With Certifier, you can customize the content and design of your email templates.
We promise it will be worth it
Ready-made certificate templates for webinar creators
Certifier has a built-in certificate design-builder where you can create a certificate design for your webinars and other events. Moreover, Certifier has a collection of ready-made certificate templates for webinars, which are available for free.
1,200+ people have joined in the last 30 days
Certifier Built for Your Business
More reach & traffic

Digital Certificates are not just PDFs. With Digital Certificates, you'll get more traffic on social networks and increase your reach.

Time-Saving, Automation

The Credential Management System saves many hours of work and eliminates the chance of human mistakes in the certificate creation process.

Increase revenue

Certificates give the opportunity to increase your revenue stream from webinars. Many of our customers charge an additional fee for certificates.

Branded certificates

Certificates are a great promoter of your brand to the audience. An attractive branded certificate has a huge marketing effect and brand reach.

Track your results and ROI

Digital Certificate technology allows you to track all metrics: certificate views, PDF downloads, LinkedIn shares, etc.

Make your webinars valuable

Certificates are a great way to attract attention to webinars. A webinar with a certificate is more valuable in the eyes of customers than just a webinar.
How to start using Certifier for your webinars in 5 steps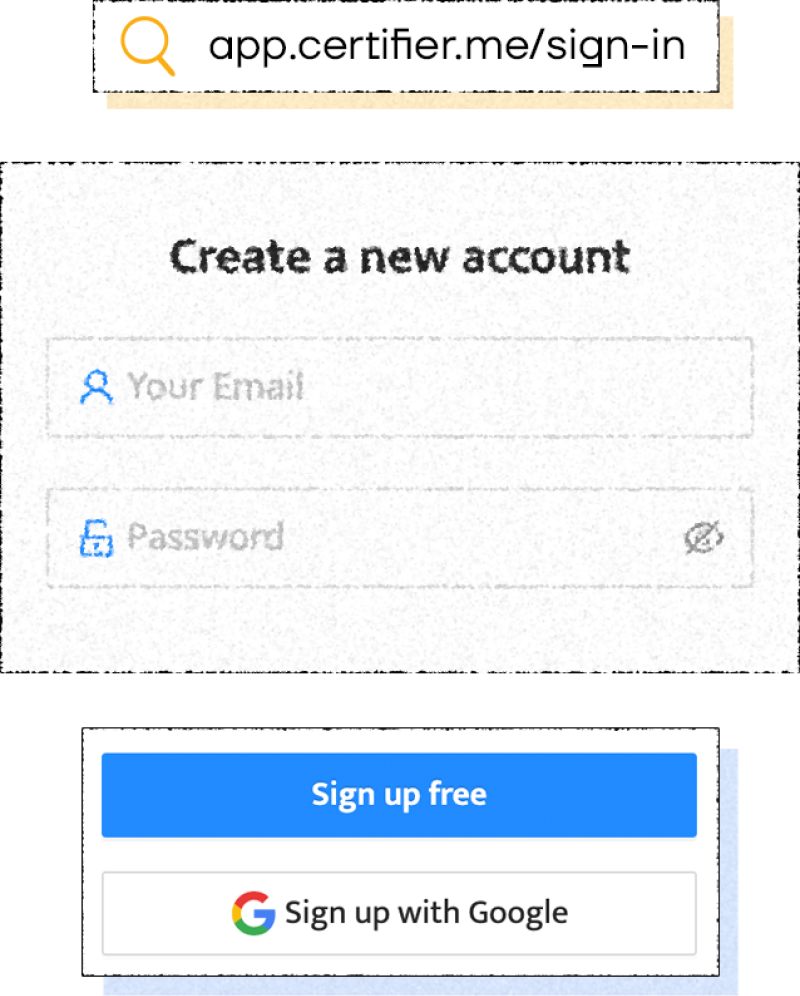 Sign up at Certifier using this link. It takes a few minutes. The account will be available for use immediately after registration.
Frequently Asked Questions (FAQs)