Organizing a successful webinar is not a piece of cake. Every webinar you set up requires lots of work and is a time-consuming task, right?
Even though you have an idea of your webinar's topic, you need to work on crafting a catchy name, determine the right format of your webinar, decide whether you are going to run it yourself or find a speaker, and create a thorough promotion plan, then correctly execute that plan, just to name a few parts of such a project.
All these elements are vital for your webinar's success but are also rather obvious.
In this article, we want to focus on a step that takes place after the webinar, namely, creating certificates for webinar attendees. How to create a certificate for webinars? This is the question this article intends to answer.
Certificate for webinar attendees
While a lot of webinar creators tend to neglect the certificate issuing step, spending an additional 10 minutes to send certificates for the participants of your webinar can bring a huge positive impact both for you and your webinar attendees (I will be talking about this in detail later on).
Now you might ask yourself: how can issuing dozens and hundreds of certificates take just 10 minutes?
Well, this is possible only in case if you use a reliable webinar certificate generator. Doing this work manually will take lots of your precious time, and this is not something we want.
If you are interested in generating certificates in bulk using a certificate maker, just keep reading this article.
How to create certificates for webinar participants
Generating certificates for webinar participants don't have to be a tedious task. If you equip yourself with the right certificate generator, like Certifier, this process will require just a few clicks.
Step 1. Create a list of webinar participants
The first step of creating certificates for those who took part in your webinar is to get a file with a list of all participants. A webinar tool you used to organize your online event provides this kind of file for sure.
You should just log in to a panel and download a list of attendees. Make sure that list includes the email addresses of participants so that you can later send certificates using a certificate maker.
Later in this article, we will explain how to do it using a few examples of popular webinar tools.
Step 2. Choose a template of certificates for webinar participants
Go to your Certifier account, click on the Design tab, and select Create a new design. A library of free certificate templates will be opened.
Now, choose a template that suits the topic of your webinar best and start editing. You can add text fields, the webinar's title, custom attributes (like the attendee's name and surname, date of issue, certificate ID), choose the orientation (portrait or landscape), the size of a certificate, etc.
The Certifier Design tab also enables you to create templates from scratch by adding backgrounds and editing attributes.
Read this article to learn more about using dynamic attributes in Certifier ➡️ How To Use Dynamic Attributes To Create and Send Certificates in Bulk
Step 3. Upload a list of webinar attendees
Once you have a list of webinar participants ready, go to the Courses tab in the Certifier panel, and then click Create a New Course. Then add a course and groups to create certificates for webinar attendees.
In the next step, select Issue Certificates and upload a CSV file with a list of webinar participants.
As we have mentioned above, there are instructions on how to export the CSV with participants' data from the most popular webinar tools down below. For example, if you need to generate a Zoom webinar certificate, just scroll down to a respective section of this article to get acquainted with the process of generating the list of participants from Zoom.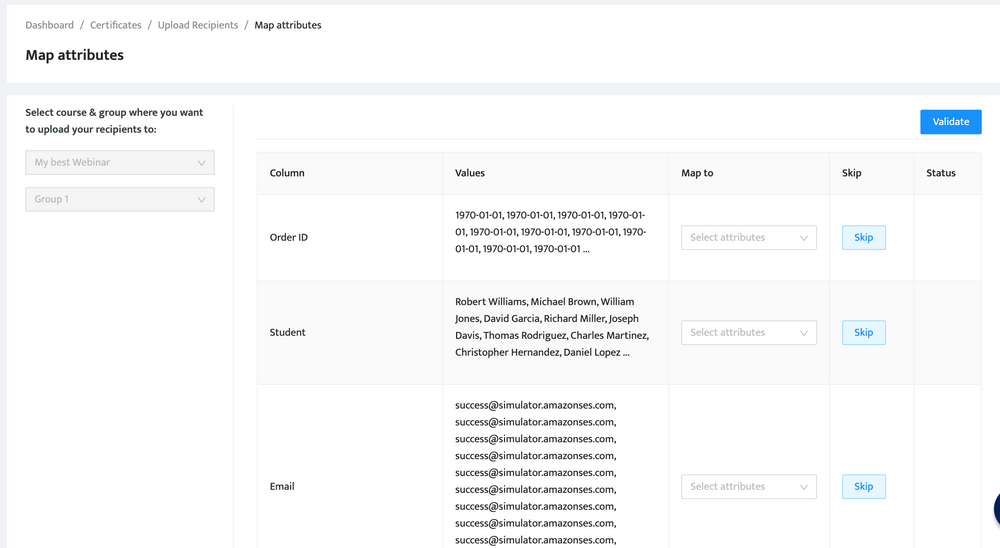 Make sure the names of attributes used in a certificate template are consistent with the names of columns in a CSV file so that the data is uploaded correctly.
Now, just click Validate to upload a list to your certificate generator.
Step 4. Send certificates in bulk to all webinar attendees
By selecting the Validate option in your certificate generator, in this case – the Certifier panel, you created certificates for webinar attendees in a PDF format. All certificates include data sourced from a CSV file with a list of those who participated in your webinar. Now you have to paste them into the certificate template you selected and click Publish and Send.
And that's it – all participants of your webinar received an email with a personalized certificate attached.


Why would you want to generate certificates for webinar attendees?
When you invest so much time and resources in a project, you want to make sure it will deliver tangible results and make a good impression on all participants. Providing a personalized certificate for each person who attended your webinar will help you achieve these results.
As we mentioned above, doing an engaging webinar is a process that consists of many steps. Surprisingly, a lot of webinar creators tend to avoid the step of issuing certificates underestimating the influence that it may bring to their webinars.
In fact, such thinking will slowly lead these businesses to obsolesces. Here at Certifier, not only are we focused on helping one automate the certificate issuing process but spreading knowledge about the importance of certificates for companies and individuals conducting webinars or other educational programs.
In our recent article about 8 Best Tools to Create Certificates Online for Free, we discussed the results of the IBM study dedicated to the value certificates bring to the business.
You can get acquainted with hard data by going through the first paragraphs of our article. For impatient ones, here is a long story made short: issuing certificates at the end of the webinar brings enormous benefits for webinar creators and webinar participants.
In the era of the Internet, people are eager to share their achievements with others. Each certificate your webinar attendee shares turns into a marketing event.
With more certificates issued and shared, your webinar gets more recognition and prospective leads. Sounds impressive, right?
Thus, do not lag behind the webinar creators who have already started boosting their marketing and engagement by issuing certificates.
Everything you need to do is to equip yourself with a good webinar certificate generator like Certifier and enjoy the results of this decision.
Generating a CSV file with a list of webinar attendees - examples of popular webinar tools
Now it is time to learn how to export a CSV file with a list of webinar attendees. As you already know, you cannot just create a Zoom certificate of attendance straight away.
Zoom and other most popular webinar tools do not have this functionality. However, now you know how to generate e certificate for webinars using Certifier.
The only missing puzzle for the certificate issuing process is the list of webinar attendees you have to upload. The time you spend on creating such a list might take anywhere from 15 minutes to a couple of hours, depending on the number of webinar participants.
Luckily, there are ways to export such a list from the most popular webinar tools quickly and easily.
Option 1. Zoom
To download a list of people who attended a webinar organized using Zoom, you need to follow a few simple steps.
First, log in to Zoom. In the navigation sidebar on your left-hand side, select Reports. Then select the Usage Reports and select the Report Type you would like to search for.
This will prompt a dashboard with a list of all webinars you organized recently. If you organize many webinars, use the date pickers to narrow down the list or enter the Webinar ID number to find the event you are interested in.
When you spot the webinar, you want to get a list of participants for, select it, and click Generate CSV Report. The download of the list will be prompted automatically.


Option 2. WebinarJam
To get a list of webinar participants from WebinarJam, log in to your account and select the Analytics screen. Then, click on the name of a webinar and select the Display Analytics option.
From a dashboard with detailed webinar metrics, click the Download full registrants lists, and you are set! A file you get will include a list of registrants and attendees who actually participated in your webinar.


Option 3. ClickMeeting
If you used ClickMeeting to organize your webinar, there are a few steps you need to take to generate a list of webinar attendees.
First, log in to your Account Panel and click on the Statistics tab in the upper right corner of the Panel.
Then, choose the On-demand events tab. A list of all your webinars with the number of unique participants will be displayed.
You have to click on the appropriate event and select the Attendee summary or Event summary tab.
The last step is to choose the option "Export all sessions stats to" to CSV or XLS file and you are all set!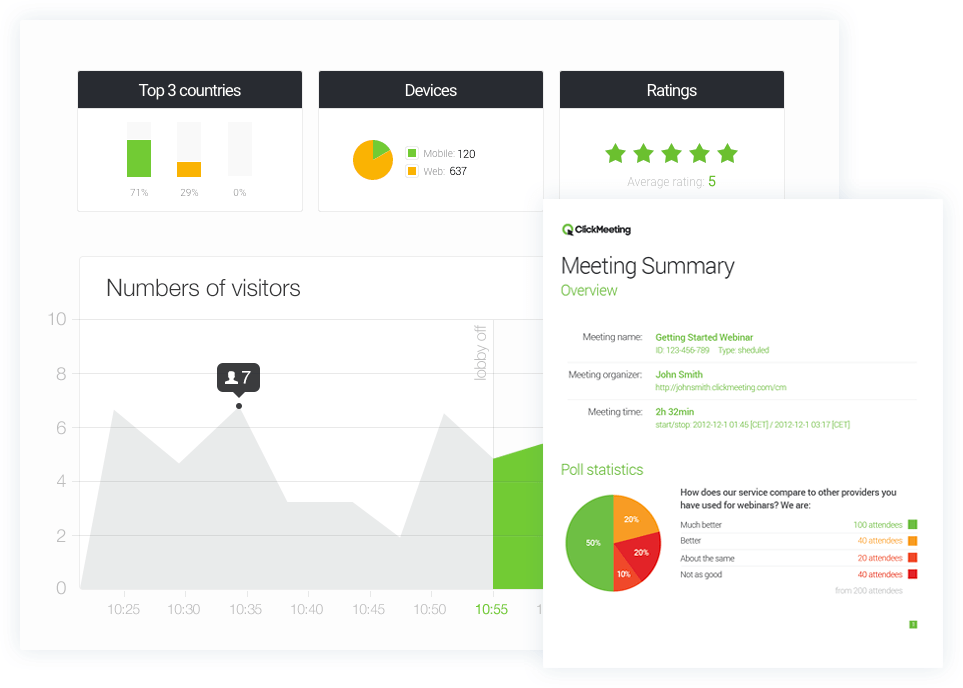 source


Templates you can use to generate bulk certificates for webinar attendees
Every comprehensive certificate maker should offer a vast range of certificate templates. Using Certifier you have a lot of templates to choose from.
Certificate templates for webinars about online marketing
Webinars on various topics related to digital marketing are extremely popular. That's why Certifier offers a template that can be used by those who organize webinars about online marketing.


Certificate templates for webinars on how to learn to code
Online seminars for people who want to teach themselves how to code are as popular as webinars about online marketing. If you plan on organizing such a webinar, you can use a ready-made template by Certifier to send certificates for webinar attendees in bulk.


Certificate templates for webinars with tips about time management
Time is money, right?
If you are among those who want to share their experience with time management through webinars, we have good news. You can issue certificates for webinar attendees using a template with a time management focus.
And remember that if you have any troubles using the templates library or need a customized certificate template for your webinar participants, don't hesitate to contact us!
To sum up
After reading this article, you will know how to generate certificates for webinar participants using a certificate maker and why issuing certificates is an important element of organizing an online event.
Now it's time to put this knowledge into practice. Create a free Certifier account and start generating certificates in bulk today.