The number of people who study online is increasing every year, both in university courses, professional training, and free courses. Udacity has more than 11.5 million users, whereas for Udemy this number is equal to 35 million.
The growing popularity of online courses and constant changes in the market of online education makes it harder for creators of such courses to succeed.
Recording a "talking head" type of video and uploading it to Udemy, SendPulse Edu, or any other platform is not enough. Your online seminar must provide additional value to the potential participants - offer a real-time chat, private Q&A sessions, practical tasks, 1:1 calls.
Offering an online certificate for a course is also one of the ways to differentiate your course from thousands of training videos available online.
So, if you are an author of an online course and want to create certificates for course attendees, this post is for you! We will explain to you how to issue digital certificates and why you need certificates for your course.
Why should you create an online course certificate?
Certificates provide a validated proof of knowledge obtained during a course. If a course attendant needs to prove their expertise in a certain subject, a digital certificate is one of the elements that will help them achieve that.
However, the benefits of creating certificates for courses are not restricted to people who take a course but extend also to creators of online courses. Let's see what advantages digital certificates bring to your business.
1. Proof of competence and credibility
Even though free courses are not recognized by some official bodies, certificates serve as a form of testimony of knowledge in a certain subject.
Therefore, those in charge of an online seminar who are responsible for creating course certificates testify to its reliability. People tend to choose a course precisely because they want to receive such a document as a guarantee.
Courses that offer certificates are also evaluated better and perceived as being more reliable.
2. Competitive advantage
Imagine two online courses that have really similar programs and are taught by competent and recognized professionals in their areas, but one offers certification and the other does not.
Which one would you choose? The one that offers an online certificate for a course, right? It is one thing to gain knowledge, but another to be able to share information about completing a course with a wider audience. Offering an online certificate for a course increases the purchase conversion of your course.
3. Additional promotion of your course
When a course participant receives a certificate for a course, they are quite likely to publish it on their social media in the form of a post or add it to their LinkedIn profile. And it's free promotion of your course, simple as that. The more people complete your course and share their certificate with their network, the bigger the reach of your brand mentions.
4. Incentive to complete the course
When a course that doesn't offer certification starts, how many people drop out?
A digital certificate works as a guarantee and becomes an extra incentive for a participant to complete the classes because it contributes to their motivation.
What's more, the level of commitment increases as the person knows that their effort directly impacts on obtaining a document that proves their knowledge. This generates authority for the person offering the classes and improves the performance of a certain online course.
What tools to use to create certificates for online courses?
There are a few solutions you can use to create online certificates for courses. Let's have a look at three examples.
Tool #1: Create certificates for free with Certifier
You can use a dedicated solution that is all about generating certificates, like Certifier. Certifier is the most reliable certificate maker on the market.
The tool provides a huge library of free templates that are fully customizable and enables the use of dynamic elements, like names of online course attendees, date of issue, course ID, etc.
The fact that it offers a built-in email sender for issued certificates makes it stand out on the market. This feature also enables you to access email statistics and check whether your students opened your message. Last but not least, Certifier's interface is really user-friendly.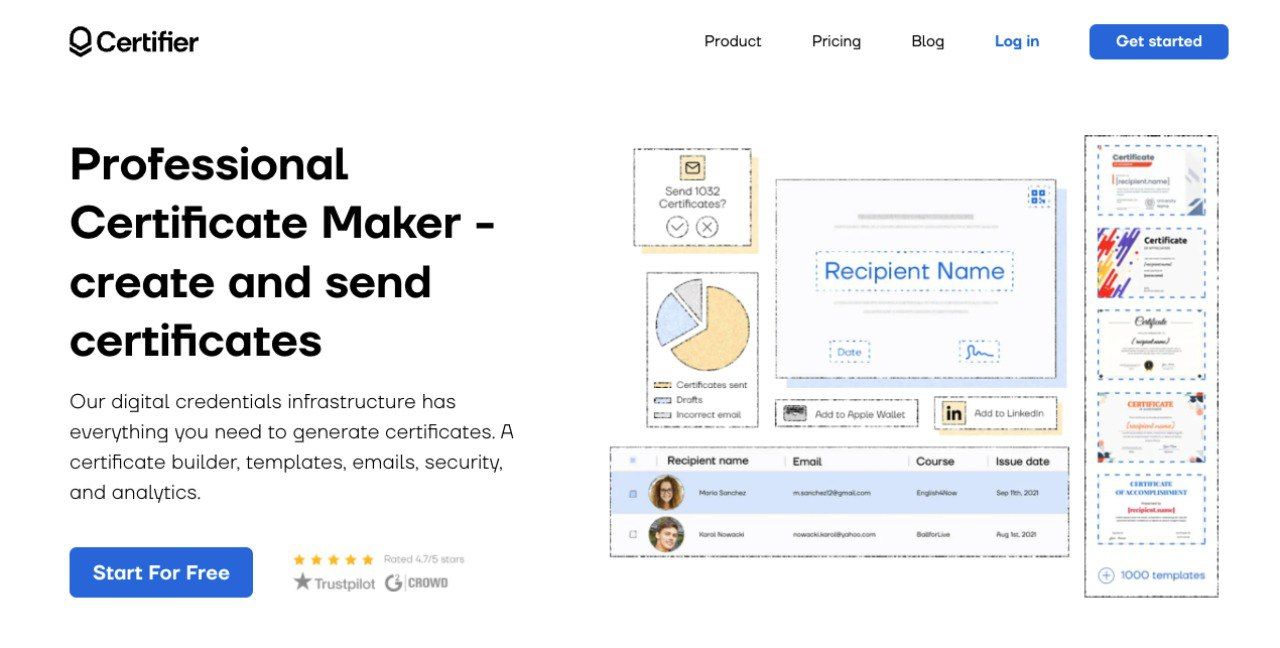 Creating certificates using Certifier is super easy.
Tool #2: Use Canva to create certificates for a course - it's free
Canva is an extremely popular free online graphic design platform and you can use it to create digital certificates for your course participants. Its big advantage is a library with over a hundred certificate templates.
However, Canva also has its limitations - there's no possibility to create course certificates in bulk, you also can't send them directly from the Canva dashboard.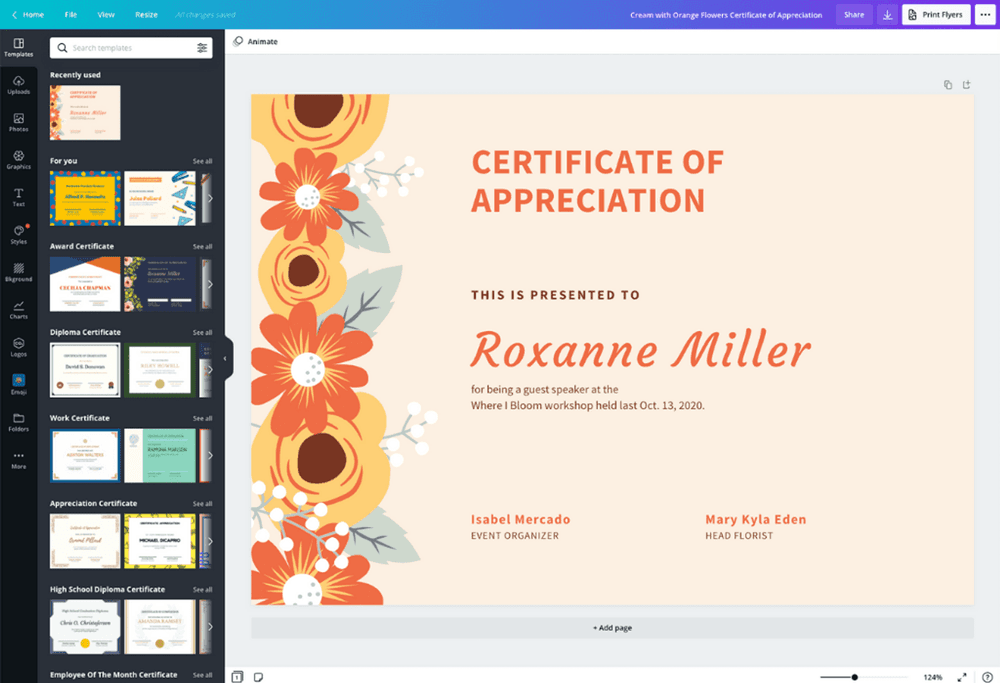 Tool #3: Create certificates for free with Google Slides
Google Slides is another option for creating certificates for course attendees. The tool is totally free and you can access it from any browser.
I don't need to add that Google Slides editor is really handy and easy to use. This solution enables some degree of automation in the process of generating certificates for online courses because you can upload a list of attendees by connecting Google Slides with Google Sheets.
Apart from its numerous advantages, Google Slides has some drawbacks. It doesn't offer ready-made certificate templates - you have to look for a design and upload it to Google Slides.
What's more, it doesn't provide any features devoted to certificate creation and doesn't allow you to send certificates in bulk. It's a solution you can use when you only have to generate up to ten certificates.
Okay, you can generate 100 certificates using Google Slides, but it will be a really tedious task.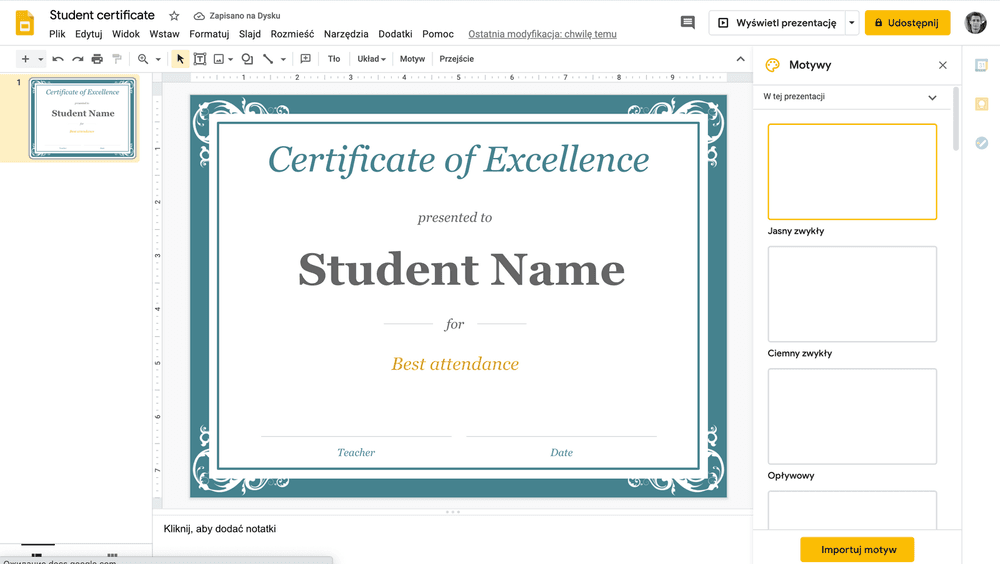 Choose templates for course certificates
Certifier offers many free templates you can use to create online certificates for your courses. You can choose from different types of free templates and either adjust them to the topic of your course or follow a specific style.
1. Modern template for course certificates
This kind of certificate template is a good choice if you organize online courses focused on innovative topics. Their sleek, fresh design will correspond well with the subject of your seminars.
2. Classic templates for course certificates
If you want to create certificates that look somewhat like university or high school diplomas, this template will meet your expectations.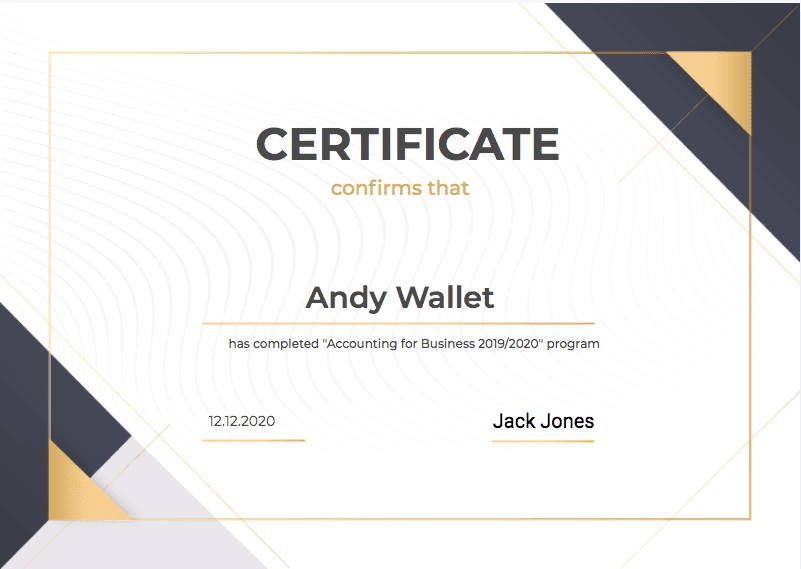 3. Minimalistic templates for course certificates
Minimalistic templates that use toned down colors and simple fonts are a universal solution that can be easily adjusted to your company branding.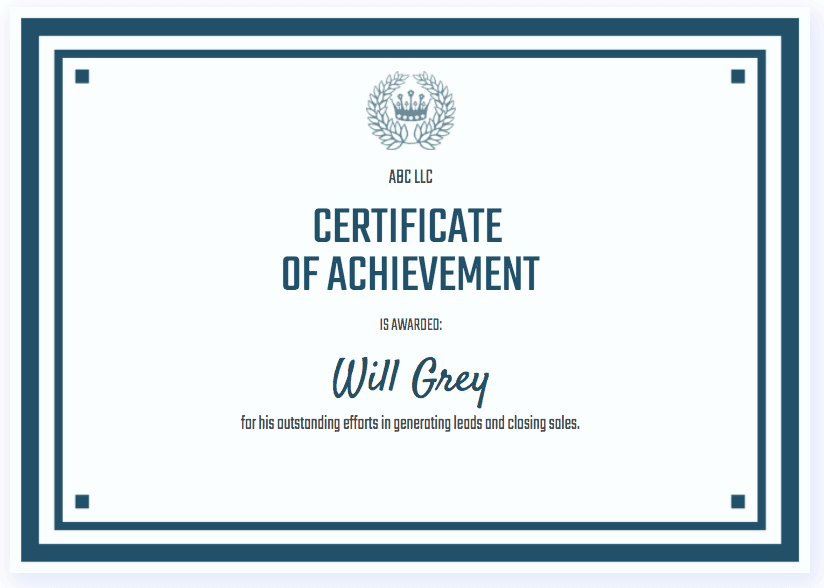 Conclusion
When we talk about creating certificates for courses, we are also talking about convenience for you and your students. Many ways of generating certificates in bulk are a kind of semi-automation and still require lots of work on your end.
It's not the case of Certifier. This certificate maker automates the whole process of generating certificates and can be a real game-changer for you.
You can test it for free and then decide whether you want to upgrade your plan. Follow this link to create an account.
Share this article

WRITTEN BY
Sergey Butko
Tech entrepreneur. Forbes 30 Under 30 Europe. Digital Marketer.