Do you want to turn your Google tools into certificate makers? It might be a stretch with just the standard Google features.
However, there's a great selection of add-ons waiting for you in the Google Workspace Marketplace to boost its potential.
We want to bring you an honest, no-fluff comparison of the top Google certificate makers available. Just the facts, no false promises.
First, take a look at Certifier certificate maker
While Google's tools are handy for a bunch of stuff, they might not hit the mark when you're specifically looking to design certificates. In other words, you'd need a specialized chef rather than a general cook.
That's Certifier for digital certificates.
It's this awesome spot where you can design, send out, and even track your certificates' status and numbers. Aside from that, it provides hundreds (500+) of beautiful certificate templates, and that vast collection is still growing.
Here's what makes Certifier so cool
Drag & drop, intuitive editor with customizable certificate templates

You can upload the recipients from Google spreadsheets with a click

Sending out certificates is a breeze (you can even customize the email template)

Tracking dashboard where you can check the certificate status (sent, opened, shared on LinkedIn, etc.)

Your certificates are safe and sound
Pricing
Certifier provides a forever-free plan that covers a range of features.
#1 CertifySimple App - A reliable Google certificate maker?
CertifySimple is like that handy tool in a digital toolbox that promises to simplify the certificate generation process.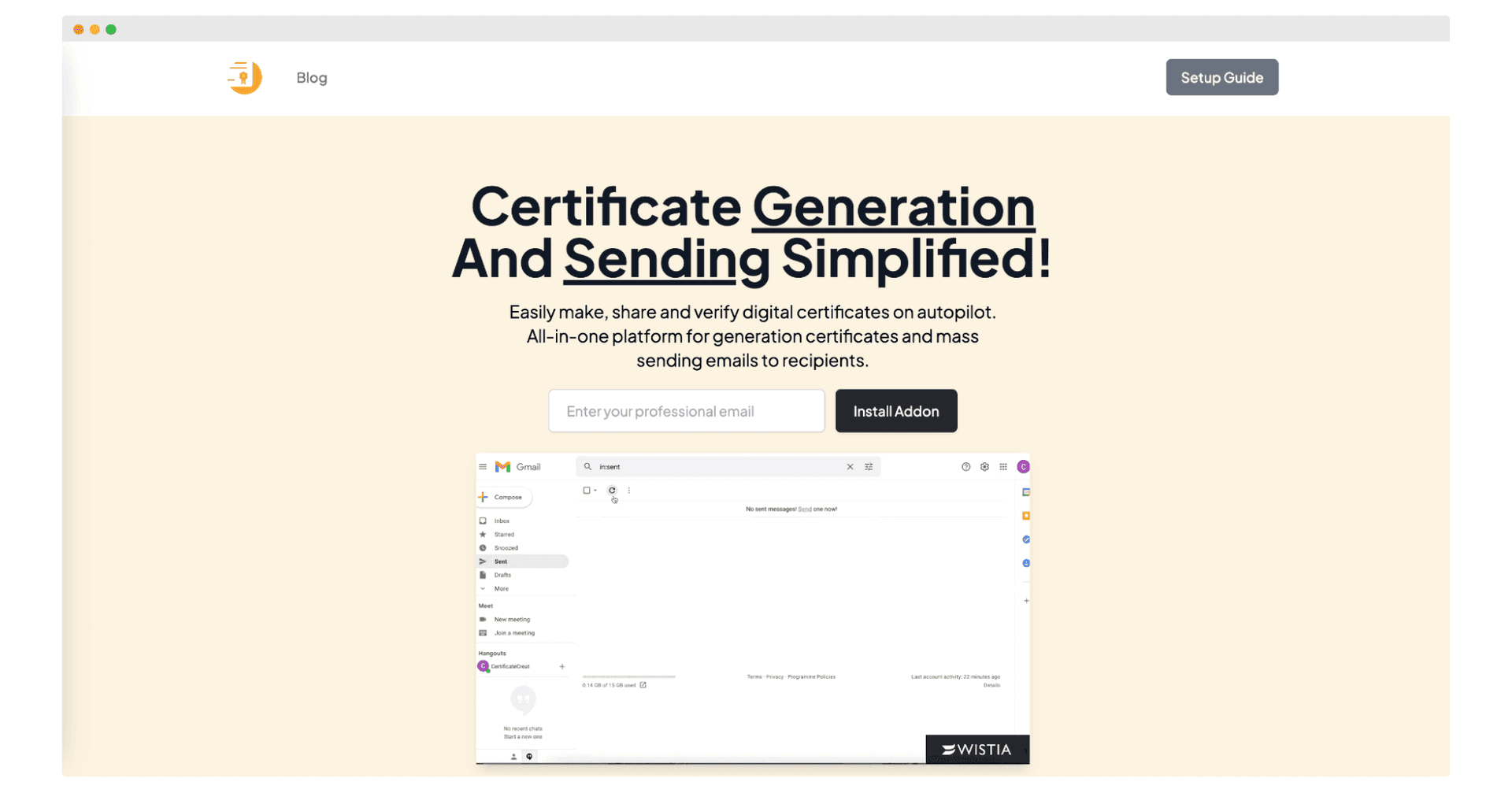 It's built to play nicely with Google. It enables to use of Google Slides for design, Google Sheets for personal touches, and Gmail to send them out. Sounds cool, right?
But there's a catch.
CertifySimple App honest review
While CertifySimple shines in sending out certificates, the creation process might be a bit overwhelming for some. Sure, you can edit templates from Slidego or even import ones from Canva. But if you're not super familiar with these platforms, there might be a bit of a learning curve. 
So, while it's great for mass sending, be prepared to invest some time in the setup.
Pricing
CertifySimple App is free. The tool is licensed per user (Google Account).
#2 Certify'em - free Google certificate generator
Basically, Certify'em makes your life easier when it comes to creating and issuing award certificates.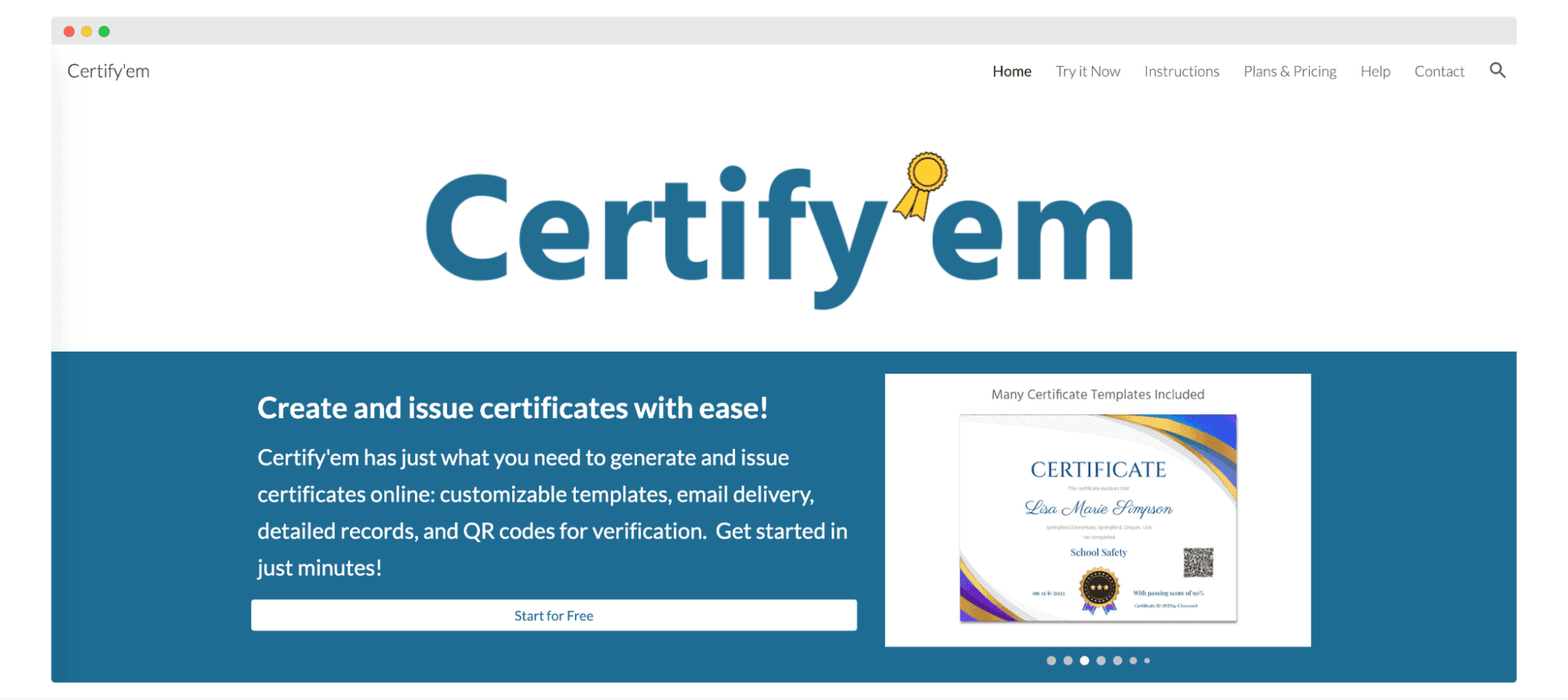 At its core, it's designed to work hand-in-hand with Google Forms, allowing you to automatically send out certificates to those who meet your criteria.
The process is pretty straightforward – you have to design a professional certificate using Google Slides, set up a Google Form, and let Certify'em handle the rest.
Certify'em honest review
If you're using the free version of Certify'em, there's a little "surprise" on every certificate – a watermark.
Now, while freebies are great, this watermark might not give off the most professional vibe (especially if you're issuing certificates for official or business events).
Pricing
Depending on how many emails you want to send per day, Certify'em offers different pricing plans. Up to 60, the tool is for free. Then, the prices range from $4,99 to $8,99 per month.
#3 AddonForge | Send Certificates - automatic certificate generator
The AddonForge developer house creates plugins for the Google Workspace Marketplace. Send Certificates is one of their most popular add-ons available. Let's take a closer look at it.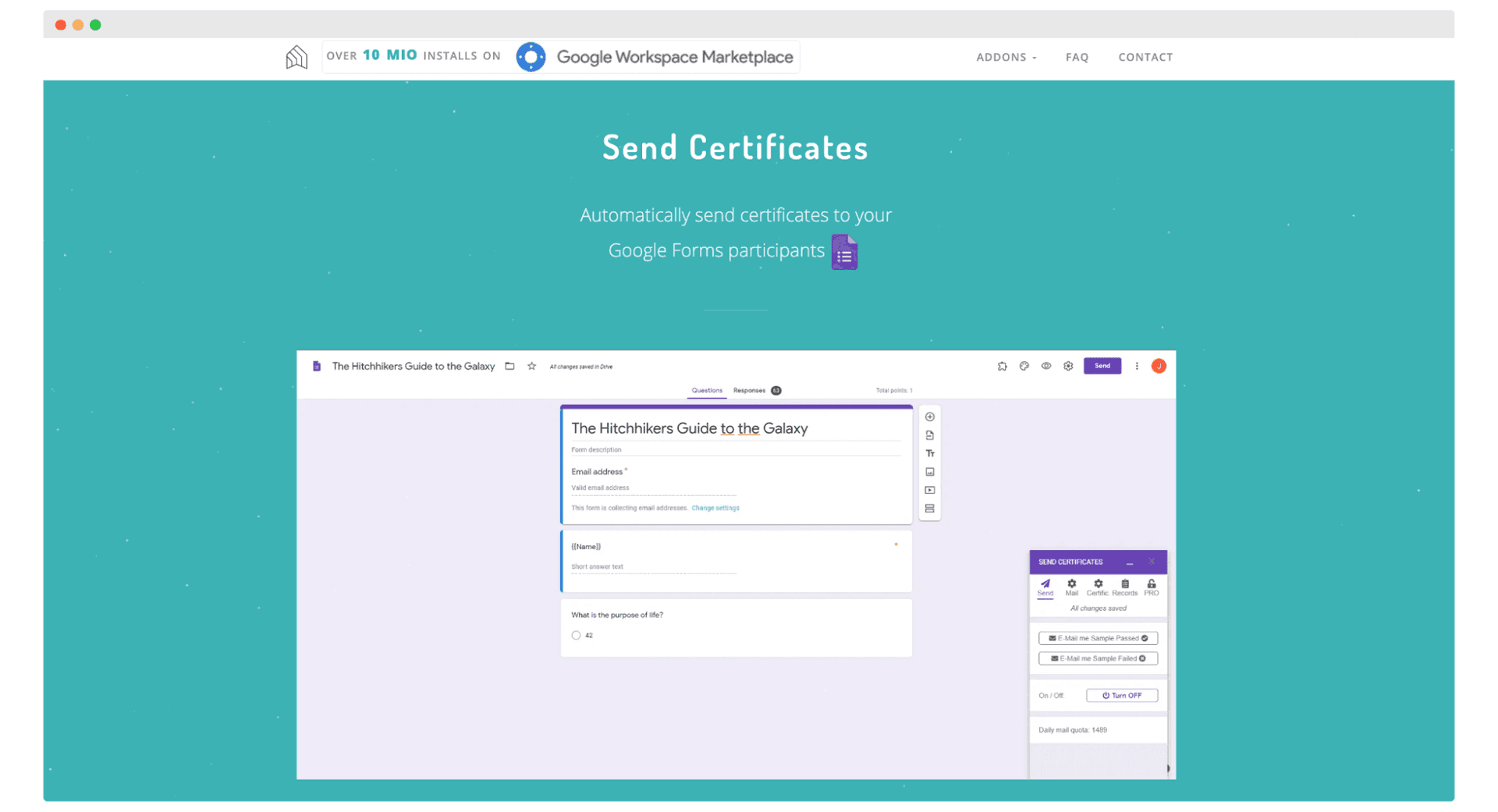 The purpose of this tool is to make sending certificates easy. It's got some handy features like allowing you to send sample certificates to yourself (to ensure everything looks just right) or merge tags.
These tags let you insert dynamic content, like names or dates, into your certificates and emails.
AddonForge honest review
However, it's not a tool for everyone. This is especially true for those who require more complex customizations.
The tool provides only 6 certificate templates. In comparison with tools like Certifier, it comes off, well – more than poorly.
Pricing
The free plan is limited to the number of emails sent with the certificate document. The AddonForge also provides paid versions – 12 months or a "lifetime." There is no information on the exact prices of paid plans.
#4 CertiMerge - Google certificate creator for mail merge
CertiMerge Google Workspace add-on lets you take data from a spreadsheet and merge it with a template slide to create certificates.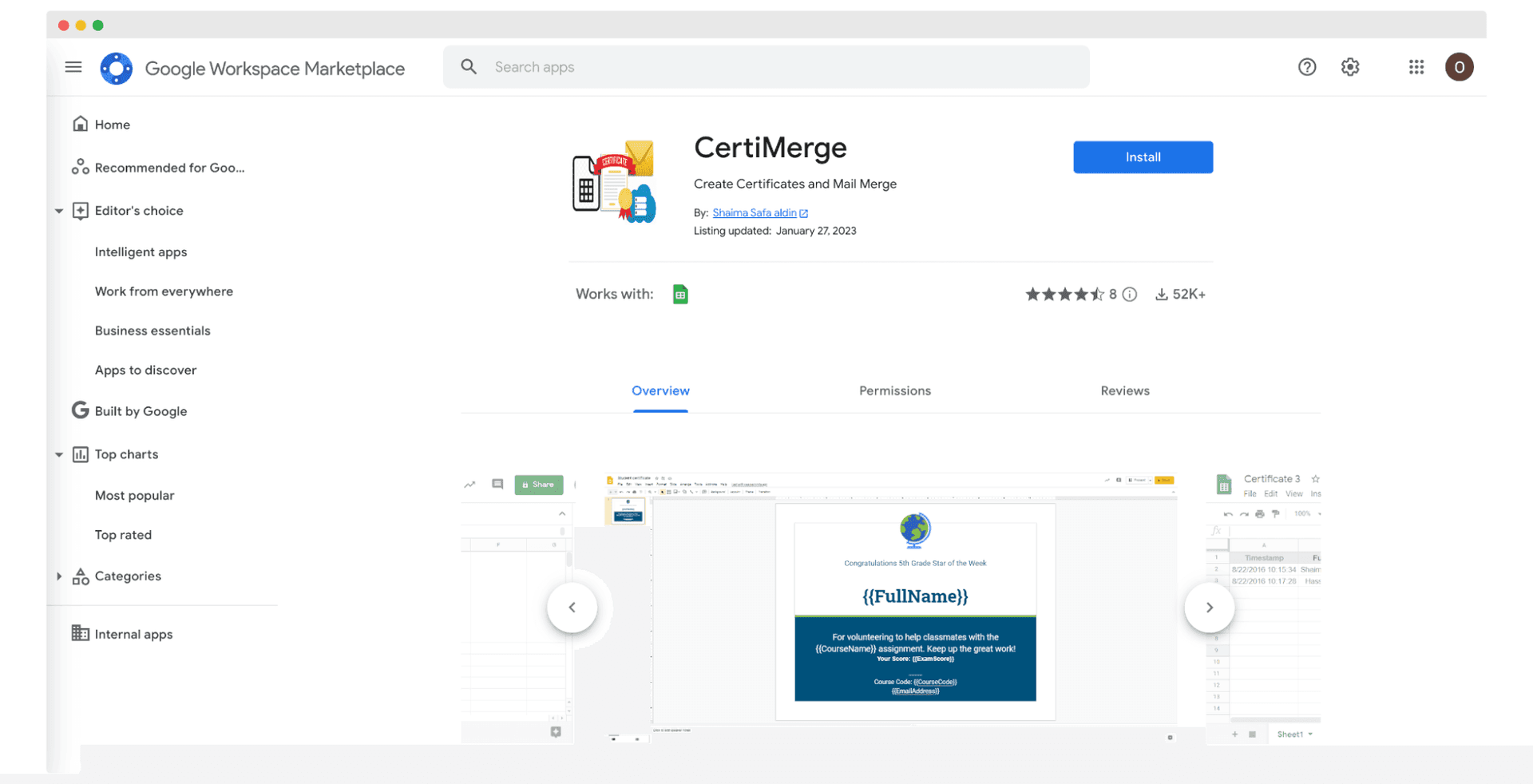 Once you've got your certificates ready, CertiMerge automatically organizes them in a folder in your Google Drive.
And, if you want to be extra efficient, CertiMerge can email these certificates as certificate PDFs to each user (just make sure you've got the email addresses right in the spreadsheet).
CertiMerge honest review
While you can add various details from the spreadsheet to the certificate, the customization options seem to be limited to the predefined fields. So, if you're looking to add unique elements or design features, you might hit a roadblock here.
Additionally, you'll need to set up your spreadsheet perfectly. One wrong move, and you might find yourself back at square one.
Pricing
Pricing is not provided by this vendor.
#5 Document Studio - Google Workspace add-on for task automation
Essentially, Document Studio is a dynamic tool designed to combine data from Google Sheet and Google Forms into polished documents. From business letters to special event tickets, it's got a wide range.
But what about certificates?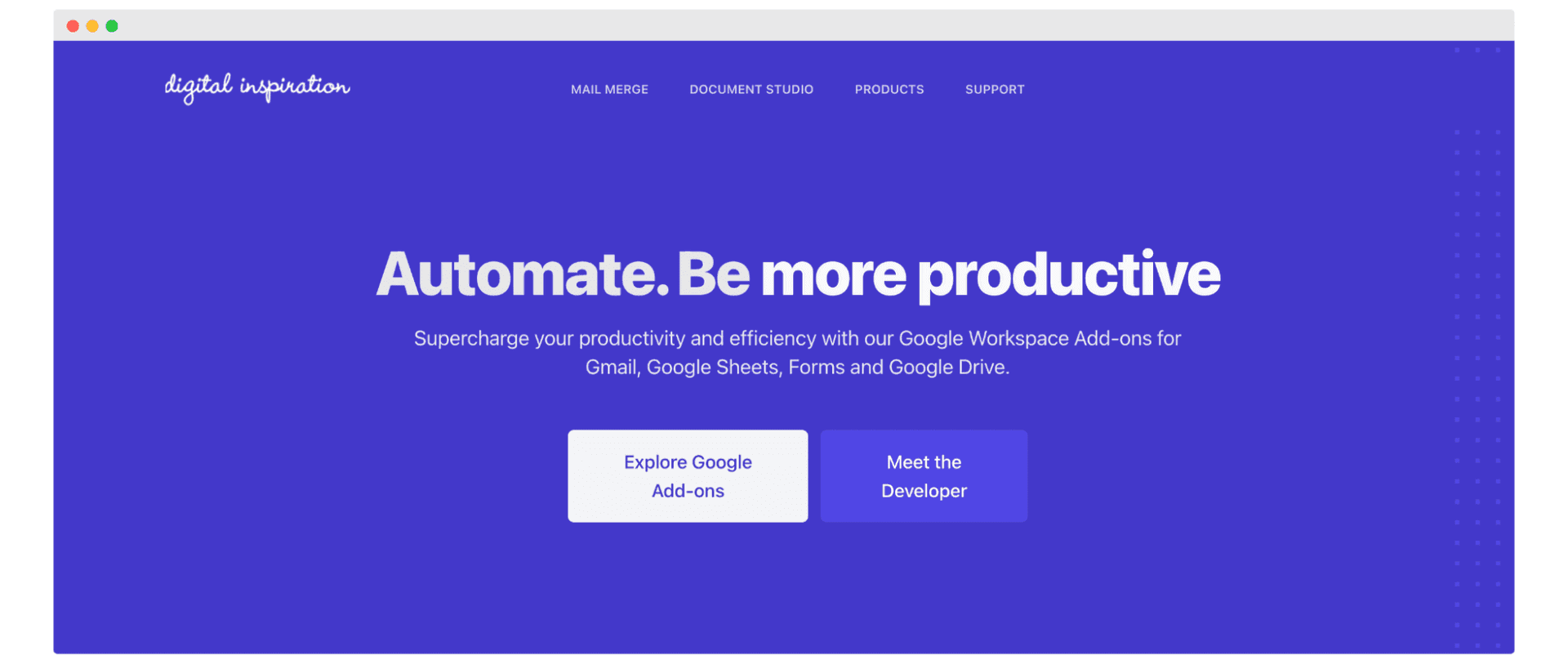 With Document Studio, you can design a template in Google Docs and sprinkle in some placeholders. Each name gets its own personalized certificate.
Further, with integrations like Slack and Trello, you can even automate notifications when each certificate is generated.
Document Studio honest review
Now, let's get real. While Document Studio is a gem for many document-related tasks, it's not tailor-made for certificates. It doesn't offer specialized certificate templates or features that you might find in dedicated comprehensive certificate makers.
This means you might need to put in extra effort to get that perfect design. And if you're thinking of high-security elements, Document Studio might not meet your needs as well.
Pricing
Document Studio is primarily free, but if you want to use some of its more advanced features, such as Document Studio branding, you need to pay for it (from around $80,00 to $100,00 per year).
How to implement the plugins from Google Workspace Marketplace to make certificates?
If you don't know where to start, here's a short guide that shows you how to download and implement one of the tools above.
Step 1: Go to the Google Workspace Marketplace
Visit the Google Workspace Marketplace to get started. You will find a variety of plugins there designed to boost your certificate workflows.
Step 2: Search for certificate plugins
In the search bar, type in the keywords of the tool you want to download. This will pull up a list of plugins specifically designed to help with certificate creation. Browse through the options and read the reviews.

Step 3: Install your chosen Google plugin
Did you find a plugin that seems like a match? Great!
If you click on it, you'll be taken to a detailed page with more details. If everything looks good, hit the "Install" button.

Just follow the prompts, grant permissions, and done! Your plugin is now ready to roll.
Step 4: Integrate with Google tools
Most plugins from the Marketplace are designed to work seamlessly with Google tools. So, whether you're using Google Slides or Sheets (or any other tool from the Google family), the integration process should be straightforward.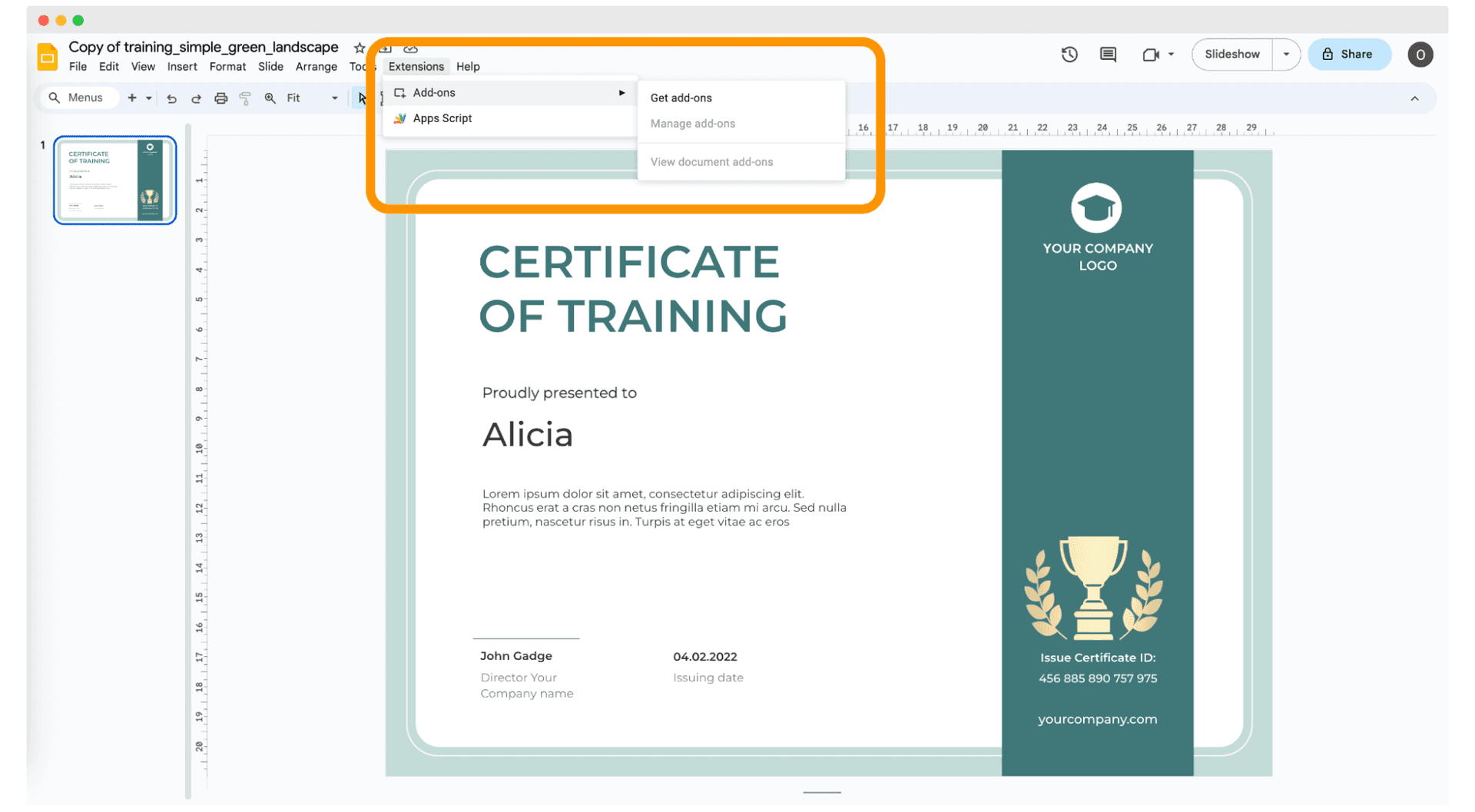 [Download this certificate template here]
Usually, after downloading, you'll find the plugin added to your Google tool. Go to Extensions > Add-ons and check whether your plugins are ready to be used.
Step 5: Craft online certificates
With your plugin installed, it's time to get creative. Depending on the plugin's features, you can design, customize, and even automate the certificate creation process.
Explore, experiment, and find what works best for you.
What about the Google certificate maker alternative?
While Google's certificate tools can get the job done, why settle for basic when you can have faster and better solutions? Platforms like Certifier are leading the way with their sleek certificate designs, easy sending, complex tracking, and so much more.
So, next time you're in the certificate-making mode, try these other options. After all, in the world of digital credentials, it's always a good idea to have the best tools in your toolbox. 
Get a free plan and create certificates that stand out. To work faster (and smarter)!
Share this article

WRITTEN BY
Sergey Butko
Tech entrepreneur. Forbes 30 Under 30 Europe. Digital Marketer.