Are you trying to find CertifyMe alternatives?
There are two cases – you are already a CertifyMe user, and you need a change. Or, you are doing market research and would like to learn what credentials platforms have to offer.
We're going to help you make a choice.
Let's put all the cards on the table.
CertifyMe in a nutshell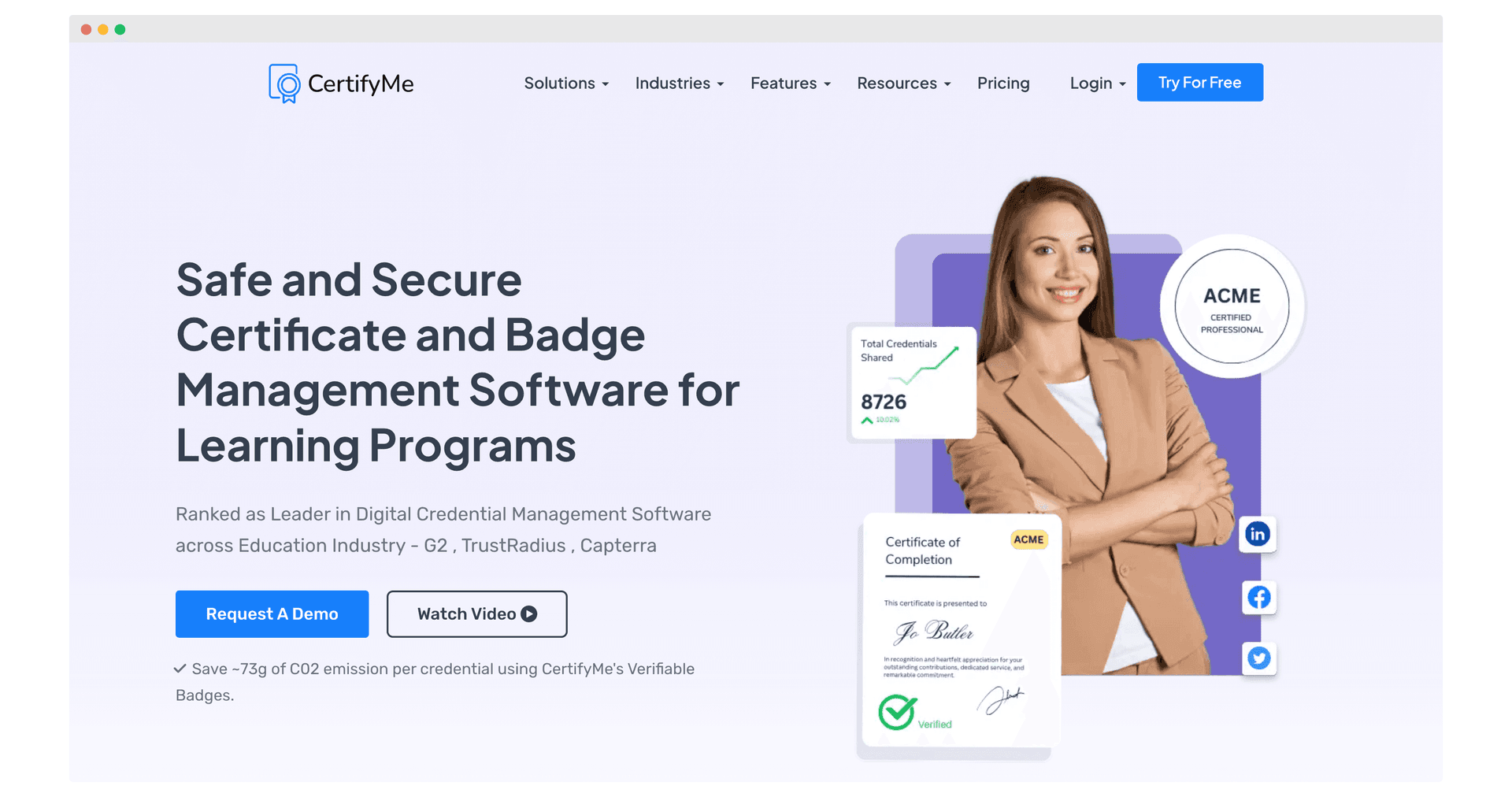 When it comes to digital credentialing, CertifyMe makes a good first impression. With solutions designed to engage and validate learners, it has created a niche for itself. Among its capabilities are:
Digital badge customization options with template library

Analytics dashboard to track the level of engagement

Portable micro badges with verification link
With such a set of features, it seems to be a strong player in the digital badge space. But it's not without limitations. The more you use it, the more flaws you see.
CertifyMe pricing
Here's where it gets a bit tricky. The website says you can start with 50 free credentials, but it doesn't really mention how much it'll cost you after that. For many users (especially those on a budget) this could be a significant drawback. You don't know what you're getting into until you've already invested time in the platform.

User review source: g2.com
Why CertifyMe might not be the best digital credentialing platform?
CertifyMe provides a detailed dashboard with analytics and customization features – although impressive, it might be overwhelming for those seeking a more straightforward user experience. Well, if you're looking for a simple, intuitive interface, you might not find it in CertifyMe.
There is one more thing. It's the solution focused on the education sector, and business factor (such as, e.g. branding) takes a back seat. It's been seen. Before signing up, you can't even see any badge or certificate templates, so you don't know whether you'll like their design.
In summary, CertifyMe has a lot to offer, but it's not for everyone. The secret pricing plans and the focus on specific industries might make you want to look elsewhere.
So, if you're in the market for a digital badge platform, why not check out some other options that might be a better match for what you need?
Compare all CertifyMe alternatives: comparison table
Not enough time? For a quick overview of all CertifyMe alternatives, check out this comparison table.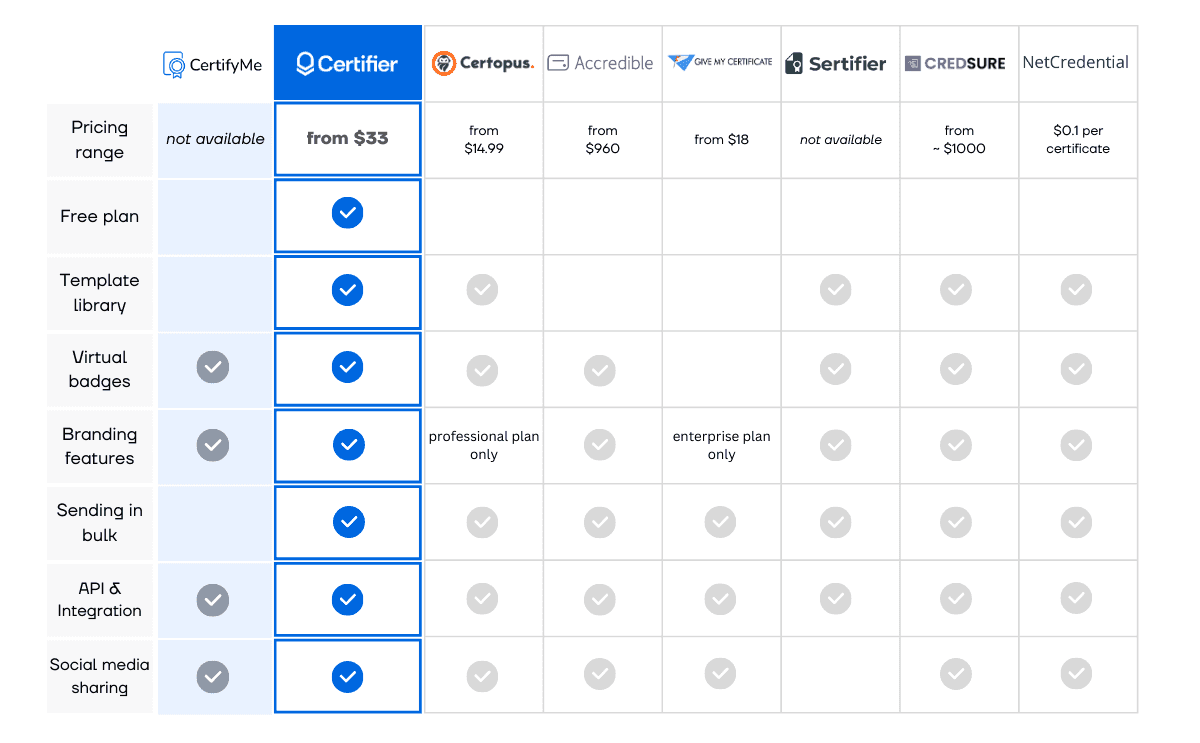 #1 Certifier - the most intuitive credential platform
When it comes to digital credentials, Certifier is a real game-changer. This all-in-one solution offers a comprehensive solution to generate, share, and verify digital certificates and badges.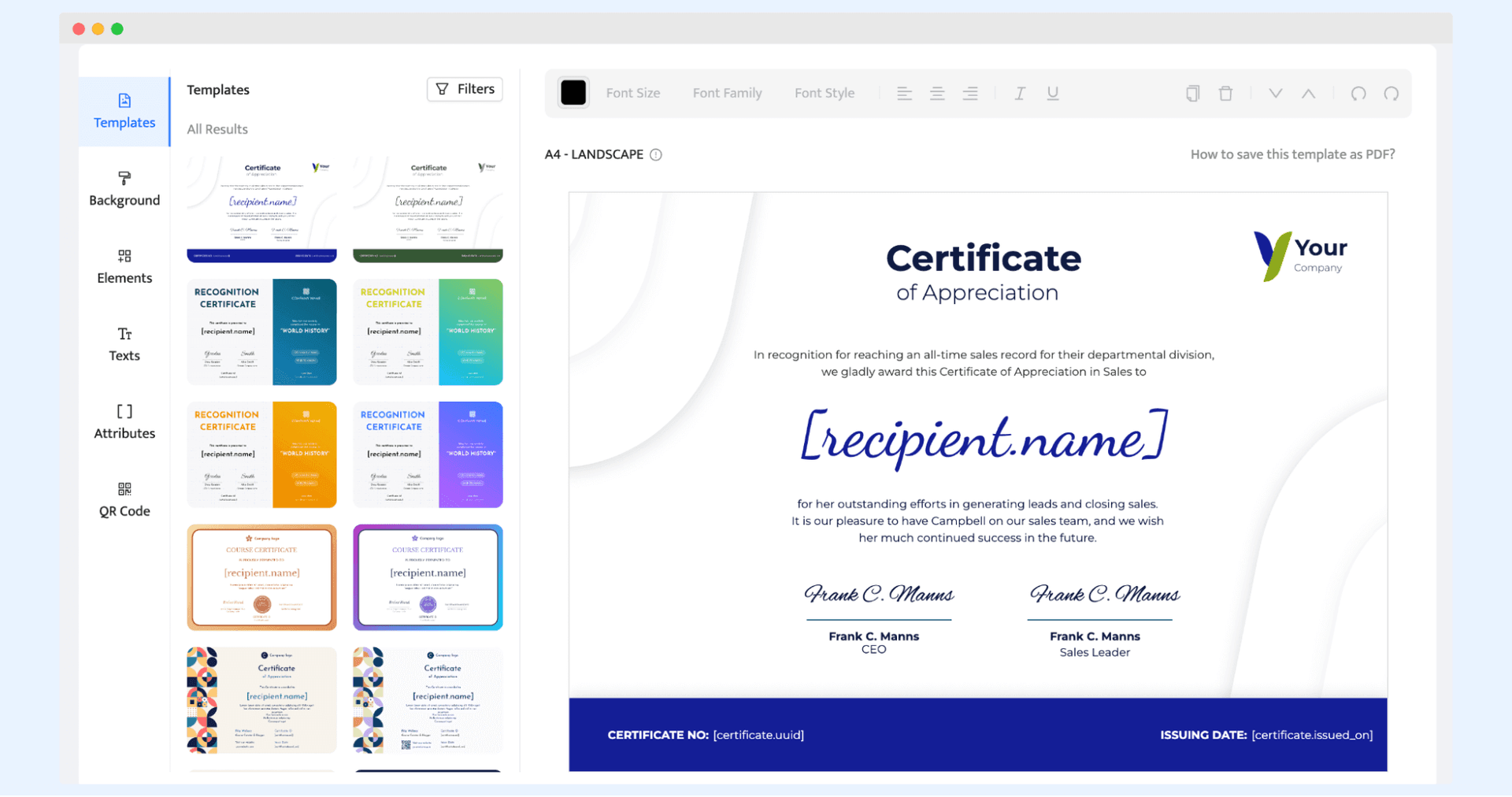 What sets them apart from CertifyMe? Super user-friendly interface, ready-made templates, and mass email sending capabilities – Certifier is designed to give your certification process a complete professional experience. Every corner of the platform reminds you that it's a digital credentialing tool made for users.

User review source: g2.com
Best Certifier features
500+ pre-made beautiful custom certificate templates

Bulk generation and multiple certificates and virtual badges in one go, saving you time and effort

Branded certificate design and custom features to align credentials with your brand's identity

Complete certificate automation via Google Sheets or Excel or even change the email template

Credential delivery analytics to track how your recipients interact with their certificates

Easily integrate Certifier with over 5,000 apps via Zapier or API
Certifier pricing
Certifier offers three pricing levels in affordable prices to respond to different budget and feature requirements. It offers free-forever plan that covers almost all features (sign up to try). The prices for paid plans start at $33 per month.
Certifier also offers a 15% lifetime discount for all plans to non-profit organizations.
#2 Certopus - digital toolbox for credentials
Certopus is a digital toolbox filled with key features to create, send, and track smart certificates and badges. This platform aims to be a go-to resource for certification, offering useful tools like a template engine for certificate designs and analytics to track certificate performance.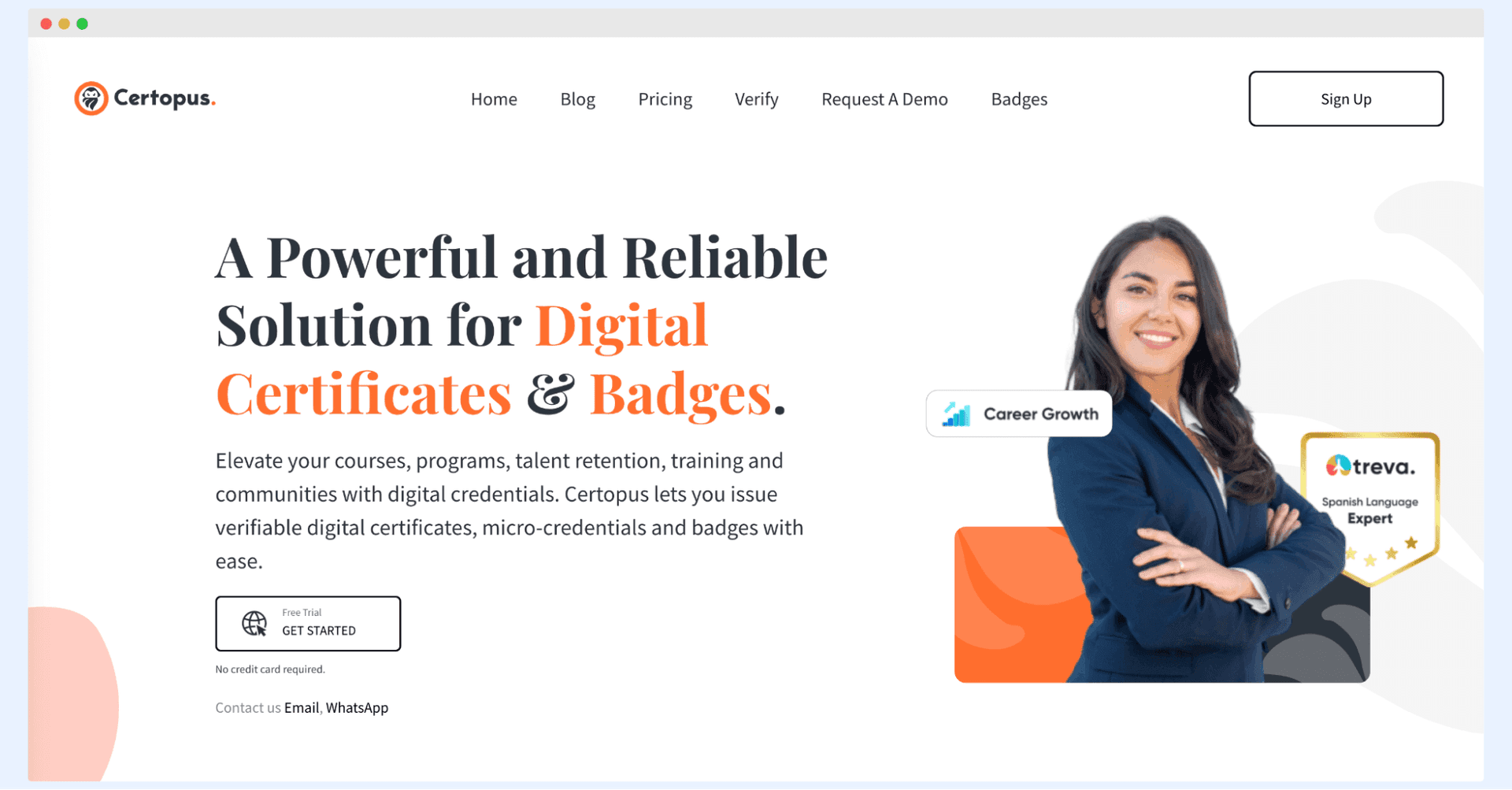 But there's a catch comparing it to CertifyMe. There is something clunky about the interface. It takes some time to learn how to use it, and you don't have many customization options to put your own stamp on the certificate design.
Best Certopus features
Bulk generation of high-quality PDF certificates

Industry digital credential standard with tamper resistance

Integrations with learning management systems

Set of ready-made templates
Certopus pricing
Certopus plans start at $14.99. There are 50 free credentials as a trial. The demo is available upon request. No free plan is provided.
#3 Accredible - premium choice for digital credentials
Accredible is a leading name in the digital credentialing arena. But also one of the most expensive ones. It's a suitable choice for larger organizations that require a wide range of features and high-level security.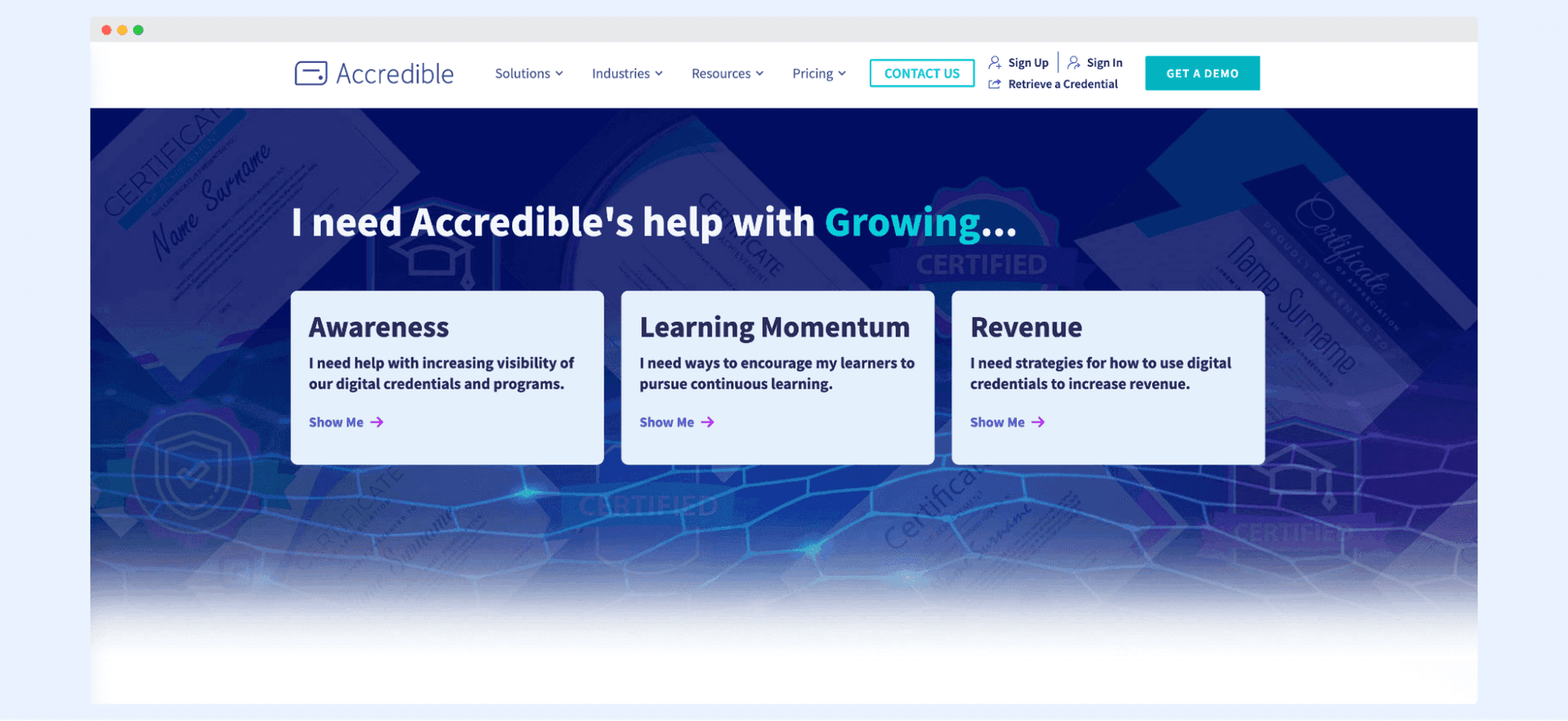 However, if you're an individual or part of a smaller organization looking for a simple and quick solution for digital credential generation, you might want to think twice before opting for Accredible. Even so, if you have a budget, it's still worth checking out.
Best Accredible features
Automated workflows (automatic name change, expiration, or renewal)

The blockchain technology that provides cybersecurity systems and instantly verifiable documents

Ability to integrate Accredible into a learning platform
Accredible pricing
Accredible pricing is partially hidden. But the lower plan starts at $960 per year. It means that for the basic version of the tool, you have to pay $80 per month (monthly billing isn't available). Demo available upon request. No free trial.
#4 Give My Certificate - basic but fast digital certificate management system
Issuing credentials often requires speed. Whether you're a large educational institution handing out diplomas or a company distributing professional certificates for training programs, you don't want to keep your recipients waiting.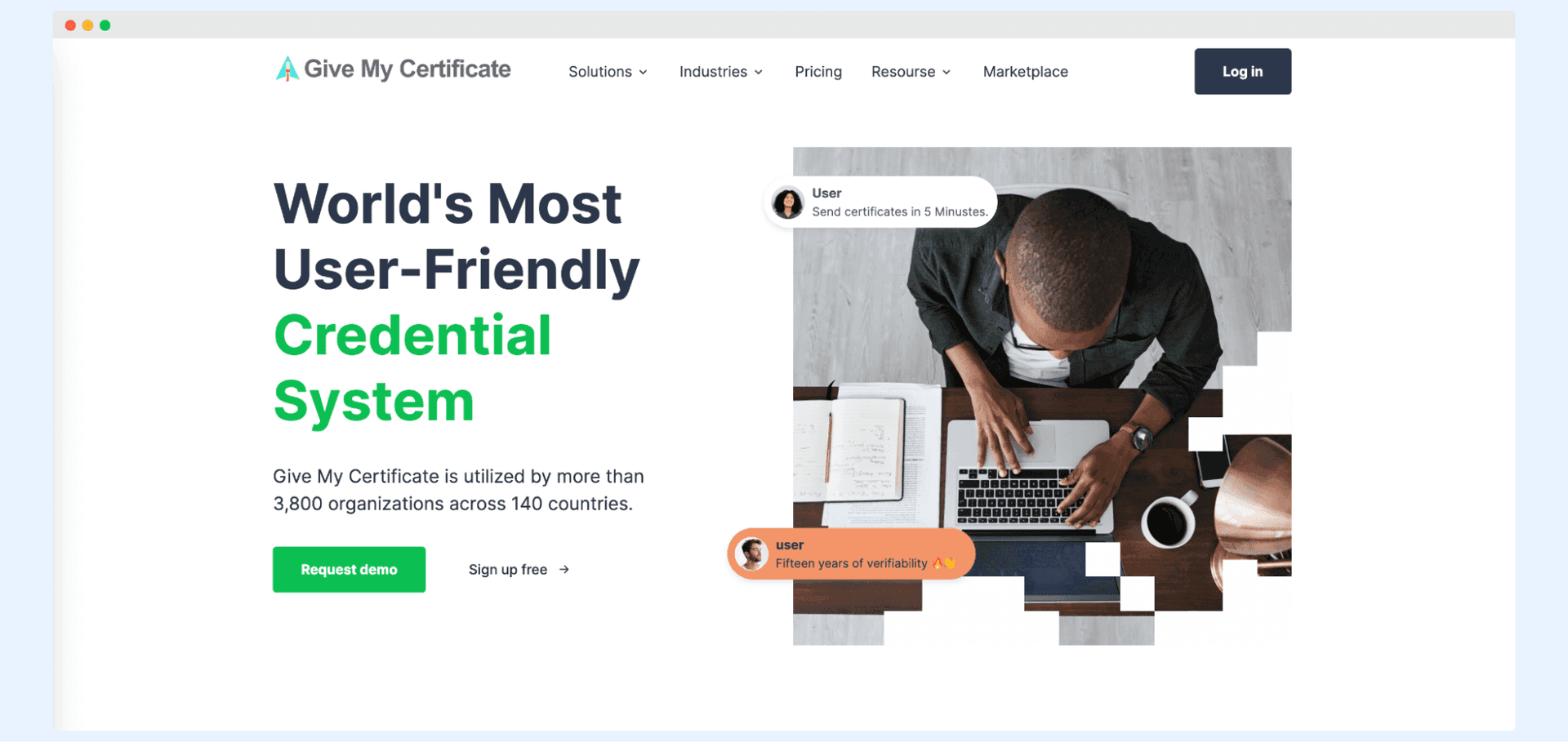 Give My Certificate prides itself on its speed. So if you have many credentials to handle, this digital credential management tool should deal with it faster than CertifyMe. But note that in terms of features, it's not so advanced.
Best Give My Certificate features
Customization features, from custom SMPT to custom subdomain (in the highest plan)

Integrations via API

Share status tracking 
Give My Certificate pricing
Give My Certificate is an affordable alternative to CertifyMe that will not knock you off your feet with its price. But, the most basic plans are quite limited in options. The tool provides a free plan. The prices range from $18 to $115 per month.
#5 Sertifier - complex tool for digital credentialing
Sertifier is a platform that aims to provide an end-to-end solution for digital credentialing. Whether you need to design and issue certificates or verify their authenticity, Sertifier covers it all.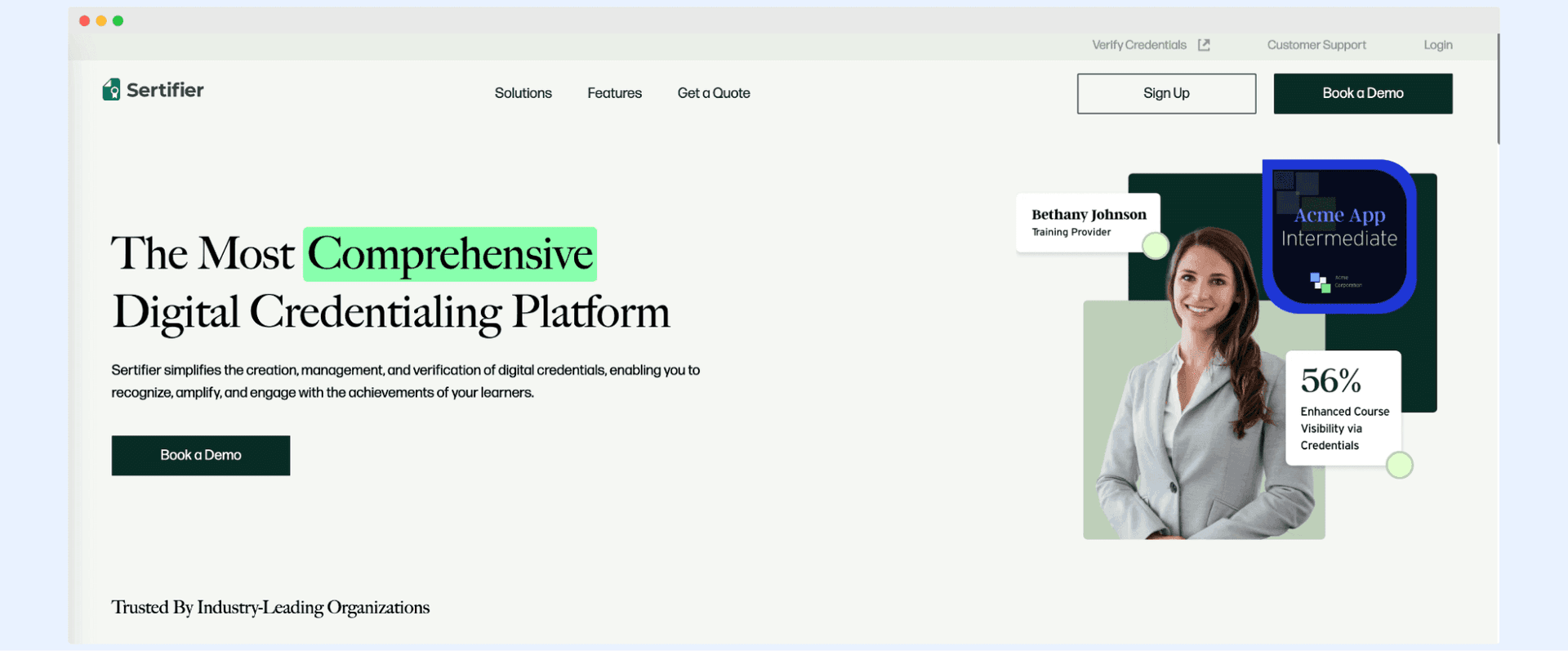 While the platform prioritizes usability, it's not without the UX challenges. Users complain about the confusing interface and find it difficult to use. A number of them also point out the limited choice of credential templates. In the end, it may turn out to be more complex to use than CertifyMe.
Best Sertifier features
Blockchain technology to add an extra layer of security and authenticity to verifiable certificates

Major LMS platform integrations like Zoom or Moodle

Detailed analytics to measure the success of digital credentialing initiatives

Customization of digital certificates and badges
Sertifier pricing
The website doesn't provide information about Sertifier pricing. To get the details, you must make a quote. A demo upon request is available.
#6 CredSure - platform for digital credentials
CredSure is an online credentialing platform made for teams that need to give out certificates. It helps them work together easily by providing collaboration features and the ability to set different roles.
The platform heavily relies on blockchain technology for certificate verification. The focus on this technology could be a double-edged sword – it adds a layer of security but may also introduce complexity that not everyone is comfortable with.
Best CredSure features
Admin roles and easy collaboration features to manage and issue certificates and badges

Simple one-click verification infrastructure with URLs

Real-time analytics and visual highlights on shared status
CredSure pricing
The cheapest CredSure plan costs almost $1,000 per year (it includes one bespoke certificate template). The vendor doesn't provide any further pricing details. The demo is available.
#7 NetCredential - flexible credentialing tool
As an alternative to CertifyMe, NetCredential is the last option. Using this credentialing tool, groups such as training centers, schools, and companies can create and send certificates without much effort.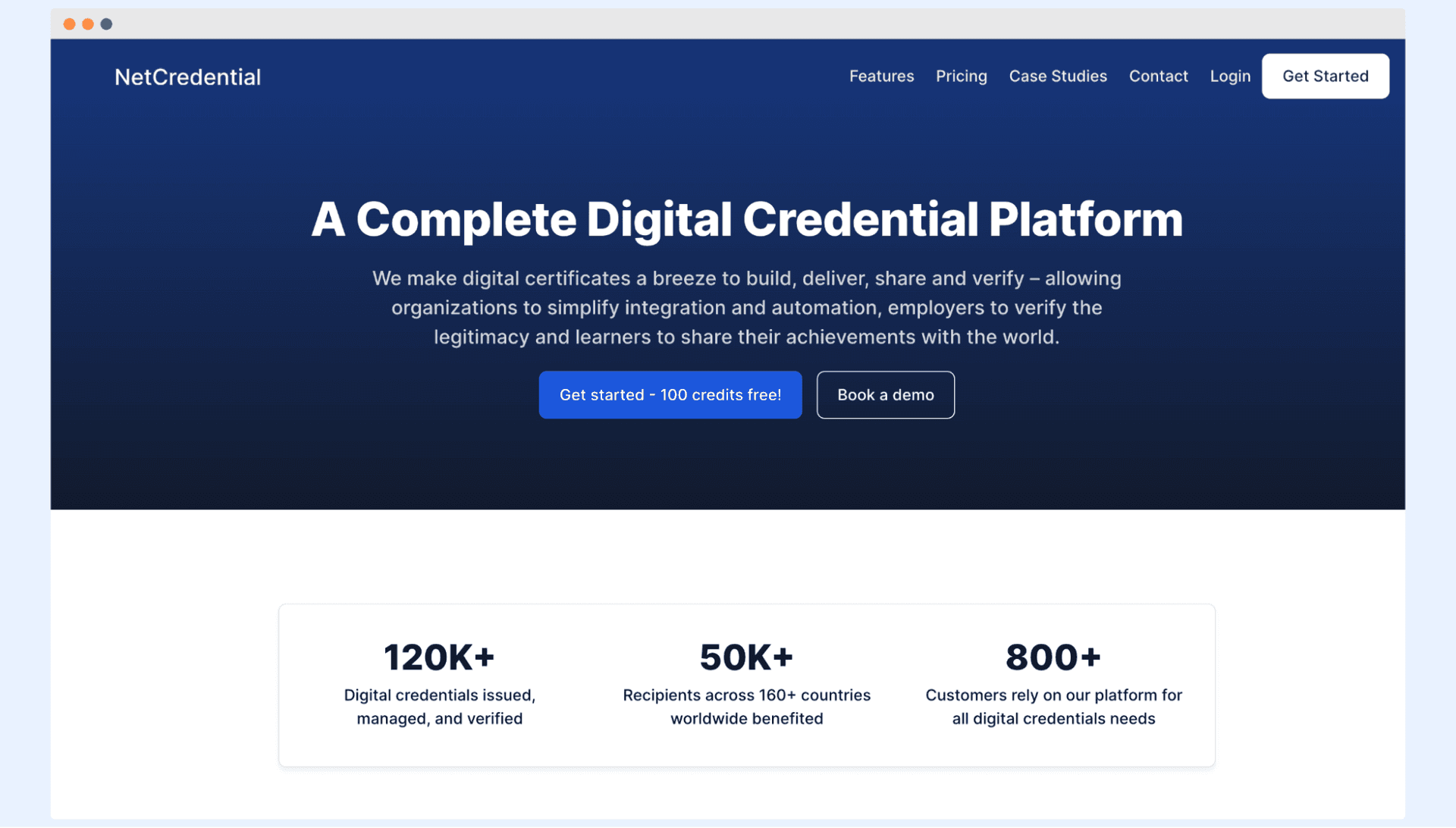 While it promises to unlock new chances for your certification program, it's good to note there isn't much information available about it. On a site like G2, there are only 10 NetCredential reviews. Then, there is still plenty of room for NetCredential to catch up with other options from this list.
Best NetCredential features
Activity reporting to track the digital certification process

Unlimited certification designs

Easy social sharing

Chat support
NetCredential pricing
NetCredential offers a flexible pricing model that lets you pay for the number of credentials you need ($0.1 per certificate). There are no monthly fees or time limits.
Here's the winner
This CertifyMe alternatives review has led us to one reflection. No one wins. Among these trusted solutions, each offers its own set of advanced features. Sometimes, it's just a matter of a slightly different interface that impacts your decision.
We won't lie to you, though. Certifier blend of functionality, usability, and security has stolen our hearts. It's an option well worth exploring further. Sign up for a forever-free plan and see how Certifier simplifies your credentialing workflow!
Share this article

WRITTEN BY
Sergey Butko
Tech entrepreneur. Forbes 30 Under 30 Europe. Digital Marketer.