How to design and edit a certificate online using Certifier for free
Using an online certificate editing software like Certifier will allow you to quickly create and generate hundreds of certificates and badges, saving you the time and effort you'd otherwise spend doing it all manually. Follow the steps below to learn how to design and edit certificates online using Certifier and customize them to your branding and needs.
Step 1: Sign up for Certifier
Sign up for a free Certifier account to design and edit diplomas online in a matter of minutes. With a Certifier account, you can easily create certificates and badges customized to your branding and aesthetical preferences for free. Thanks to our visual builder, you'll be able to preview each change you make to your document in real time.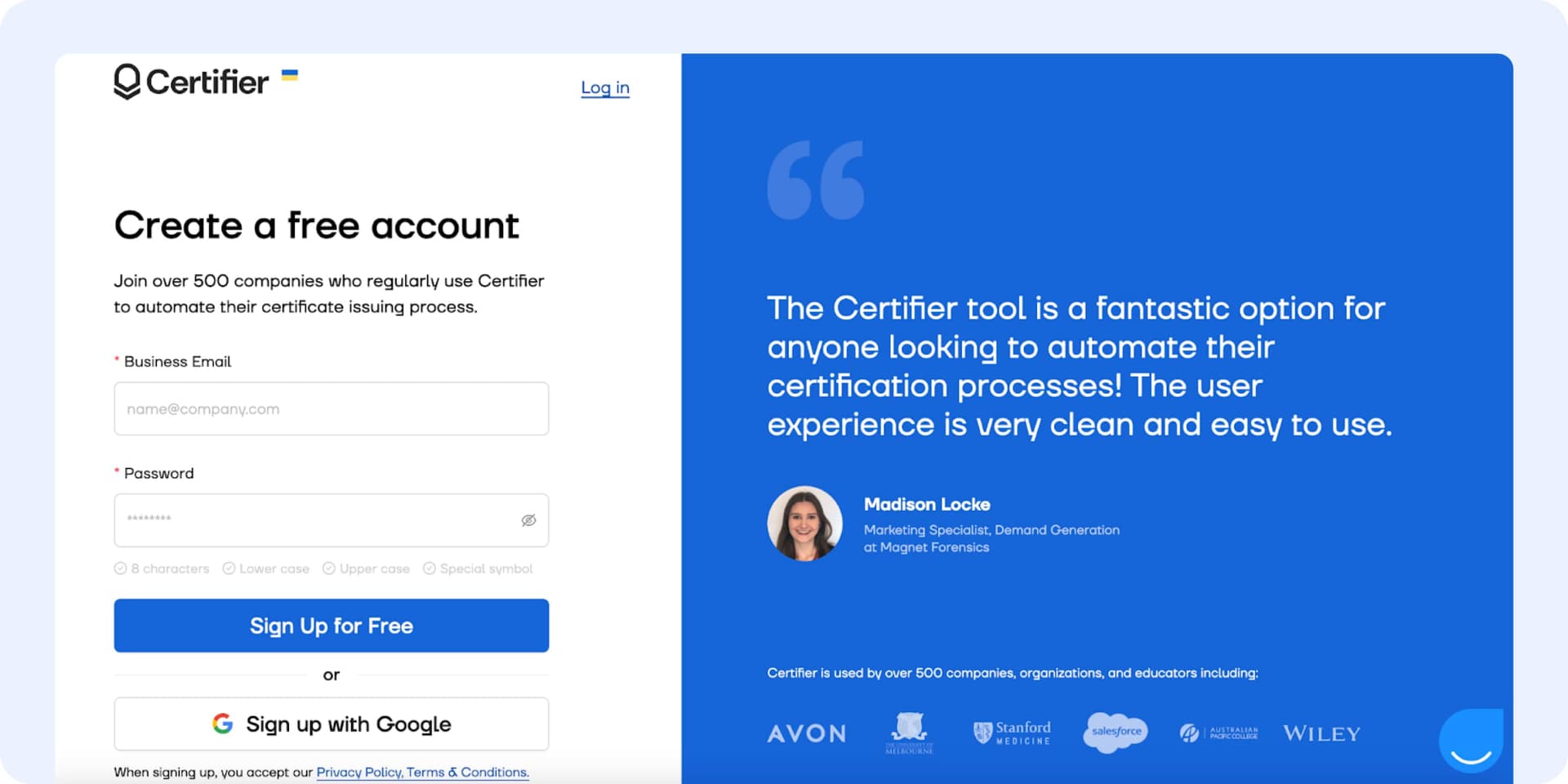 Step 2: Go to Designs and choose the credential format
To start creating your credentials, go to the Designs tab. Here, you can choose between two paths: selecting one of your existing designs or creating a new one from scratch. If you've already signed up for Certifier and worked on certificate designs in the past, simply select the design you want to edit. If not, create a new one, choosing between a certificate or badge design.
Step 3: Select your preferred certificate design template
Go to the Templates tab to explore hundreds of professionally designed certificate and badge templates in Certifier's collection. Whether you're looking for an elegant certificate design or a stylish badge, we offer a range of templates for every use case. Simply browse the templates and select the one that best aligns with your preferences and branding needs. You can filter the templates by category, style, orientation, and color using the Filter feature.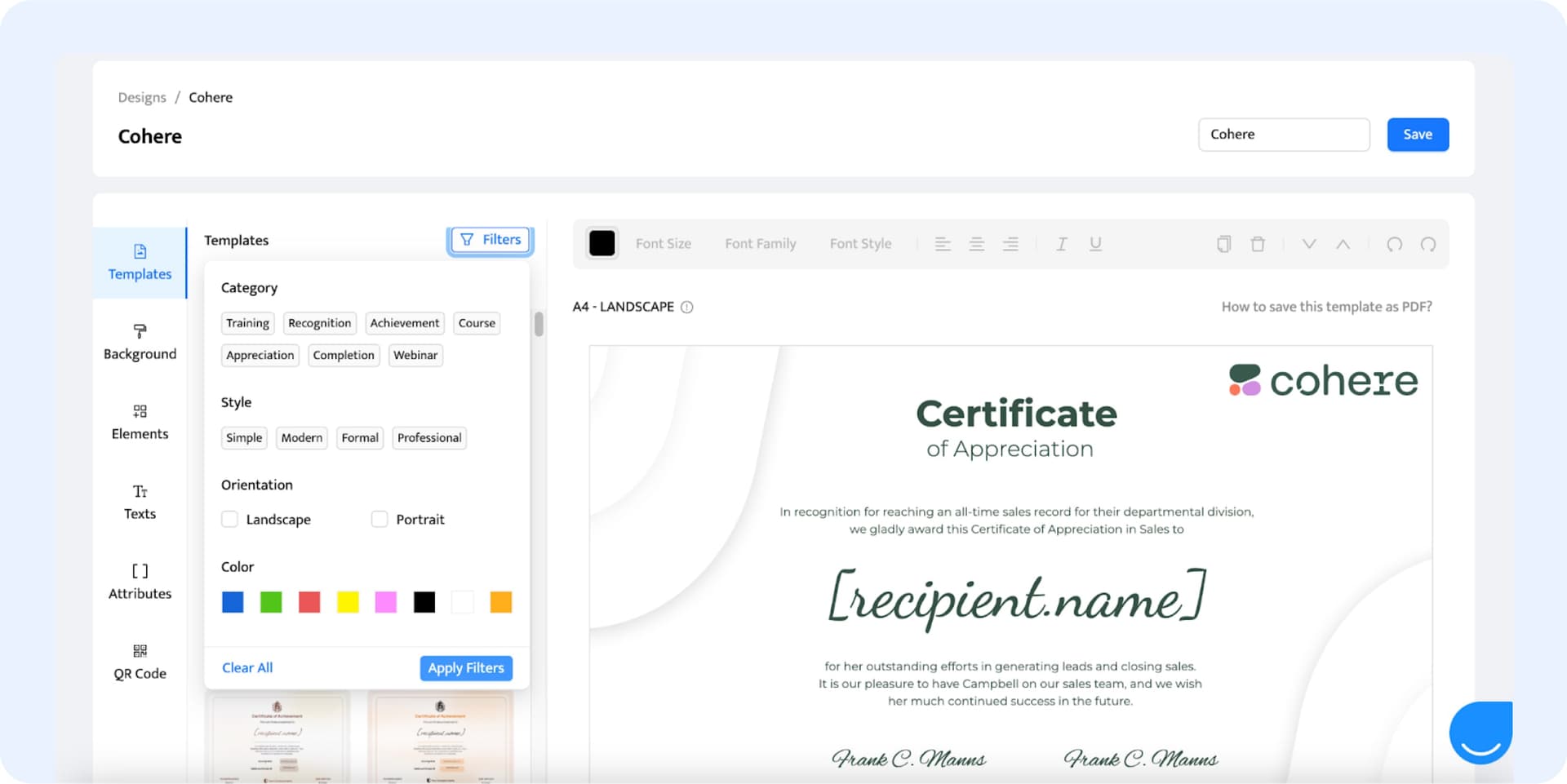 Step 4: Edit your certificate online
Once you've chosen your preferred certificate or badge template, you can start customizing it. Certifier allows you to edit every element of your design - from changing the text to uploading a custom background, adding your company logo, and adjusting the colors. 
4.1 Remove unnecessary graphic elements from the template
Start customizing your certificate or badge design by eliminating any unwanted graphic elements from the template. Every template has a few placeholder elements that can be edited or removed. Select the items you don't need and remove each one by clicking "Delete Element" from the right-hand corner menu. This will create more space for you to add your own graphic elements or move things around to adjust the design of your document to your needs.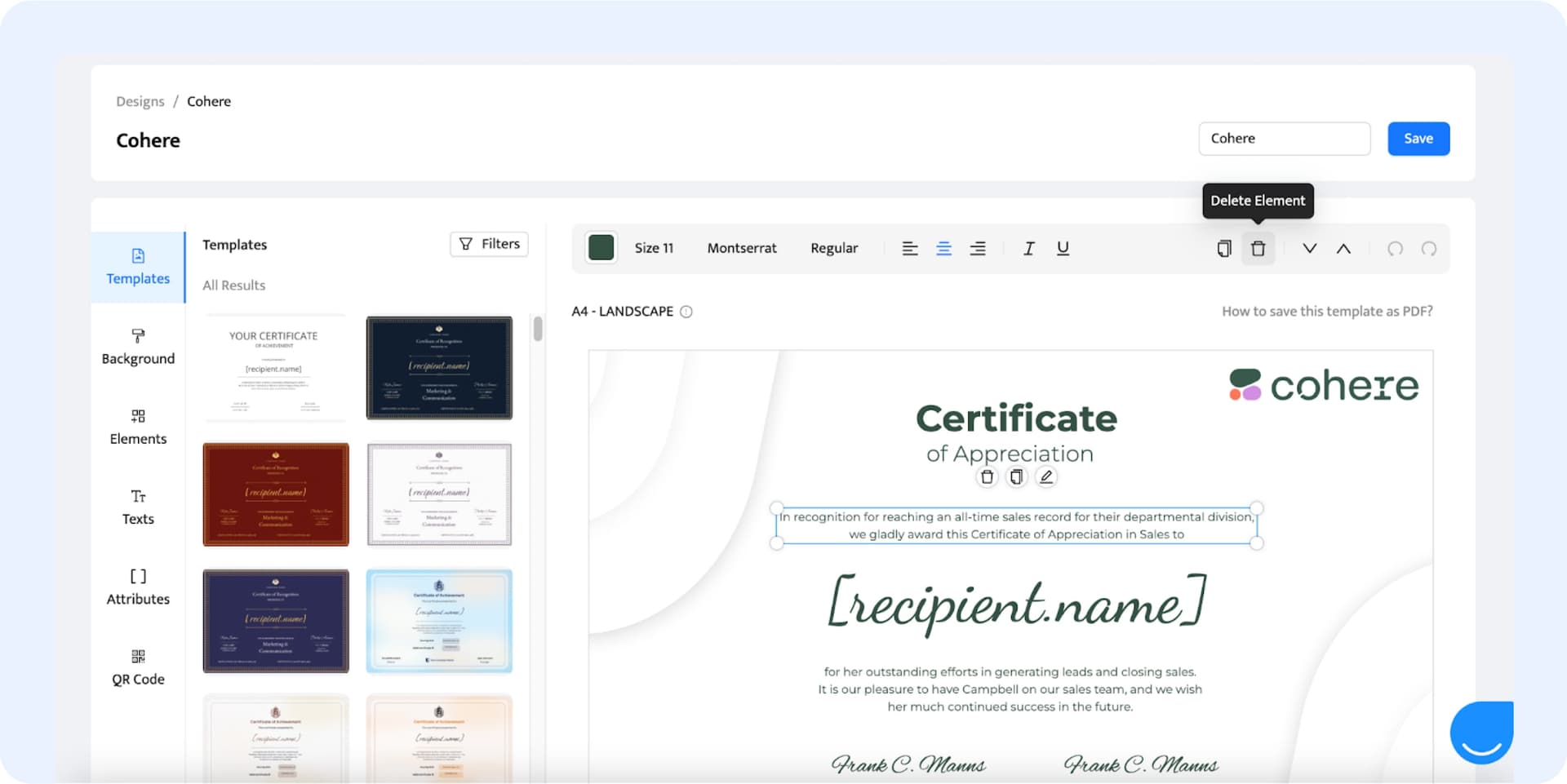 4.2 Upload your own graphic elements
To customize your document design further, upload your own visual elements directly from your computer. This can be anything from your logo and branded social media icons to images or custom shapes. To upload your elements, go to the "Elements" tab in the left-hand side menu and click "Upload Image." From there, select the file you want to use from your computer. Use a high-quality file with a transparent background for the best results. Once your graphic element is uploaded into the visual design builder, you can easily resize it and place it where you see fit. Keep in mind that Certifier accepts files in the PNG or JPG format of up to 2MB in size.
4.3 Type the text that fits the purpose of your certificate
Customize your chosen certificate or badge template to your needs by changing the words in the text to say exactly what you want them to. To make changes, simply select the text you want to customize and click on the "Edit" button that will pop up above the text you've chosen. Then, you can simply type in the words you want to use.  
4.4 Edit the fonts to match your brand aesthetic
Once you've typed the text you want to include on the document, head to the font settings. From there, choose the font that matches your branding. You can edit any part of the text - from its font and size to its weight (light, regular, or bold), alignment, and emphasis (italic or underlined). You can choose among 45+ of the most popular serif, sans serif, and decorative fonts.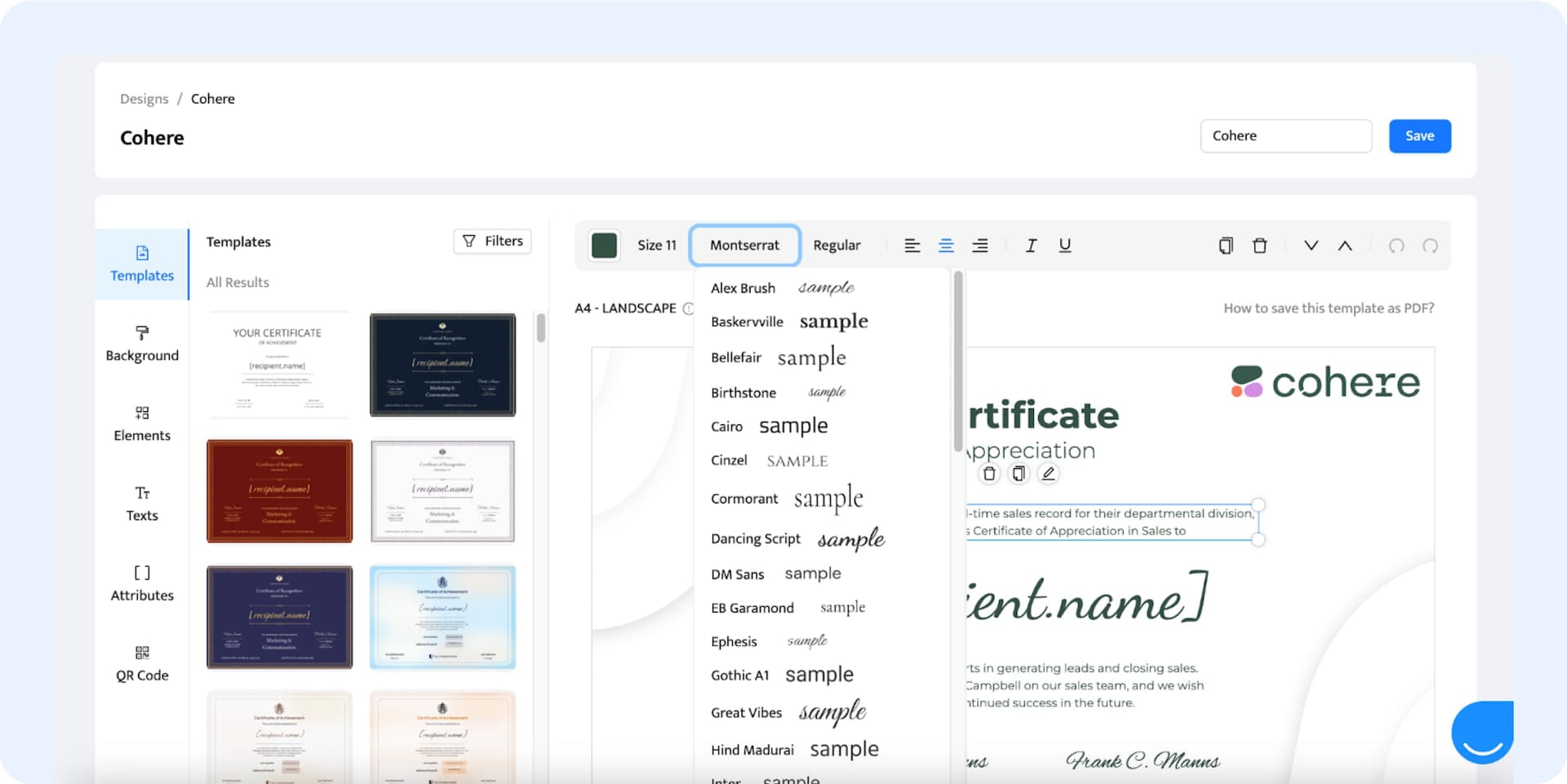 4.5 Adjust the design colors to match your branding
Create a consistent and professional look for your certificate design by adjusting the colors of every element - from lines to text - to match your branding. To do this, select the text and other graphic elements you want to customize. Then, use the "Color" feature in the top menu to adjust the color of the selected elements. You can also upload a custom background in the "Background" tab for an even more customized look.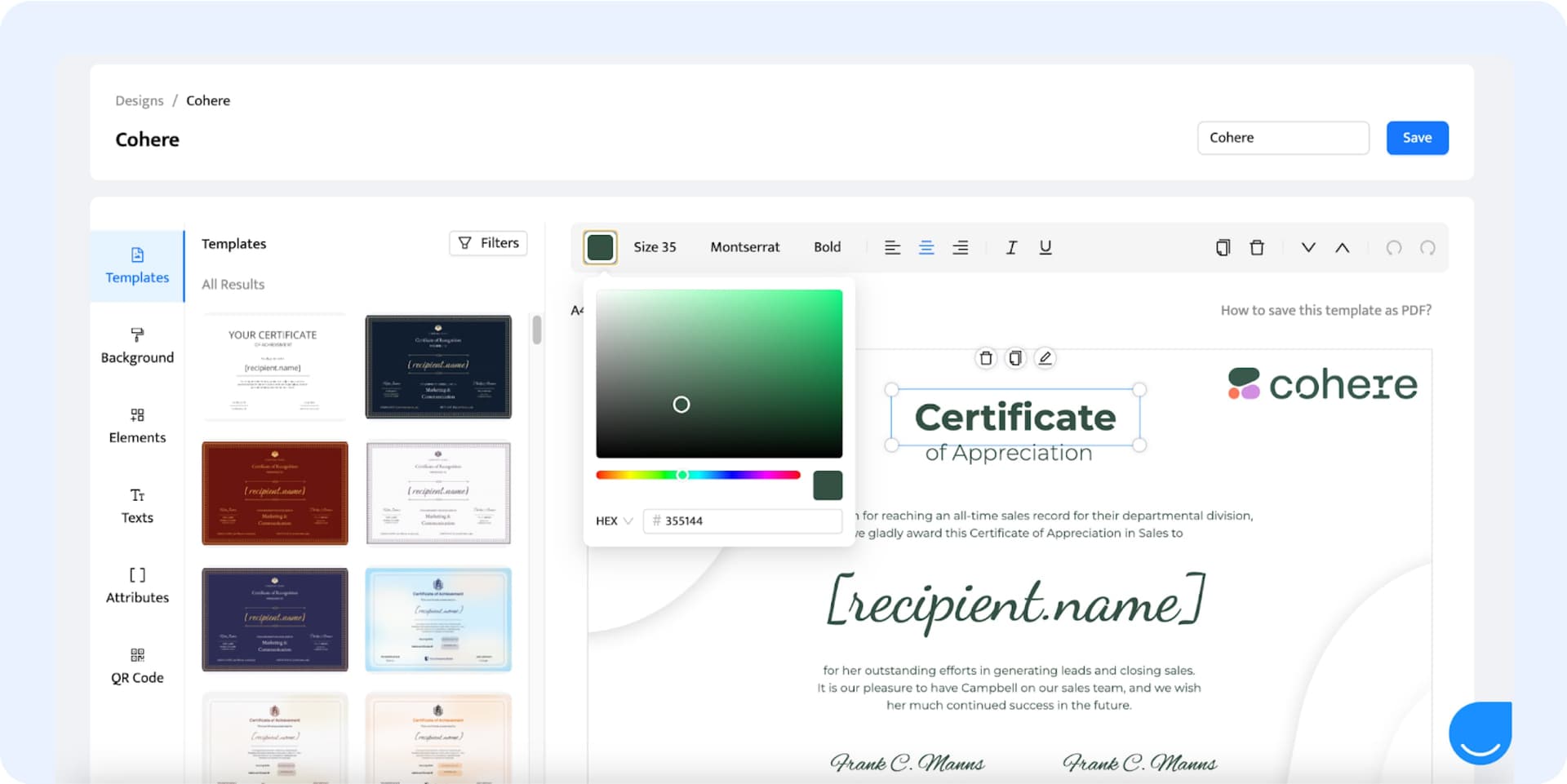 4.6 Edit the dynamic attributes of your certificate design
To complete your diploma design, include the recipient's details using dynamic attributes. With dynamic fields, you don't have to type in every recipient's details. This means that you can quickly issue multiple certificates, diplomas, and badges within minutes. You can insert names, grades, course titles, expiration dates, and more. Simply select the attributes you need, and Certifier will fill them with the recipient's information when issuing. Then, customize the appearance of each dynamic attribute by adjusting the font, style, and color of the text.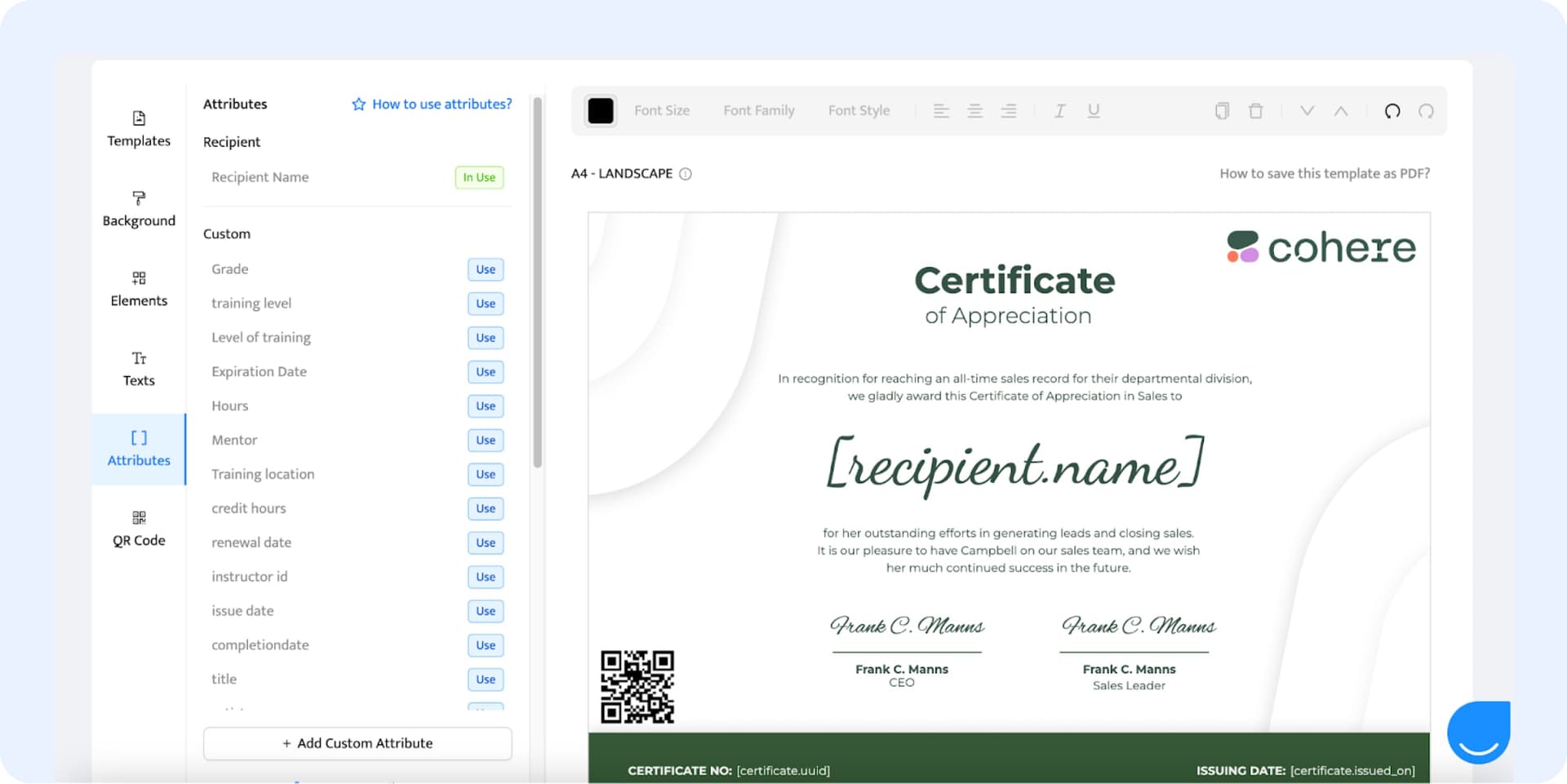 4.7 Edit the remaining graphic elements
Before finalizing your certificate design, make sure that all visual elements, like lines and shapes, work well together and create a cohesive aesthetic. Should any item need adjusting, click on it to select it and edit its appearance by changing its size, color, and position. You can also remove unnecessary elements or upload missing ones. 
Step 5: Issue and send your certificate 
Once you've finished customizing your certificate, you're ready to send it to your recipients. Finalize your design by clicking the "Create Certificate Design" button in the right-hand corner of the design canvas. To send it to your recipients, you must first create a group of recipients from the Groups tab. Then, go to the Credentials tab and click "Issue Certificate or Badge." Follow the instructions on the screen to issue your certificate to your recipients' group.  
Step 6: Edit the design even after issuing the certificate
Sometimes, you may notice a mistake in your document only after you've already issued it. That's why Certifier allows you to fix errors even after sending your credentials. All you need to do is go to your existing design in the Designs tab and click on the element you wish to change in the design canvas. Then, use the editing options to edit the text, fonts, colors, size, or position of the selected element.
Step 7: Save and resend edited certificates
After editing an already issued certificate, save it by clicking "Save" in the right-hand corner of the design canvas. The changes will appear live on the recipient's credential portal. However, to make sure your recipient receives the updated certificate, you can resend it to them via email.