How to create certificates with QR code using Certifier for free
Certifier allows you to add QR codes to all the certificates you issue. This means that not only will you enable recipients to instantly verify their credentials and access them online, but you'll also enhance your reputation as a credible certificate issuer. Follow the steps below to learn how to add QR codes to certificates made with Certifier.
Step 1: Sign up for Certifier
Sign up for a free Certifier account to design and edit diplomas online in a matter of minutes. With a Certifier account, you can easily create certificates and badges customized to your branding and aesthetical preferences for free. Thanks to our visual builder, you'll be able to preview each change you make to your document in real time.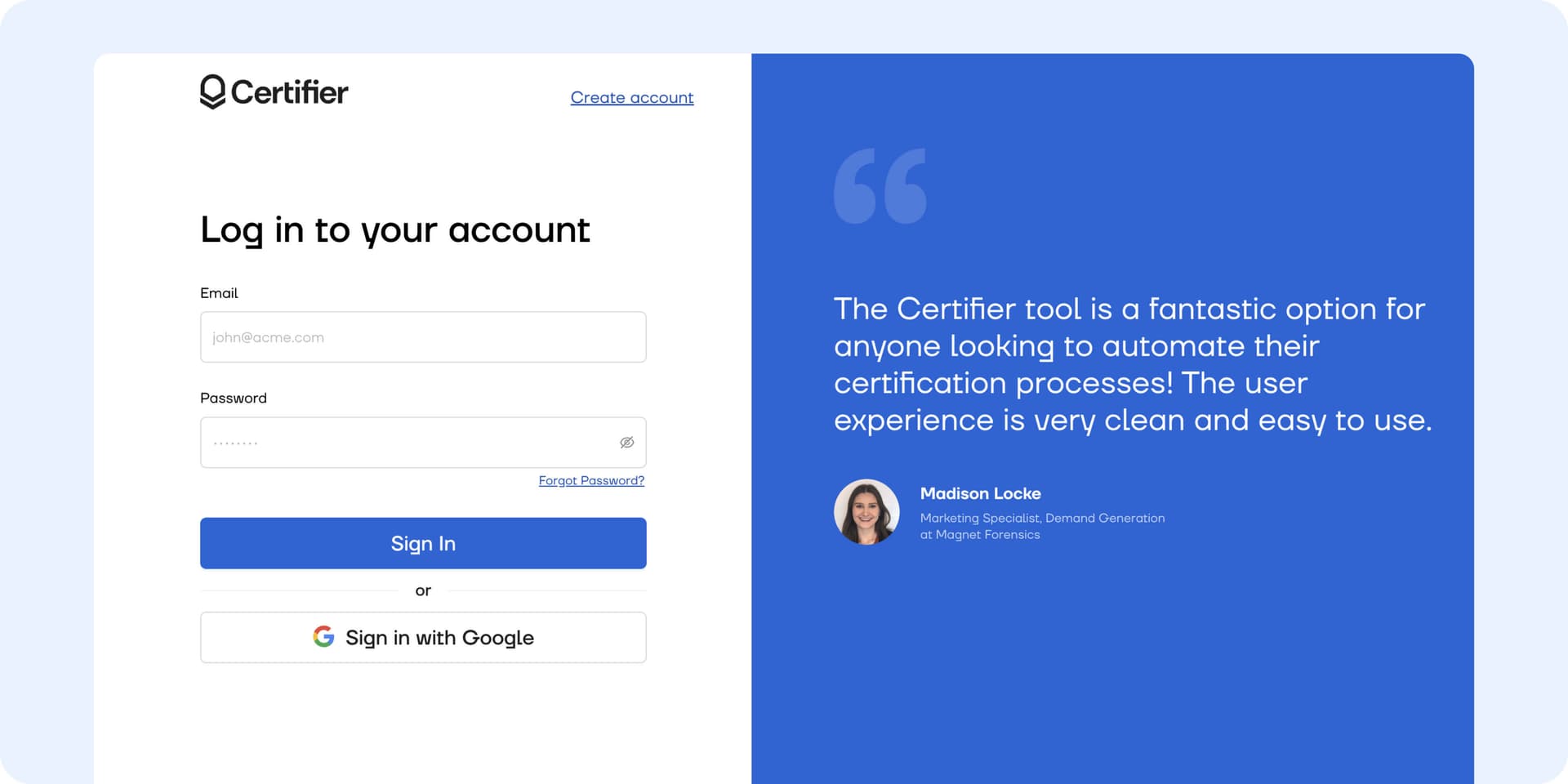 Step 2: Go to Designs and choose the credential format
To start creating your credentials, go to the Designs tab. Here, you can choose between two paths: selecting one of your existing designs or creating a new one from scratch. If you've already signed up for Certifier and worked on certificate designs in the past, simply select the design you want to edit. If not, create a new one, choosing between a certificate or badge design.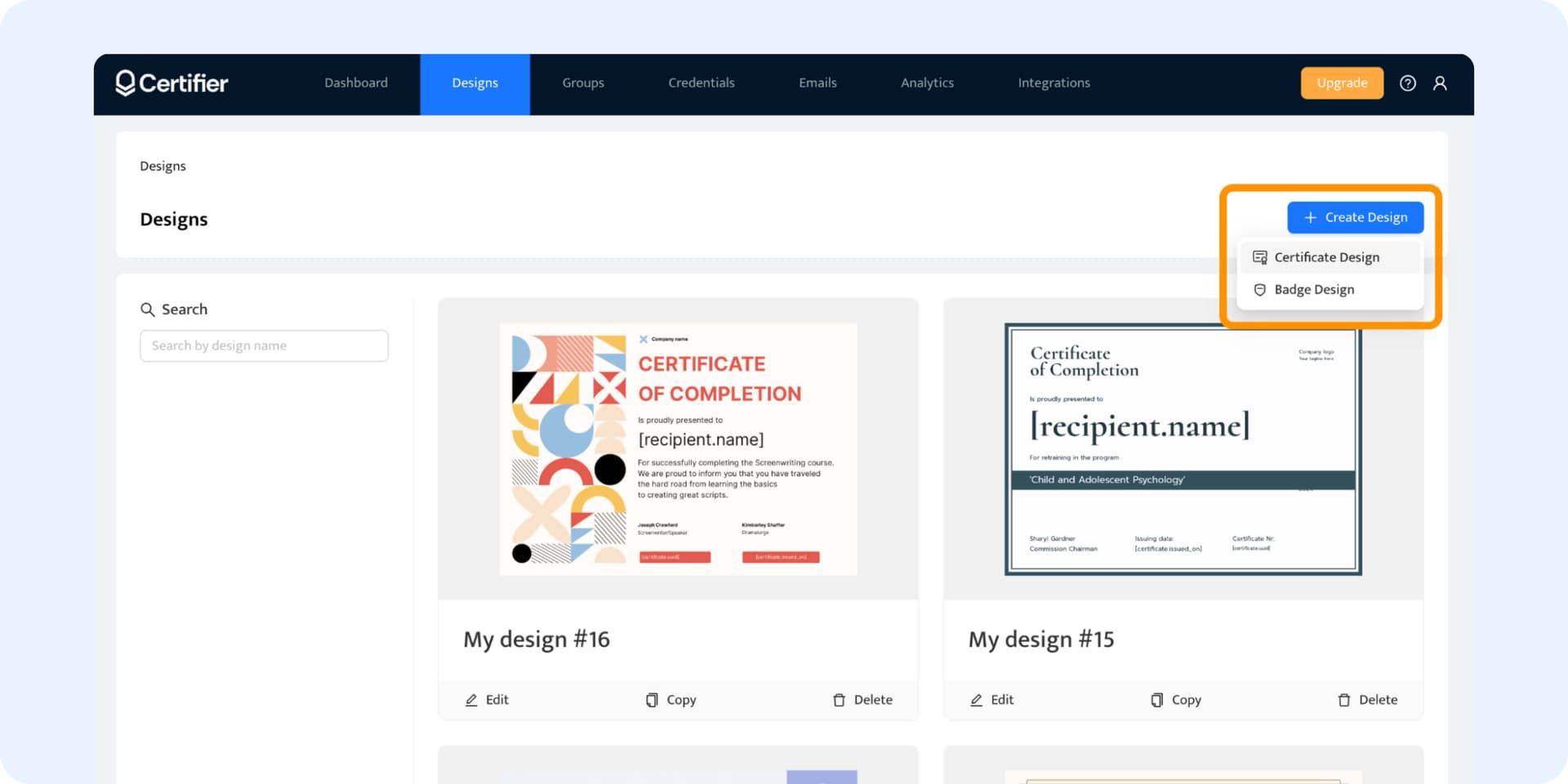 Step 3: Select your preferred certificate design template
Go to the Templates tab to explore hundreds of professionally designed certificate and badge templates in Certifier's collection. Whether you're looking for an elegant certificate design or a stylish badge, we offer a range of templates for every use case. Simply browse the templates and select the one that best aligns with your preferences and branding needs. You can filter the templates by category, style, orientation, and color using the Filter feature. 
Step 4: Customize your chosen certificate template
All of Certifier's templates are easily customizable. To personalize the look of your chosen template, you can remove any unwanted elements and upload your own (such as a custom background or your company logo). Then, personalize the text in the pre-designed fields. You can change how the text looks – its size, thickness, color, and font type. You can also adjust the colors of different elements to align with your brand identity and rearrange them to achieve your desired final look.
Step 5: Add a QR code to your certificate
Once the design of your document is finalized, it's time to add your QR code. To do this, navigate to the "QR code" section in the left-hand panel and click "Add QR Code." This will automatically generate a QR code unique to your certificate. Then, resize it and place it wherever you see fit. The best places for a QR code are the corners of your design, or anywhere it won't overlap with important details. This ensures it'll be easy to scan and won't cover key information.
5.1 Change the color of the QR code
Your QR code doesn't have to be black. If you want to match it to your branding and the aesthetic of your document or to make it stand out on a dark background, you can easily change its color. To do it, select your QR code and change its background or foreground color from the top menu. 
5.2 Test the QR code
Once you customized the design of your certificate and added your QR code, take a careful look at the entire document. Make sure everything is correct, including the QR code. To test the code, simply scan it with your phone. If it's easy to scan, it'll prompt a notification that says, "Your QR will scan!." 
Step 6: Issue and send your certificate with QR code
Once you check that all the information on the certificate is accurate, finalize your design by clicking the "Create Certificate Design" button in the right-hand corner of the design canvas. 
6.1 Create a group of recipients
Before you can generate a certificate with QR code, you need to create a group of recipients. To do this, go to the Groups tab from the main menu and click "Create Group." This will take you to a group creation screen where you will be asked to fill out information such as the group's name and description and select the corresponding credential design. 
6.2 Issue your certificate 
Once your group is created, go to Credentials from the main menu and click on "Issue Certificates or Badges." You'll be prompted to select a group and add recipients. You can choose between two options: add recipients manually, one by one, or add data from a spreadsheet. 
6.3 Preview the certificate before issuing
Before sending the certificate to your recipients' list, you can preview what they will see after they receive their credentials. After adding your recipients in the previous step (either one by one or from a spreadsheet), click "Preview Before Publishing." This will show you how your certificate will appear when filled with each recipient's information. You'll also be able to see a preview of the email they'll receive containing their credential.
6.4 Send the certificate to your recipients
After confirming that the details on the certificate are accurate, that there are no design errors, and that the QR code is functional, you're all set to share your certificate with the recipients' list. To do that, simply go to the certificate preview view and click the "Send and Publish" button. This action will email the corresponding certificate to each recipient you've listed. This is what your recipients will see after opening their certificate: