How to generate credentials in PDF using Certifier for free
Certifier allows you to export all your issued certificates in a PDF format and lets your recipients download theirs as PDF documents. This means that every certificate you issue can be securely shared and printed in high quality. Follow the steps below to learn how to generate credentials in PDF with Certifier.
Step 1: Sign up for Certifier
Join Certifier to generate digital certificates and badges in a matter of minutes. With a Certifier account, you can easily design credentials customized to your branding and aesthetic preferences for free. Thanks to features like our visual design builder and bulk certificate generator, you can not only create professionally-looking credentials without design skills but also generate hundreds of certificates at once.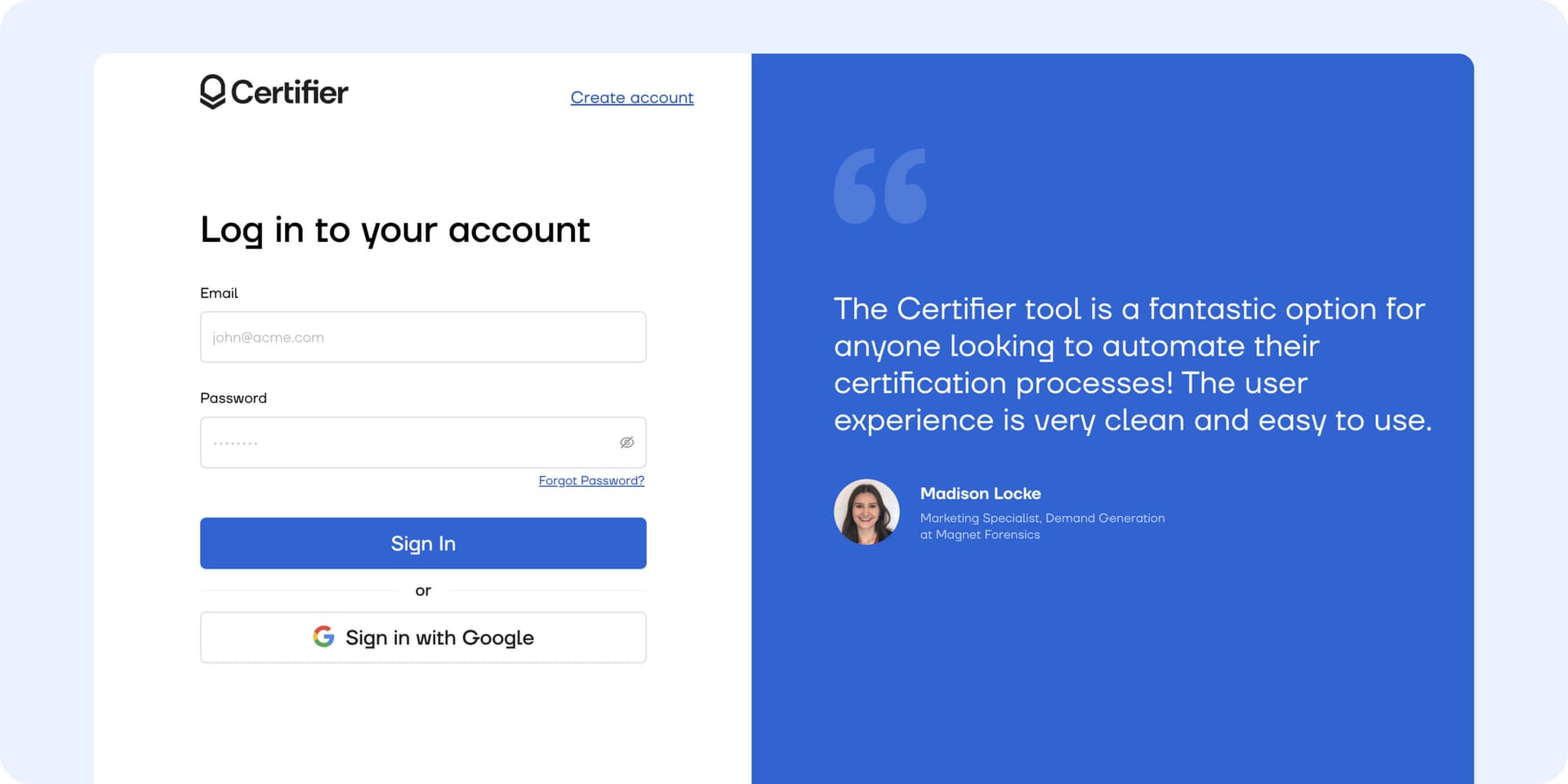 2.1 Start a new certificate design
To design your certificate, head over to the Designs tab. If you've already signed up for Certifier and created various certificate designs in the past, simply select the one you want to continue working on. If not, create a new one.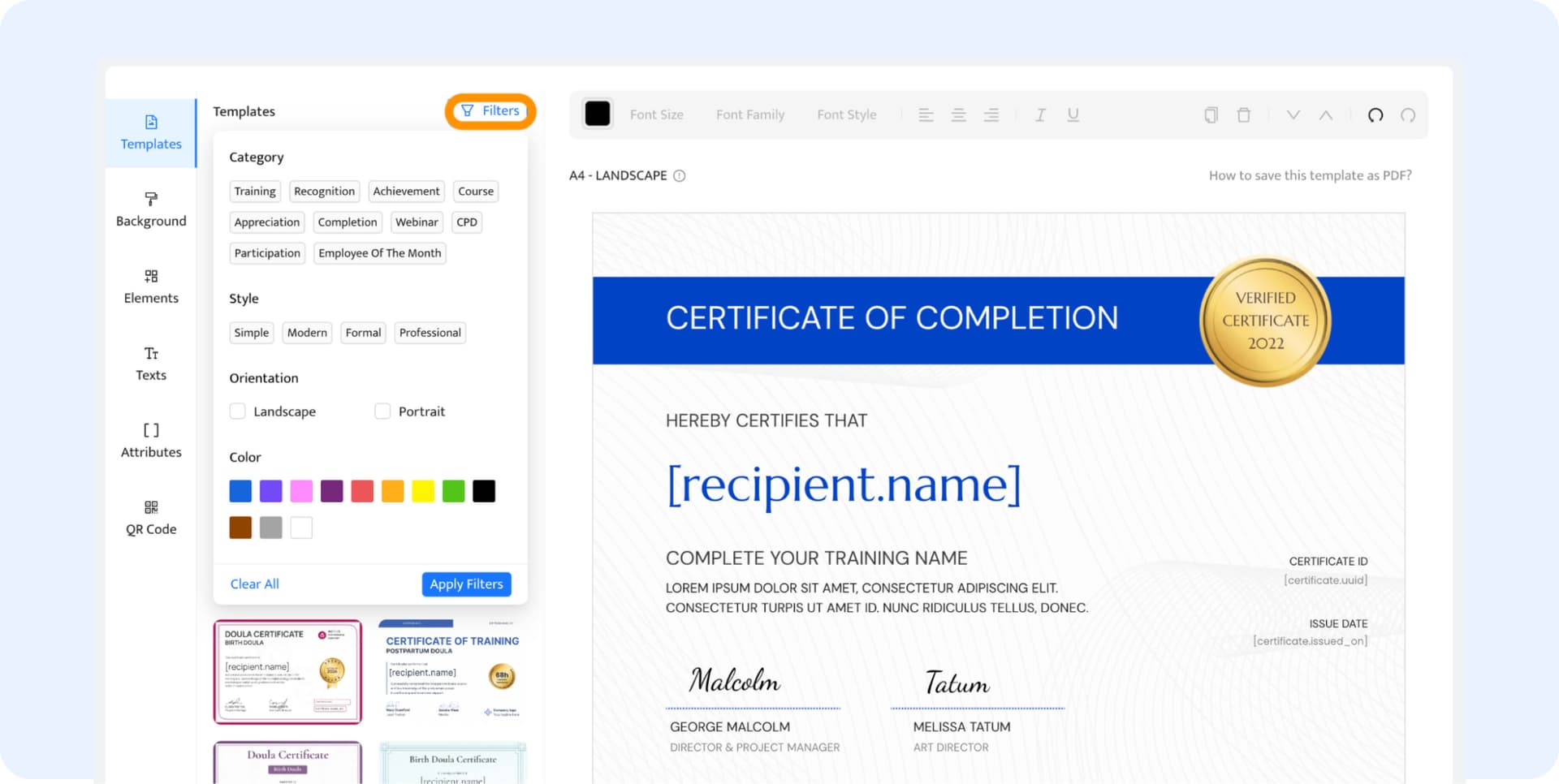 2.2 Choose your preferred certificate template
Go to the Templates tab to explore over 500 pre-designed certificate templates in Certifier's collection. Simply browse the templates and select the one that best aligns with your preferences and branding needs. You can filter the templates by category, style, orientation, and color using the Filter feature. 
2.3 Customize your chosen certificate template
You can customize any certificate from Certifier's library. You can tailor it all - remove unwanted elements, add your company logo and custom background, change colors and fonts, and adjust the text. When uploading your company logo or custom background, make sure they're in high resolution to avoid any blurriness when printed.
2.4 Add a QR code to your certificate
With Certifier, you can add a scannable QR code to your certificate design. Once issued, every recipient will receive their certificate with a unique QR code scannable in both digital and printed versions of the certificate. Adding a QR code to your credentials will enable your recipients to instantly verify their certificates, especially from a printed copy, just by scanning it with their phone.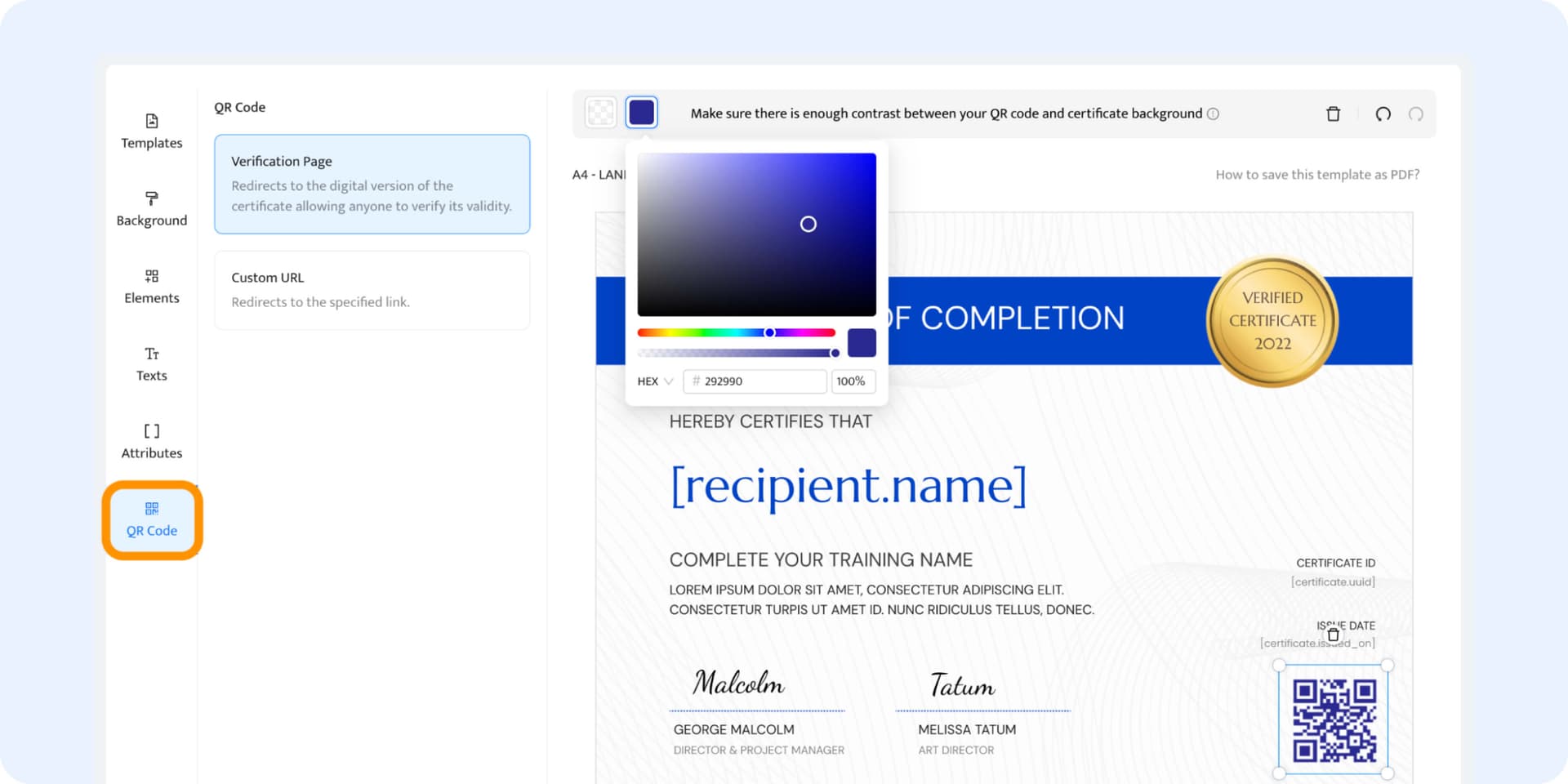 2.5 Finalize your design 
Once you check that all the information on the certificate is accurate, finalize your design by clicking the "Create Certificate Design" button in the right-hand corner of the design canvas. 
Step 3: Issue and send your certificate
Once you issue your certificate to your recipients' list, your recipients will be able to download their certificates in a PDF format themselves from their credential portal. You'll also be able to export each certificate into a PDF document and send it to its corresponding recipient. Here's how to issue your certificates with Certifier in 3 steps.  
3.1 Create a group of recipients
To issue your certificate to your recipients, start by creating a group of recipients. To do this, go to the Groups tab from the main menu and click "Create Group." This will take you to a group creation screen where you will be asked to fill out information such as the group's name and description and select the corresponding credential design. 
3.2 Add a list of recipients 
After you've created your group, you'll need to add your recipients. To do this, head to the "Credentials" tab in the main menu. Click on "Issue Certificates or Badges." Then, select the group you just created and start adding your recipients' names, email addresses, and other relevant details of your recipients. You can add your recipients to the group by typing their details one by one, or you can import the entire list at once from a spreadsheet.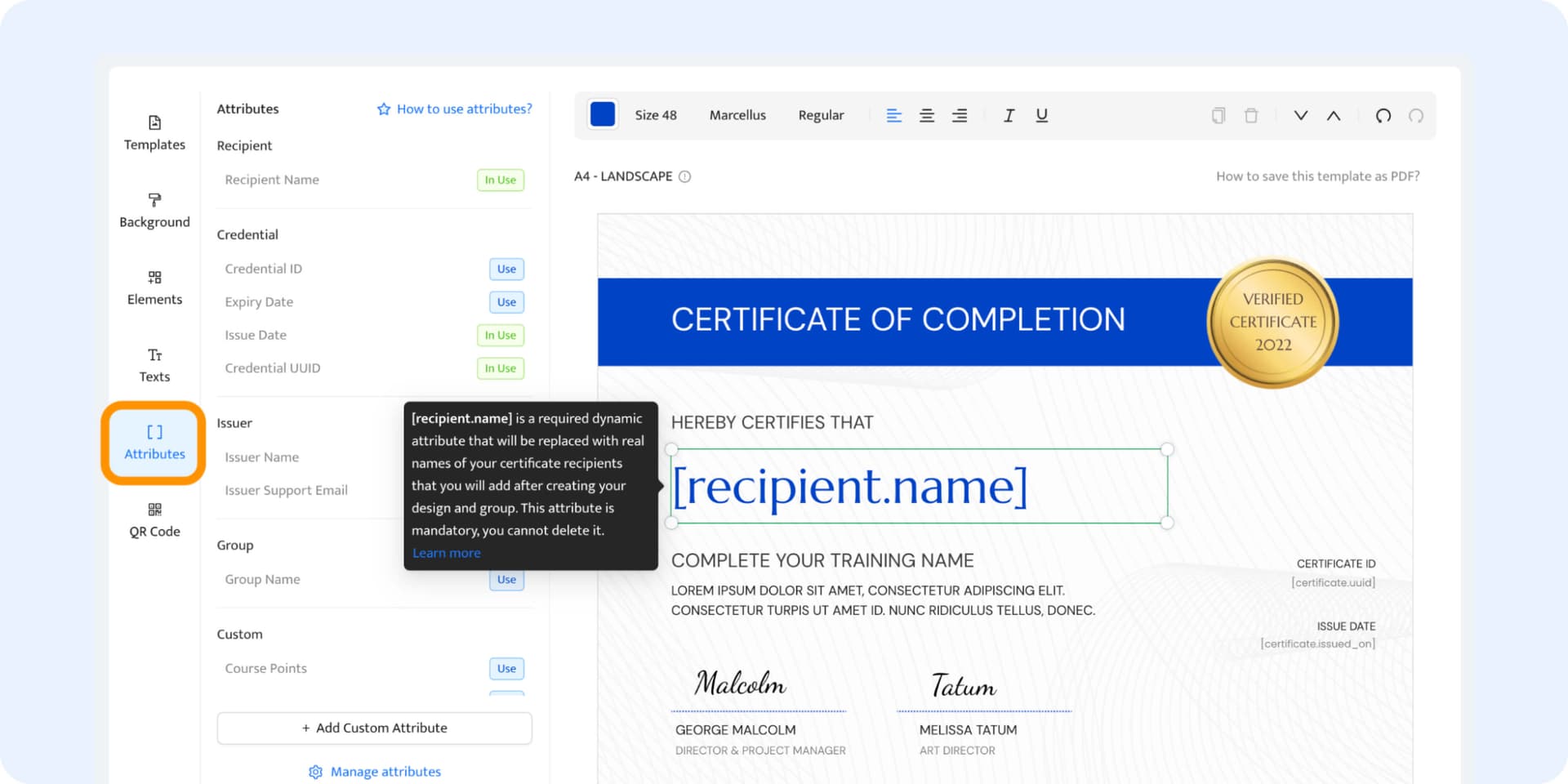 3.3 Issue certificates to your recipients' list
Once you're all set, it's time to issue your certificate to every recipient on your list. With Certifier, you can send hundreds of certificates at once with one click of a button. To do that, go to the certificate preview view and click the "Send and Publish" button. This action will email the corresponding certificate to each recipient you've listed. From there, they will be able to see their corresponding certificate from their credential view and download it in a PDF format. 
Step 4: Export your issued certificate in PDF
Exporting certificates into PDF documents couldn't be easier with Certifier. You can do it in three ways. 
4.1 Export credentials into PDFs individually
Go to the Credentials tab and select the certificate you'd like to export. From the credential view, click "Export" in the top-left corner of the screen and select "Download PDF." This will automatically send the PDF certificate via email to your inbox. Before exporting, check whether the recipient's data and the issue and expiration dates of the certificate are correct.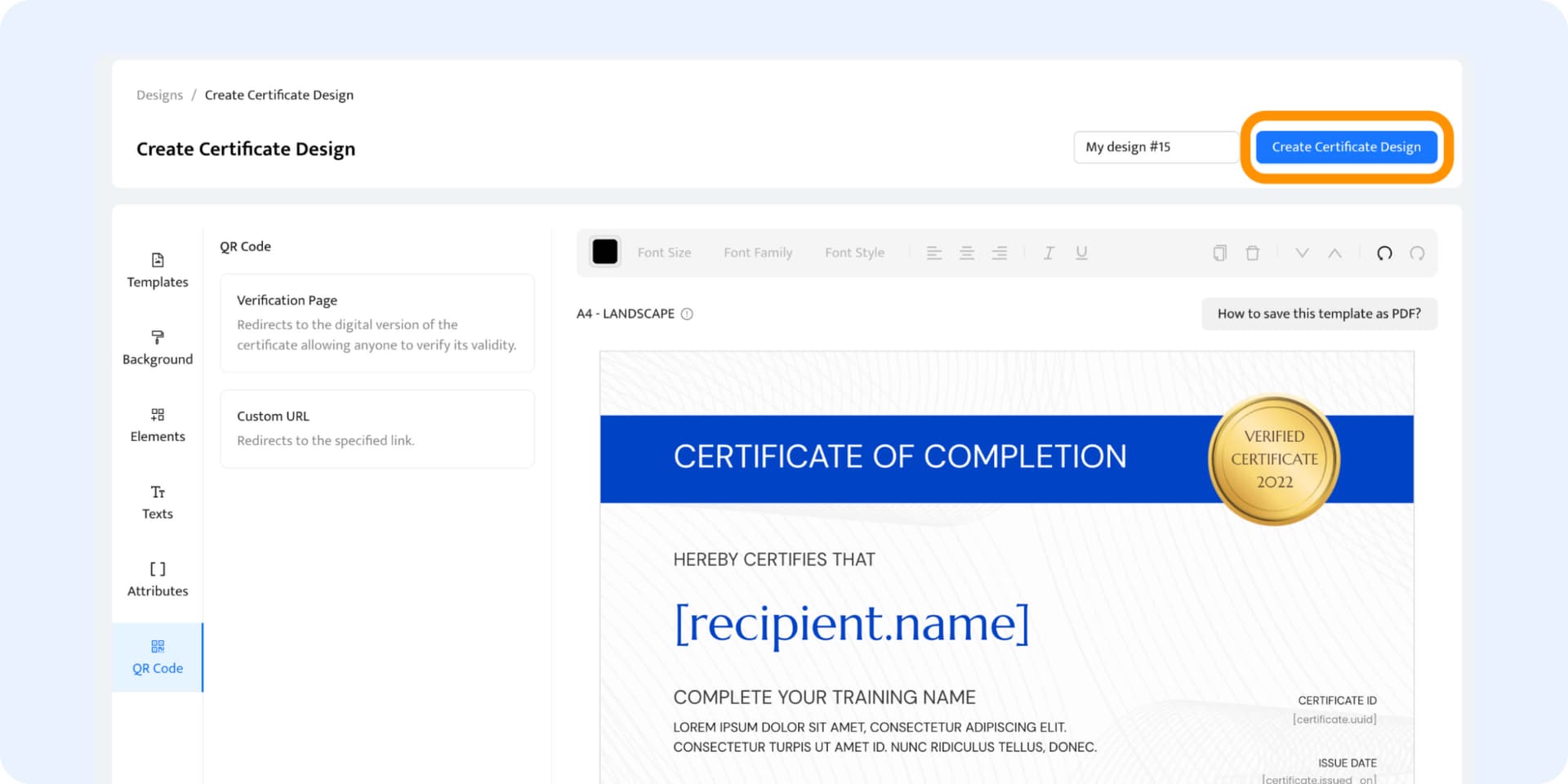 4.2 Export credentials into PDFs in bulk 
Certifier allows you to export multiple credentials into PDF documents at once. To do this, simply go to Credentials and select all the certificates you'd like to export. If you'd like to export all certificates for a particular group of recipients, use the Filter feature to select your desired group. It will display the list of all the recipients in the group, with their respective certificates. Then, select them all and click "Export" and "Download PDF." This will email you a ZIP file containing all selected PDFs.
4.3 Enable recipients to download credentials as PDFs
With Certifiier, you can generate digital certificates that your recipients can download as PDF documents by clicking "Download" from their recipient portal view.