How to generate certificates with different names in bulk using Certifier for free
With Certifier, you can quickly create hundreds of certificates and badges customized with each recipient's unique data at once, saving you the time and hassle of filling out each credential manually. Follow the steps below to learn how to generate certificates with different names with Certifier's dynamic attributes and names feature.
Step 1: Sign up for Certifier
Join Certifier to start generating hundreds of professionally designed certificates in bulk. Create a free account using your business email or sign up via your Google account. With Certifier, you can choose among 500+ pre-made certificate and badge templates to design stunning credentials in minutes.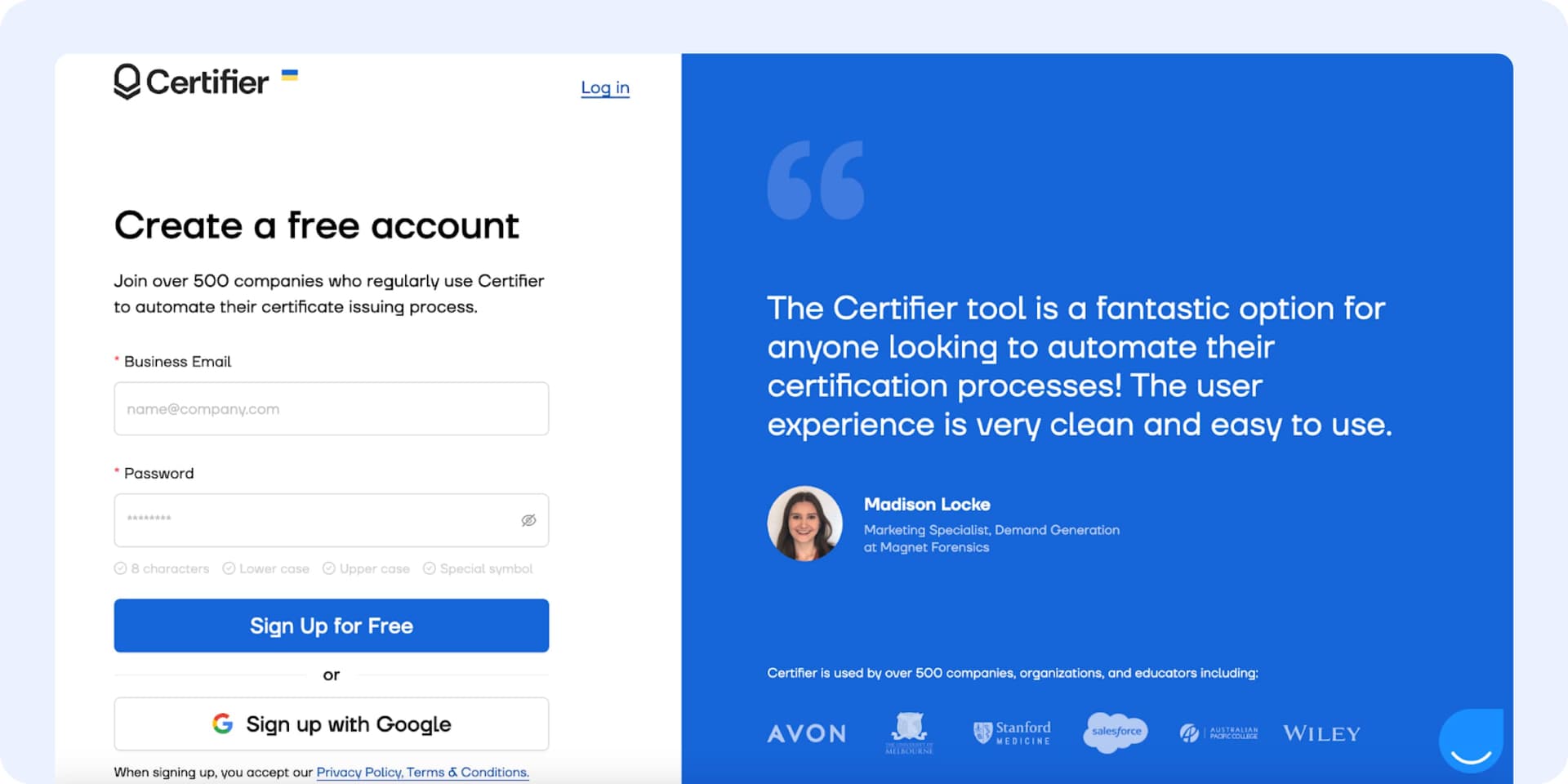 Step 2: Design your certificate or badge
Start your journey with Certifier by designing your first credential. To create a design, go to the Designs tab and click on "Create Design." Then, choose one of Certifier's templates and customize it to your needs. Our visual design builder lets you edit any element on the template by changing its position, size, color, fonts, and more. You can also add your own elements like your company logo, custom background, or branded icons.
Step 3: Edit dynamic attributes
Using dynamic attributes on your credentials allows you to generate multiple certificates at once, with the recipient's data automatically inserted into each one. Here's how to edit the dynamic attributes on your certificates in two simple steps.
3.1 Add dynamic attributes for recipient names
Using the attribute [recipient.name], you can generate multiple certificates with different names at once. The field will be replaced by the recipient's actual name once the certificate is issued. Make sure that it is wide enough to fit long first and last names without causing text overlay. Also, enable the auto-scaling feature to make sure that the text automatically adjusts to the width of the field.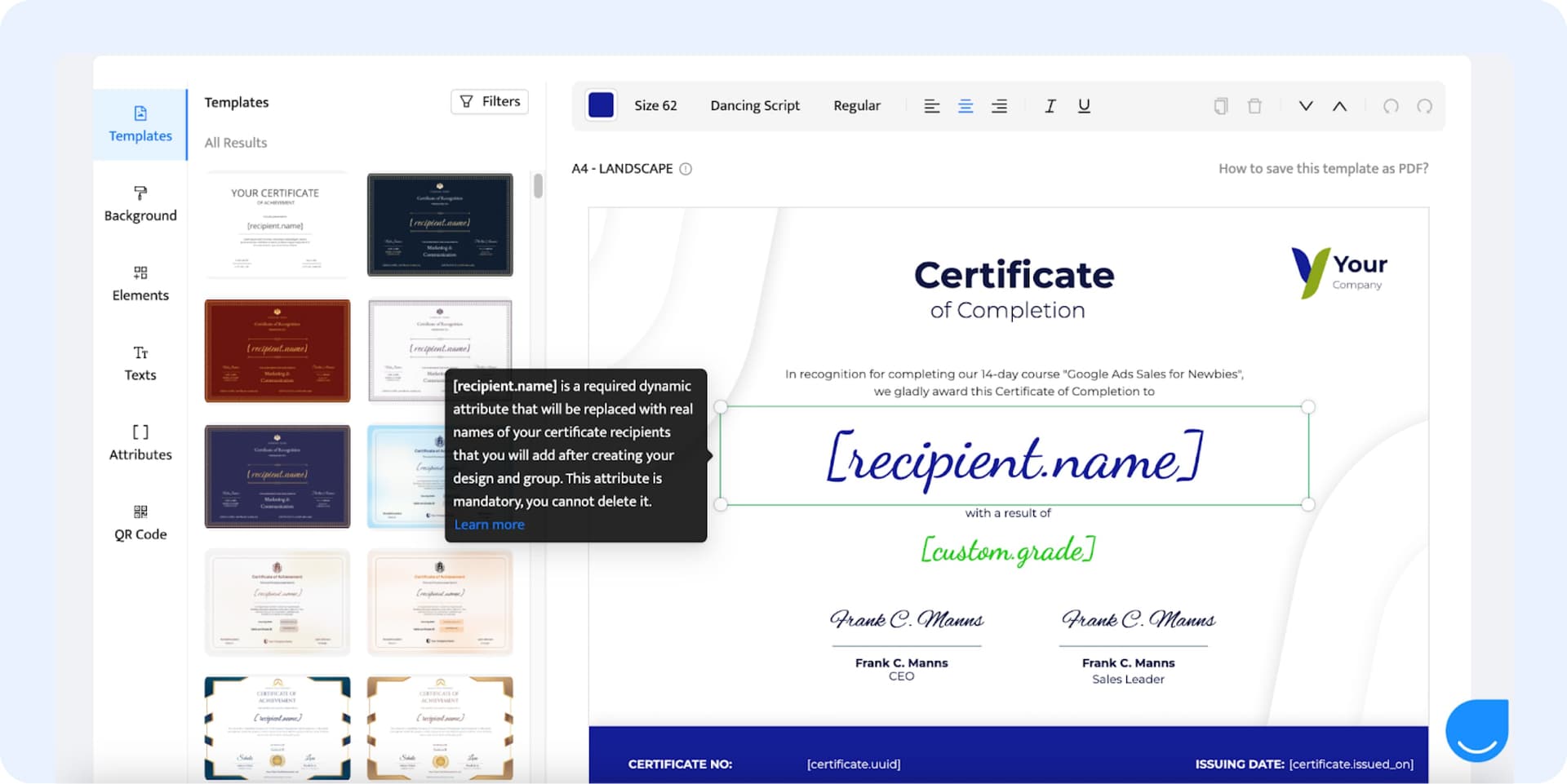 3.2 Customize dynamic attributes 
With Certifier, you have complete control over every aspect of the certificate or badge template, including dynamic attributes. Adjust their size, font, and color to align with your document's look and brand identity. Arrange them anywhere you prefer within the template.
3.3 Add custom dynamic attributes 
Aside from the default attributes, you can create custom attributes you want to display on your certificates, badges, or emails, such as course grades or event hours. To add a custom attribute, scroll to the bottom of the attributes list and click "Add Custom Attribute."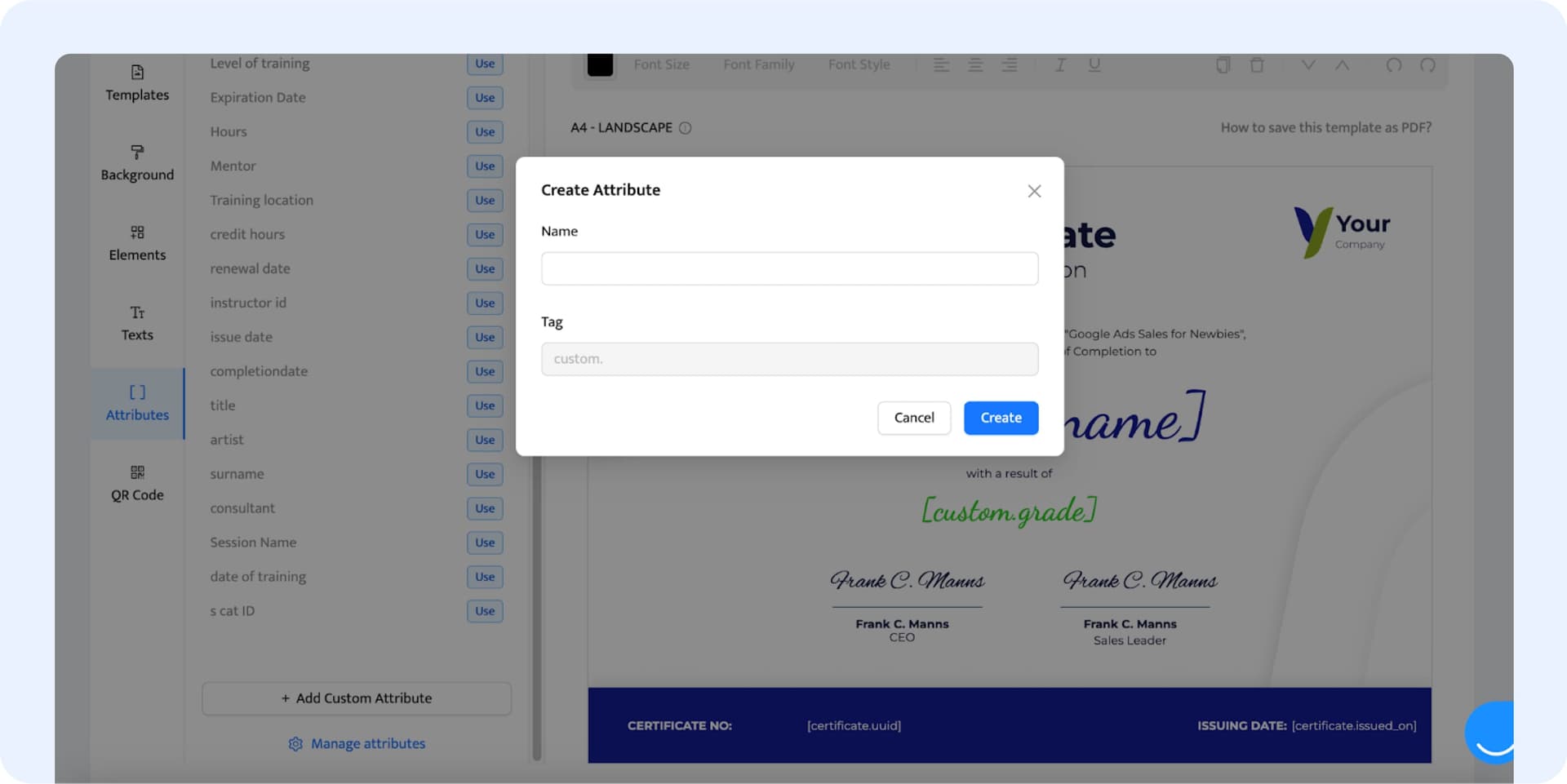 Step 4: Generate multiple certificates at once
With dynamic attributes, you can create a single certificate or badge template that will auto-populate with each recipient's information when you issue it. This means you can save time on manual entry and generate multiple certificates simultaneously. Here's how to issue your certificates with Certifier in 5 steps. 
4.1 Create a group of recipients 
To issue certificates, begin by creating a group you'll add your recipients to. Head to the Groups tab in the main menu and choose "Create Group." This will lead you to a group setup page where you need to input details like the group's name and description and select the corresponding credential design.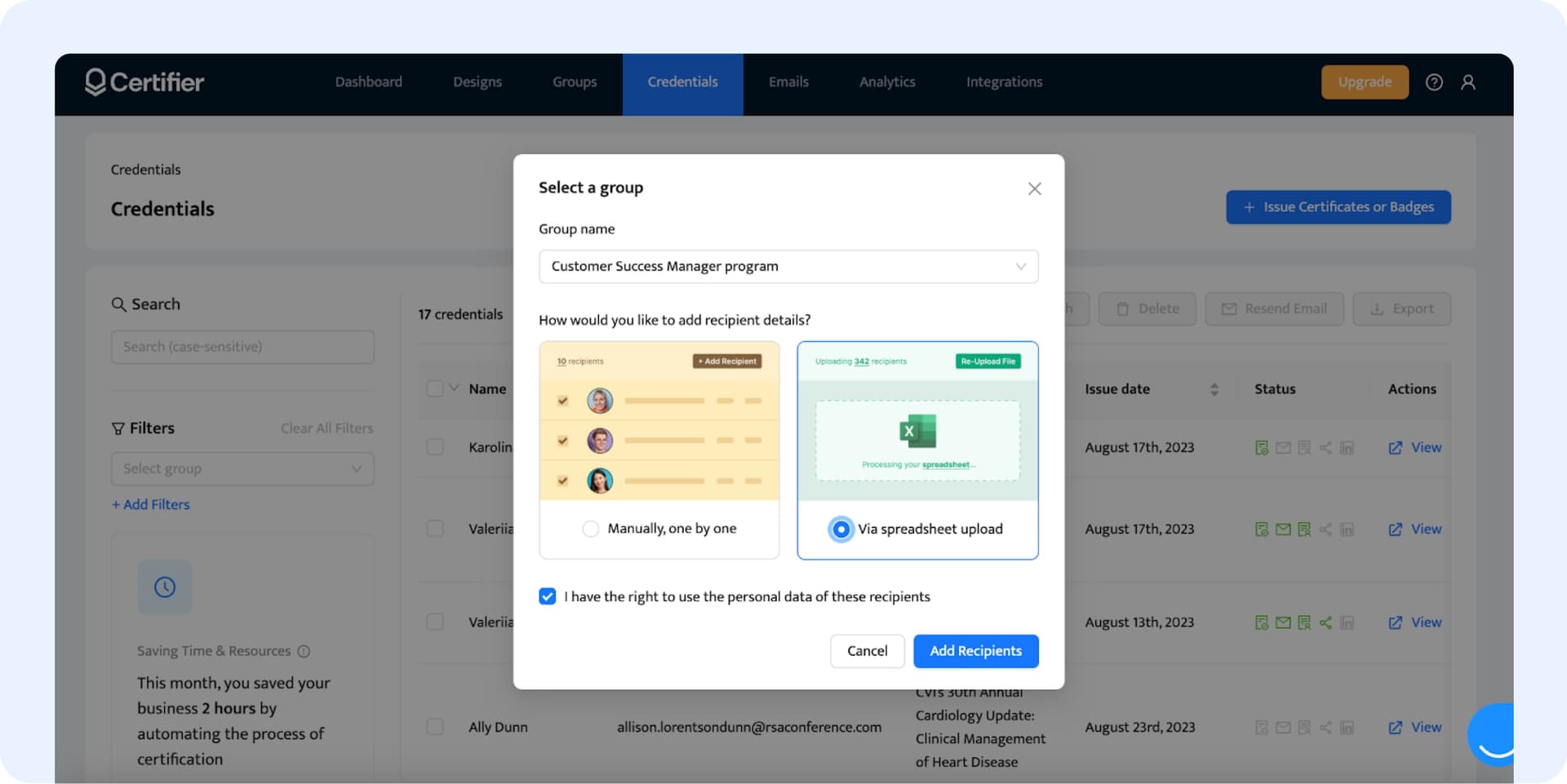 4.2 Prepare a CSV file with recipient data 
To make mass certificate generation faster and easier, create a spreadsheet with recipient data like names, emails, grades, and other relevant information. If you have your recipient data in an LMS or CRM, download it in a CSV or XML format. Then, use Google Sheets or Excel to clean and organize data, removing unnecessary rows and columns. If the first and last names are in separate columns, combine them into a single column before uploading the spreadsheet to Certifier. Also, make sure the final version of the spreadsheet is exported in a CSV format. 
4.3 Add your recipients to Certifier
To add your recipients to Certifier, head to the Credentials tab and click "Issue Certificates or Badges." Pick your newly created group and start adding your recipients' names, emails, and other data. You can add your recipients to the group by typing their details one by one or import the entire list at once from the spreadsheet you prepared. When importing from a spreadsheet, make sure to organize the columns correctly.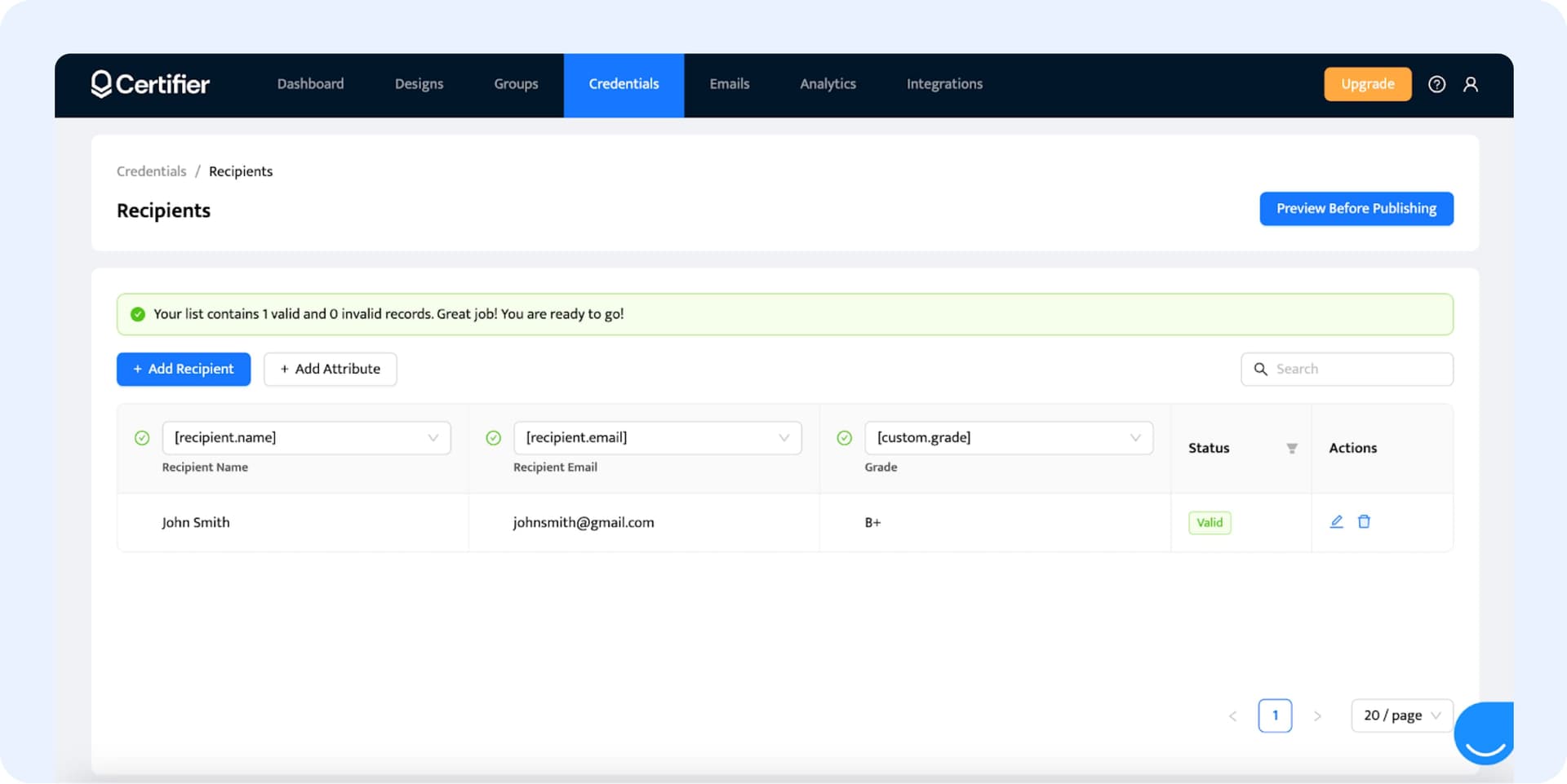 4.4 Preview the certificate with filled data
You can easily preview how your certificate or badge will look with recipients' data. After adding your recipients to the list and filling out the corresponding attributes, click "Preview Before Publishing." This will send you to a preview screen, where you'll be able to see how your filled-out certificate will appear on your recipients' credential portal.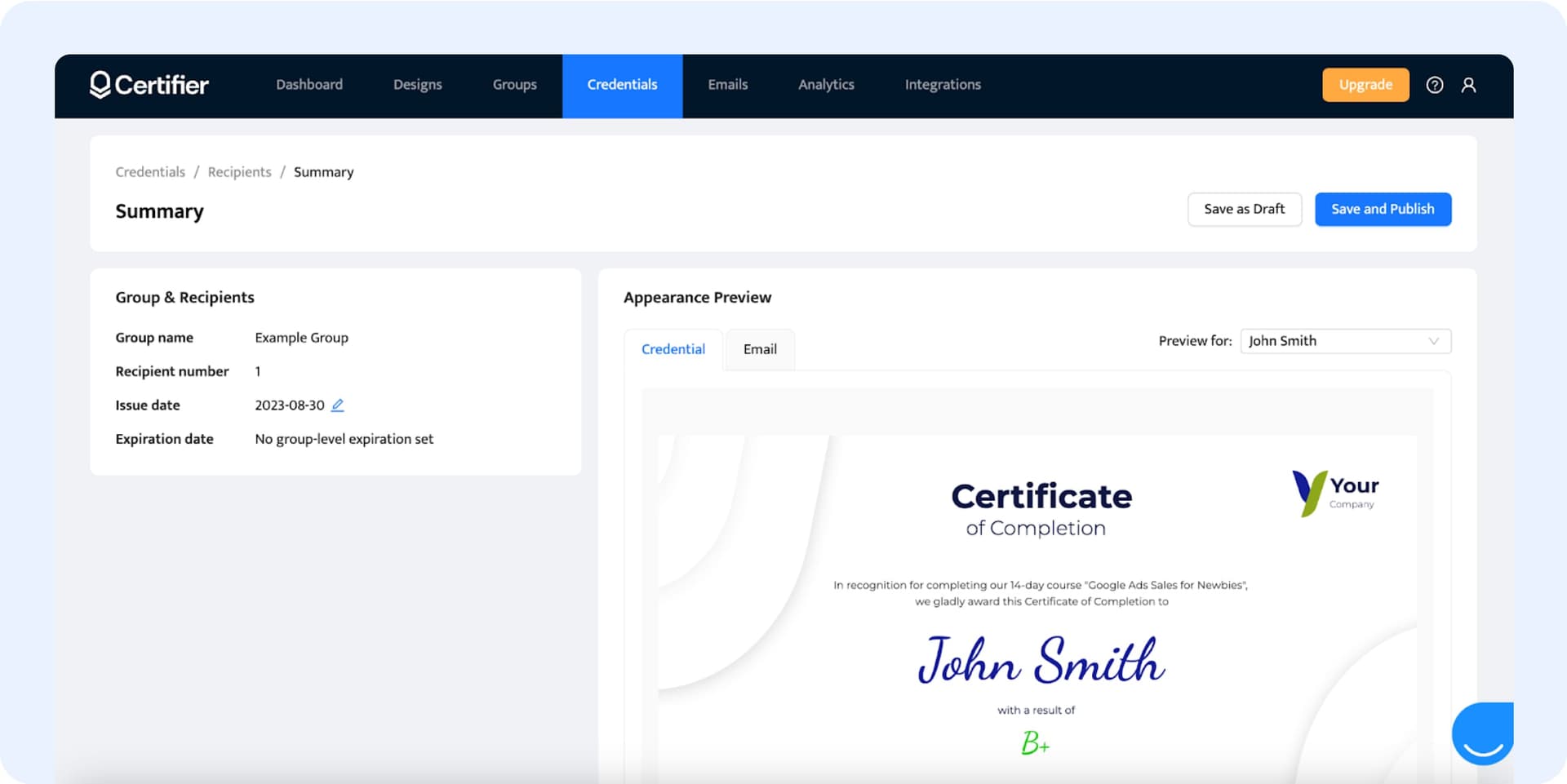 4.5 Send the credentials to your recipients' list
If you're satisfied with the look of your document and spotted no mistakes, click on "Save and Publish" to issue the certificate to your recipients. This will generate multiple certificates at once and send them automatically to your entire recipients' list. Alternatively, you can also download all certificates in a PDF format as a single ZIP file.