The quite troublesome navigation is Creatopy's most common flaw.
It leads many to seek smoother, more intuitive Creatopy alternatives for their certificate design needs.
You've hit the right place to do a market search.
In this article, we're going to introduce you to the top 7 Creatopy, previously known as Bannersnack alternatives – all of which offer something unique to create certificates.
What is Creatopy used for?
Creatopy shines as a dynamic social media graphics creation platform, perfect for crafting eye-catching ads and visuals. It's a playground for creativity. The tool offers a range of templates, animations, and customization options.
But when it comes to certificate creation, it hits a snag.
While you can design a visually stunning certificate, Creatopy doesn't offer distribution features – a crucial miss for those looking to issue and manage certificates easily.
Then there's the issue of limitations. Creatopy offers around 45 certificate document templates, which seems quite a small collection when you compare it to, e.g., Certifier, which has a library of over 300 customizable templates (available in portrait and landscape format). In this comparison, Creatopy doesn't quite measure up.
⛔️ Creatopy doesn't provide a free plan.
Creatopy reviews: What users really think?
Based on user reviews from G2, Creatopy's journey is quite unsteady. A common thread among users is the struggle with its user interface. It's not always intuitive, making some feel lost among all the options. "I don't like having to guess how to do things," one user complains and points out that the FAQs and forums don't always clear up the confusion.

In other words, if you want to design animated ads, Creatopy is your tool. But for certificates that need to go from design to distribution seamlessly, you should keep looking. Creatopy is a powerful tool, but it isn't all you need to get your certificates done.
So, if you're looking for a change, here's the list of Creatopy/Bannersnack alternatives that provide more comprehensive certification options.
#1 Certifier - top Creatopy alternative for certificates
Certifier is a certificate maker that stands out as Creatopy alternative. It's not just about making certificates look good (which it does brilliantly) – but also about how easy it is to manage the certification process with its intuitive user interface.
You've got professional designs to play with in the drag-and-drop design tool. And they're not just the standard layouts. There's a customizable certificate premium template to suit every occasion - classic, abstract, creative, or minimalist. Each one with QR code to add an extra layer of validity.
But the real kicker? Distribution is where Certfier wins. You can send out hundreds of certificates in one go and even keep track of who's received, opened, and shared them on LinkedIn.
Certifier doesn't just do what Creatopy does. It goes a step further. It's perfect for anyone who needs to create and send out certificates regularly and wants to do it without any hassle.
Certifier best features for creating certificates
Beautiful templates – over 300 customizable certificate templates. Whether it's for education, healthcare, or corporate training, you find the design that fits.

Bulk operations – generate and send certificates to emails all at once, saving time and effort.

Tracking dashboard – see how recipients interact with the certificates, e.g., LinkedIn shares, sent status, and bounces.

Custom branding – make each certificate uniquely yours. Add your logo, and tweak the amazing design to fit with your brand identity.

Third-party integrations – supports over 5,000 app integrations via Zapier and API.
Certifier price
Certifier is free for up to 250 certificates per month. Its paid plans start at $33 per month (1,000 certificates & badges). 
#2 Venngage - simple online design tool
Venngage's strength lies in its simplicity and design experience. With its simple interface, the design platform is a good choice for those who might feel overwhelmed by more complex tools.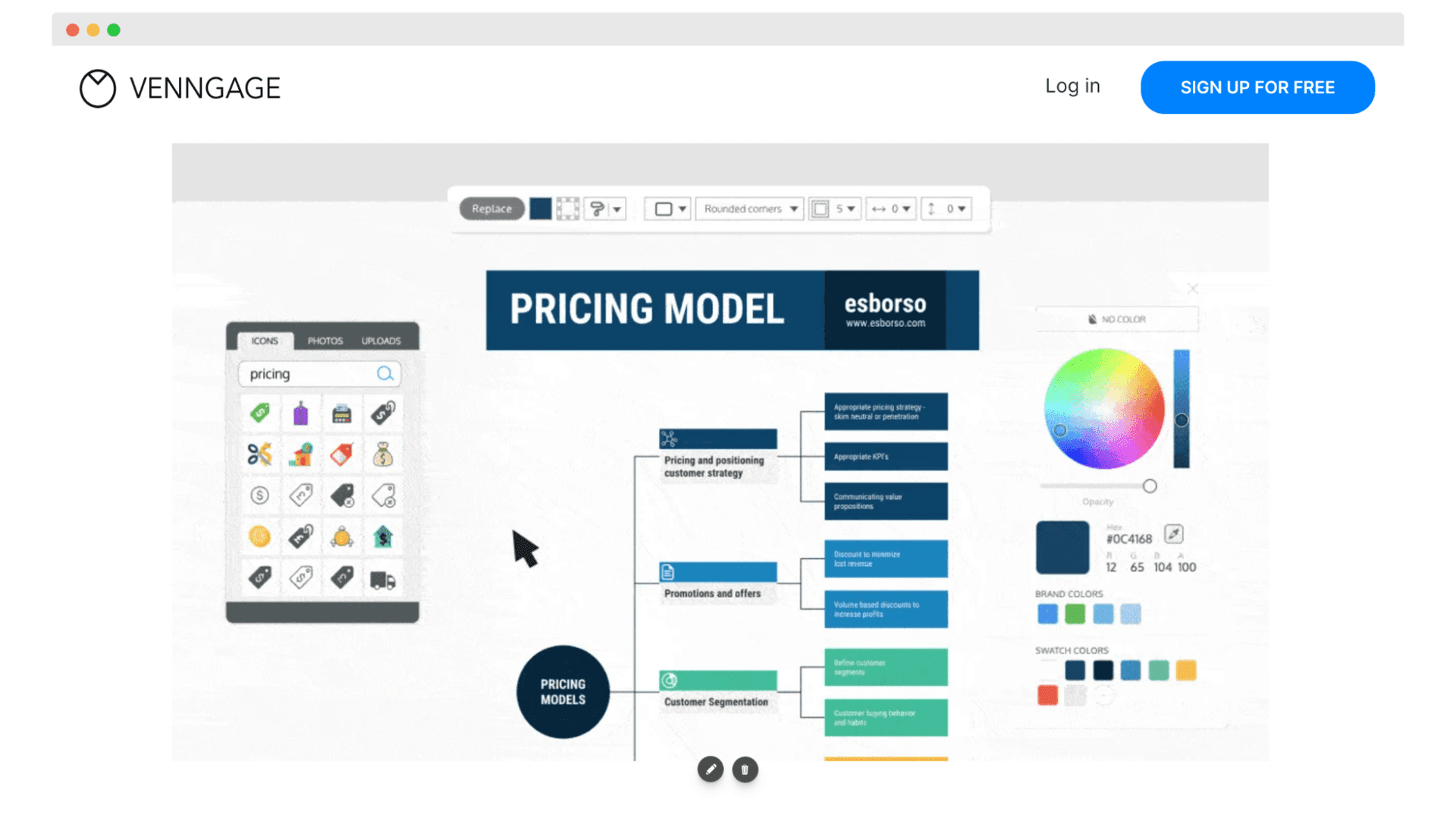 It is straightforward to customize a certificate there. Users can swap out text, change colors, and add elements with just a few clicks.
But, as Creatopy, it doesn't provide advanced features for distribution. It means that once you've created your certificate, you're on your own when it comes to getting it into the hands of recipients. At least you can download it as a PDF or PNG.
Venngage best features for creating certificates
Eye-catching backgrounds – a wide range of colorful and thematic certificate backgrounds.

Decorative icons – each certificate can be customized with specific icons based on its theme.
Venngage price
Venngage is free for up to 5 designs. Then, the prices range from $19 to $499 per month per user.
#3 Adobe Illustrator - advanced graphic design platform
Illustrator, as a graphic design tool, offers a level of precision and creativity for graphic designers that's hard to beat. But, Illustrator as a certificate maker? Well, it's not a plug-and-play solution for visual content like Creatopy. You'll need a good grasp of graphic design skill level to make the most of what Illustrator offers.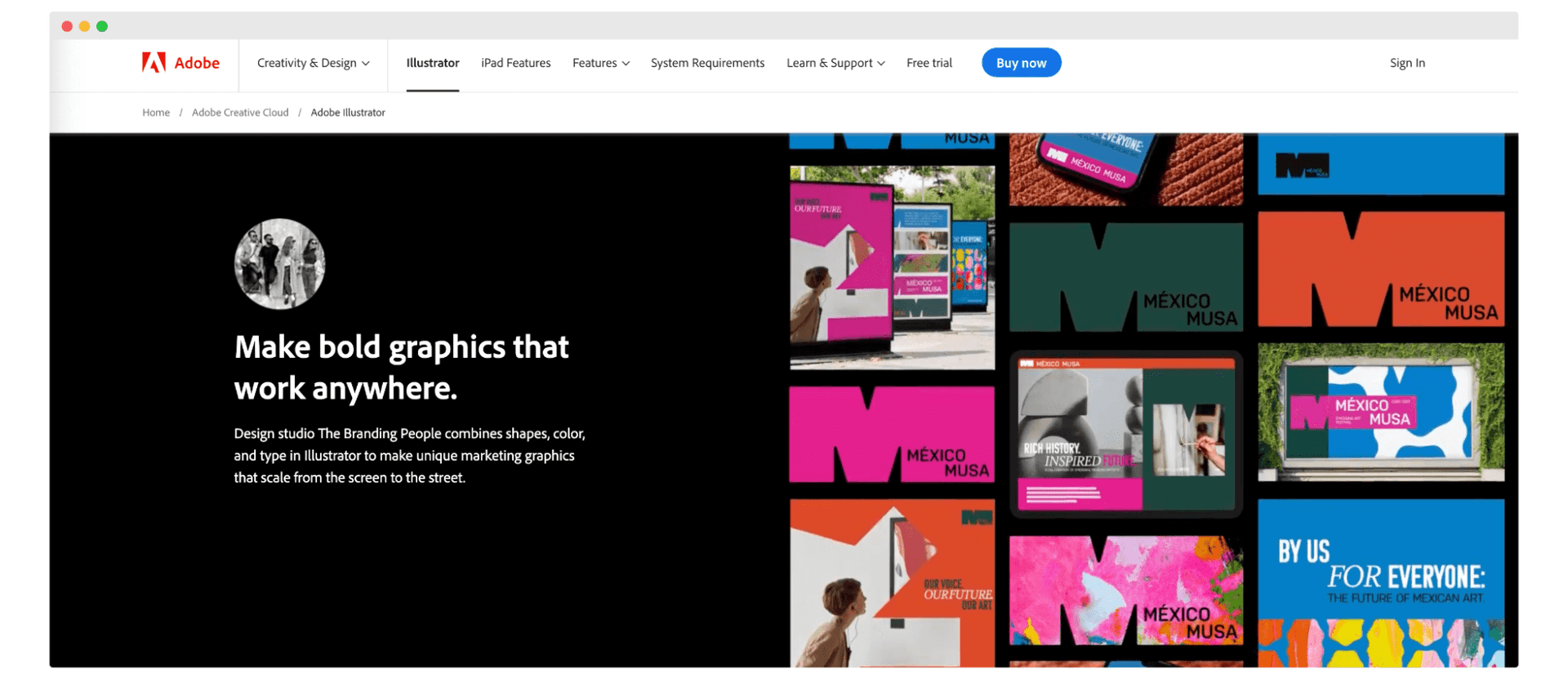 One more thing to keep in mind is that, like Creatopy, Illustrator focuses solely on the design aspect. It doesn't have built-in features for distributing or managing certificates. You'll need to pair it with other online tools to send out certificates effectively.
Adobe Illustrator best features for creating certificates
Precision tools – Illustrator's vector-based environment allows for precise design elements.

Custom illustrations – high-quality illustrations and intricate graphics help make certificates unique.

Printing control – tools and vectors provide high-quality printing.
Adobe Illustrator price
For individual users, Adobe Illustrator comes with a monthly price tag of $20.99. There's also an option to get Illustrator through the Creative Cloud All Apps plan.
#4 Canva - simple graphic design solution for certificates
The Canva app is a cloud-based solution that makes designing certificates a breeze (especially if you're not a designer). It's super user-friendly – you can just jump in, change texts, tweak colors, and add some elements without getting lost in complicated menus.
But when it comes to getting certificates out to people – problems arise.
Canva only allows you to modify and download certificates, not send them. The platform, however, allows you to place an order for professional certificate printing directly via the platform.
So, if you need physical certificates, Canva can be a reasonable choice. But if you're looking for digital certificates and want to be eco-friendly, there are better alternatives to Creatopy out here.
Canva best features for creating certificates
Extensive graphics library – access to millions of photos, icons, illustrations, and vectors.

High-quality printing options – Canva offers high-quality printing services, allowing you to get professional prints of your certificates.

Collaborative design features – multiple users can collaborate on designs in real time.
Canva price
Canva's basic plan is free. Then, there are paid plans – pro (~$112) and for teams (~$250). The prices are for an annual subscription.
#5 Visme - basic certificate creator
Visme is the tool for the ones who prioritize simplicity over advanced design features. The tool allows for basic font, color, and layout adjustments, making it a good choice for straightforward certificate designs.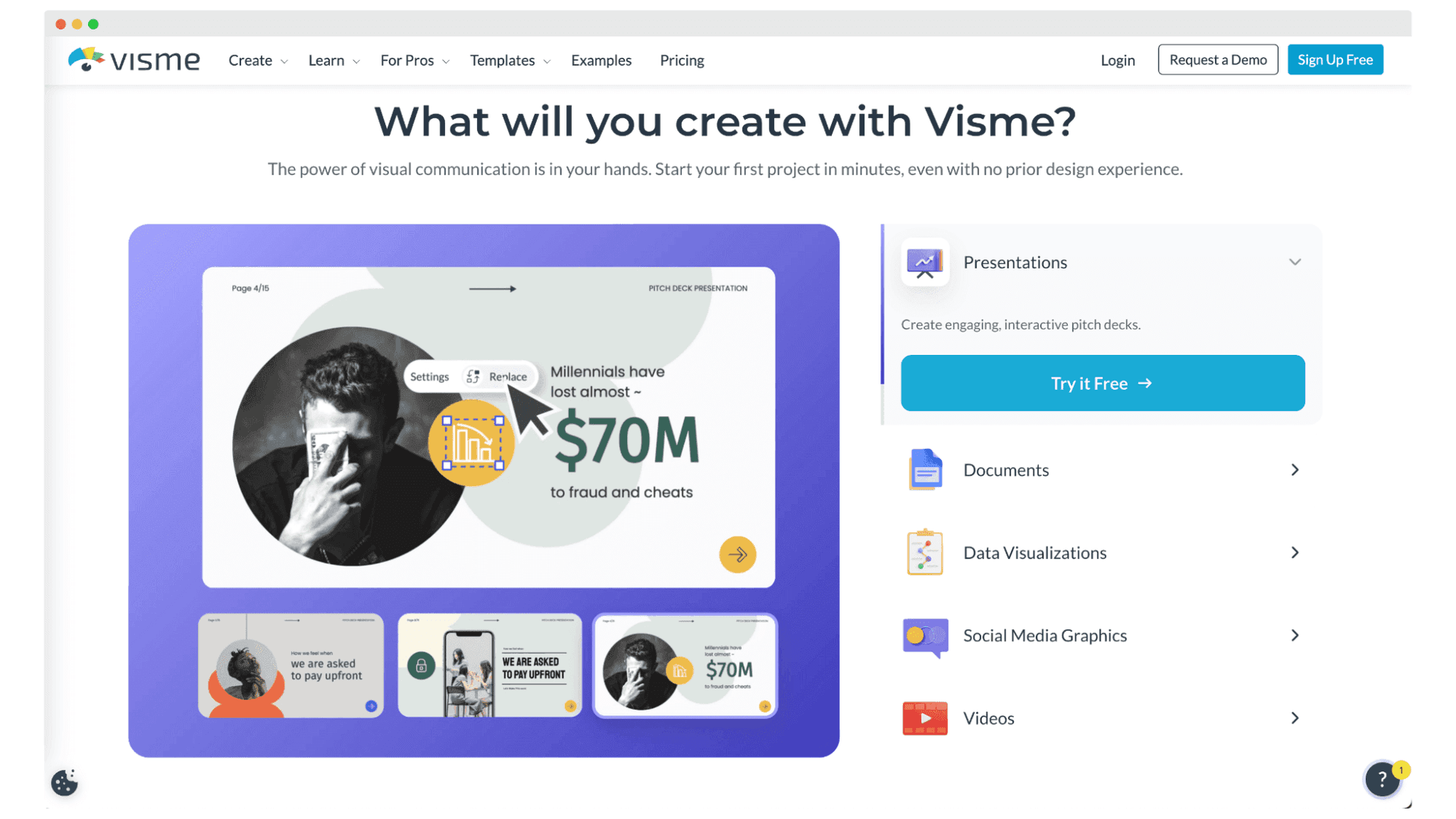 While Visme offers options to download and share certificates, it lacks comprehensive distribution and tracking features for business owners. It won't help you either if you want to create dozens of certificates at once. Each one must be created manually, one by one.
Visme best features for creating certificates
Beautiful templates – wide selection of pre-designed certificate templates.

Additional design adjustments – the ability to tailor every aspect of your certificate to match your brand or personal style.

Easy sharing and printing – bleed-marked PDF for printing or a shareable link for online distribution.
Visme price
Visme provides a free plan. To have access to the premium templates library, you must subscribe to one of the paid plans ranging from $29 to 59 per month. A custom plan is available for teams.
#6 Abyssale - simple editing tool
Bannersnack alternatives often included Abyssale. It's the solution that provides powerful creative tools, such as text decorations, patterns, shadows, masks, and shapes. In short – all you need to create certificate.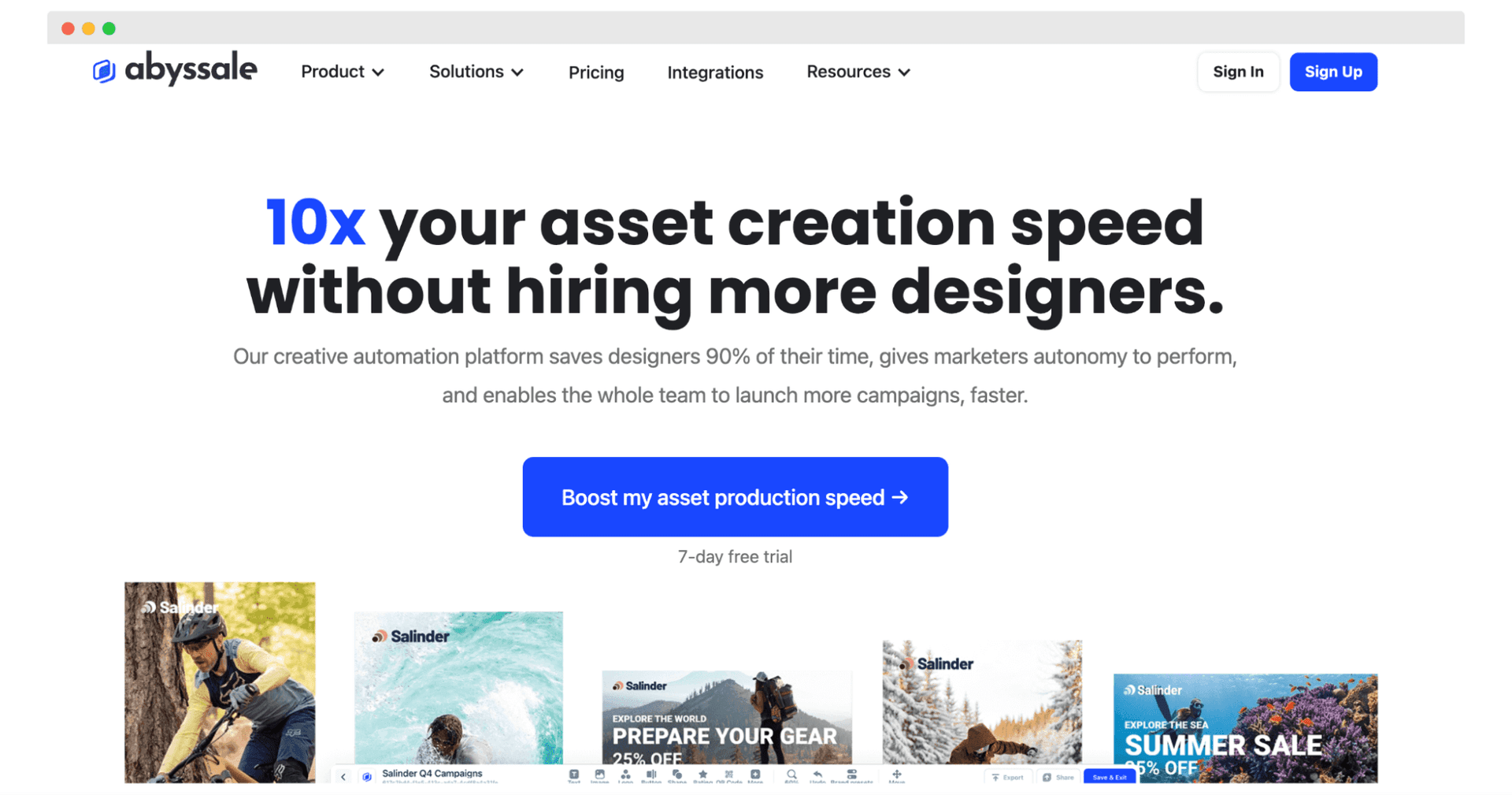 But, Abyssale is designed mainly to streamline and speed up the design process. However, crafting certificates demands a more precise approach and design requirements, and Abyssale's automated nature might not hit the sweet spot here.
Abyssale best features for creating certificates
Creative automation – the ability to automate the design process, which can significantly save time for designers and streamline asset production.

Multi-format campaign support – possibility to handle campaigns across multiple formats for various platforms and sizes.

Marketing autonomy – the ability to create and deploy creative assets independently.
Abyssale price
A month Abyssale's pricing model ranges from $49 to $299. Custom pricing for enterprises is also available.
#7 VistaCreate (Crello)
VistaCreate is a handy graphic design software for making certificates as it offers a mix of pre-made templates and a range of editing options. It's a good choice for both – quick designs and more detailed projects.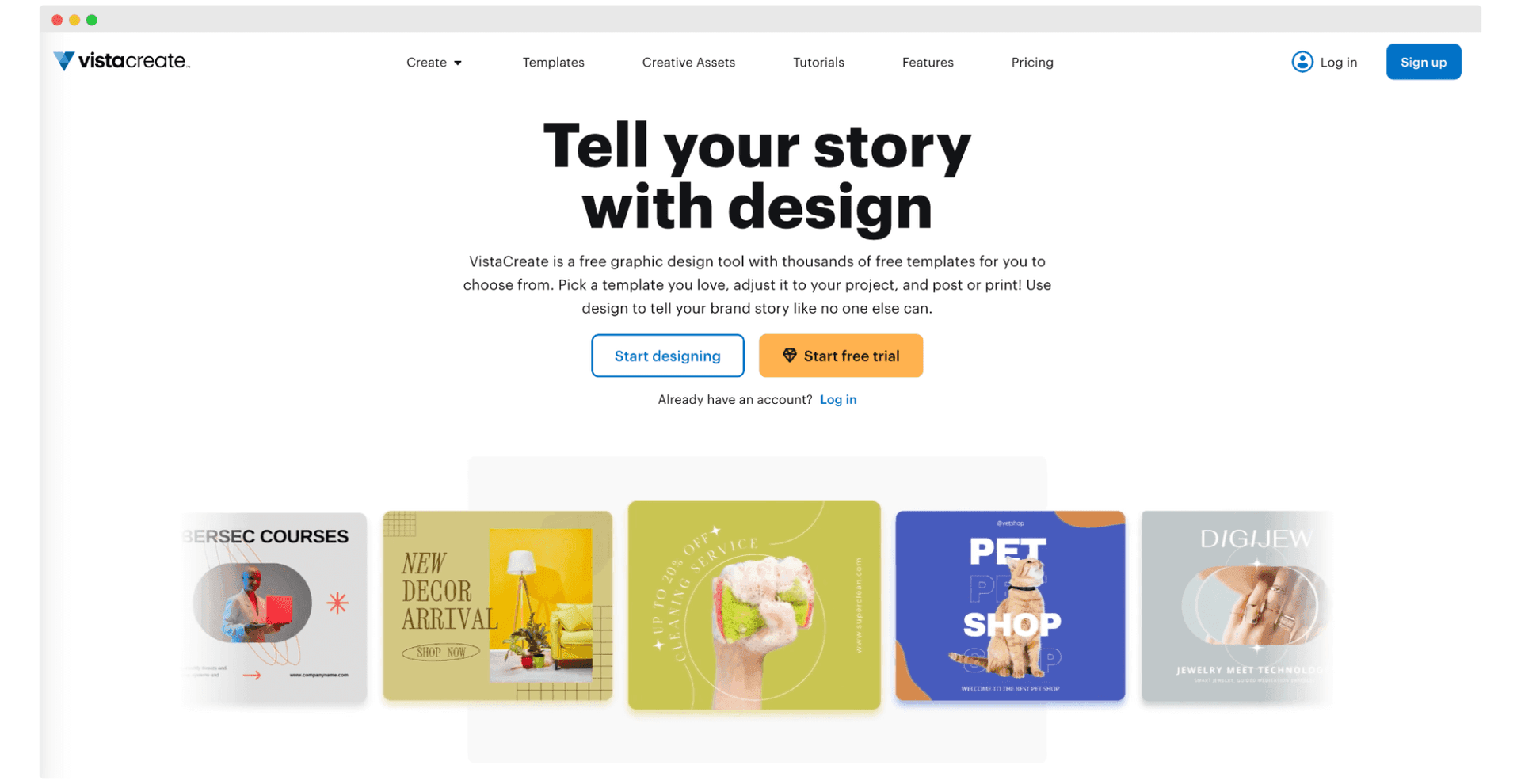 You can use the tool for the creation stage but not for sending certificates. It allows you only to download the design in PDF Print format. Professional certification also requires advanced safety features, which VistaCreate does not supply.
VistaCreate best features for creating certificates
Advanced editing tools – fast background remover, a wide range of stunning design objects, and options to experiment with color palettes.

Font variety and customization – over 680 fonts available in 25 languages.
VistaCreate price
There are two VistaCreate plans available – Starter ($0) and Pro ($13). There is a monthly billing cycle for both.
Your dream Creatopy alternative
And there you have it – the complete comparison of all Creatopy alternatives worth considering. They are all different, and each will cover a different need. Have you found your perfect match yet?
If not, start with Certifier. It's a robust certificate maker to gives you a complete design experience. It allows you to create, manage, and distribute certificates seamlessly. Join for free today.
Share this article

WRITTEN BY
Sergey Butko
Tech entrepreneur. Forbes 30 Under 30 Europe. Digital Marketer.