Webinars have become one of the most powerful forms of content marketing within digital marketing strategies. No wonder you want to learn how to use them for your online courses.
However, organizing a webinar can be a challenge if you don't have a reliable webinar tool. Knowing that we created a list of the most useful and handy webinar tools on the market. Read this article to discover the most recommended platforms for creating webinars that exist today.
Learn more: How to improve the effectiveness of your online webinar
In addition, we will analyze their pros so that you can choose the one that suits you best. Shall we start?
The 6 most popular webinar tools
Without further ado, let's look at popular webinar tools and what they have to offer.


Webinar Jam - powerful webinar platform
This list couldn't start with any other but one of the leading webinar platforms at the moment - Webinar Jam. This solution has emerged as a simple and very intuitive tool for organizing webinars. In fact, with Webinar Jam, you can set up a webinar in just a couple of minutes.
WebinarJam integrates seamlessly with Facebook's tracking pixel (a great advantage if you run social media ads campaigns). Never forget how important it is to track any user behavior.
You can use Webinar Jam to organize live course classes or record them and share them with course participants later. It also enables interactive classes, where students can ask questions or even take over the floor during the course. Integrations with popular marketing automation tools will help you ensure course attendance.
Pros of Webinar Jam:
Up to 5,000 members in the room (in the Enterprise plan) with the option of screen sharing or PowerPoint presentations.

It's compatible with all browsers, devices, and operating systems. In addition, it does not require any software downloads to attend an online course.

Enables sharing files with attendees.

Great customer support.

Automatically record the webinar so attendees can watch it again.

Live chat with moderators. Private messaging and polls to facilitate interaction.

Up to 6 presenters on one screen, perfect if you want to organize a round table or panel discussion.

Allows an attendee to become a presenter temporarily.

Integrations with popular email marketing tools such as Active Campaign.

Live broadcasting on YouTube or Facebook Live channel.

Allows you to generate pop-up offers during the webinar to encourage conversions.

You can schedule a webinar for a specific date and time, and you can even trigger email or SMS reminder notifications for attendees.

The webinar registration landing page is customizable (colors, texts, logo, images, etc.).
GoToWebinar - everything you need for webinars
GoToWebinar is one of the first webinar platforms that were available for video creators. It is focused on companies with large marketing budgets. In short, it's a solid and reliable tool with a multitude of useful features.
You can also use it to organize an online course, but remember that this solution is rather pricey, making sure it won't exceed your marketing budget. GoToWebinar supports conversions and enables you to send reminders to course attendees. Polls and surveys during webinars will be a great help in engaging course participants.
Pros of GoToWebinar:
Up to 2,000 members in the room (in the Pro plan) and 5,000 (in the Enterprise plan).

Allows you to share videos.

Integrations with marketing automation and CRM tools.

Automated email invitations, confirmations and reminders to attendees.

Polls and surveys during and after the webinar.

Webinar recording and uploading of pre-recorded webinars.

Simple configuration. Just choose the date and time, and the system will guide you step by step.

24/7 support is excellent.

Detailed attendee reports and webinar statistics.
Learn more: Best Free Webinar Software Solutions in 2021
Webinar Ninja - built for teaching, not meetings
If you are looking for an attractive, easy-to-use, and affordable webinar tool, WebinarNinja should be on your radar.
It's a solution suitable for people who are just starting off with their online course. It's easy to set up and enables automated replays, which is super useful for courses you want to reuse multiple times. If you want to monetize your webinar further, Webinar Ninja is a solution for you - you can present offers during courses and conduct polls before, during, and after your online course.
Pros of Webinar Ninja:
Up to 1,000 participants (Power plan).

Quick to set up. As the platform itself promises: you can create your webinar in as little as 10 seconds.

Automated and hybrid webinars, i.e. you can run fully automated replays on a specific schedule or combine live and pre-recorded elements.

Insert video into the presentation and instant screen sharing.

Scheduled offers to show at any time during the webinar.

Conduct multiple polls before, during and after the webinar.

Customized registration landings.

Analytics dashboard that breaks down presentations, registrations, offer clicks... With the ability to export data.

Integration with more than 1,000 apps through Zapier.

It does not require the attendee to install any software or plug-ins to access the webinar.
EasyWebinar - Easy-To-Use Webinar Software
Another solution to energize your webinar without complicating your life and without the need for you to be an expert in organizing webinars is EasyWebinar.
It's great for live online courses because it enables live chat and screen sharing options to increase attendees' engagement. It can be used on the go due to the availability of the mobile app.
Up to 2,000 members in the room (in the Enterprise plan).

Live interactive chat and screen sharing options.

Live and simultaneous broadcasting through multiple social media platforms such as YouTube Live, Facebook.

Allows up to 4 presenters who can use their own camera and microphone and share their screen.

Enables webinar recording and downloads.

Mobile app is available —no software or plug-in download is required by the viewer.

Integrations with various software types like GetResponse, Stripe, PayPal, ThriveCart, ConvertKit, or Mailchimp.

Any attendee can become a presenter.
Learn more: 10 Free Certificate Templates for Webinars
Demio - effective webinars with less work
One of the latest additions to this list of the best webinar tools is Demio. It's a fairly new platform, but it offers many advantages.
It can be used to organize courses with fewer participants, but with a really high-quality provided by HD video streaming. It also offers public and private chats, so attendees can discuss with each other and also ask a presenter questions that are not visible to other participants.
Pros of Demio:
It allows up to 500 participants (enterprise plan).

It offers live, automated, pre-recorded, or hybrid webinars.

Customizable registration pages and automatic email reminders sent to registered users.

HD video streaming and recording are guaranteed by cloud hosting.

Countless integrations with third-party tools such as MailChimp or ConvertKit.

Private and public chats.

Allows launching offers with CTA buttons and interactive surveys and questionnaires with statistics to evaluate audience participation.

No need to download additional software.
Zoom - host webinars that put your presenters
The well-known Zoom video conferencing tool is also one of the best platforms for creating webinars and online courses. It is intuitive and has a very easy-to-use interface. One of its great advantages is that it allows you to make free webinars with a maximum duration of 40 minutes and a number of attendees of less than 100.
Zoom is widely used in corporate settings that require maximum data security. If you use Zoom to organize your online courses, you will make them highly accessible because Zoom is available on all platforms and devices. It's also a great solution for webinars that are not prepaid since it offers an integration with PayPal that you can use to collect webinar registration fees.
Pros of Zoom:
Allows up to 1,000 participants (Enterprise plan).

Easy customization of registration forms.

Offers private and public chats.

Ability to share screens and make annotations on it while sharing.

Works on all platforms and devices.

Integration with Paypal, which allows you to collect a webinar registration fee.
What are all these tools missing? A certificate maker!
Yes, you read it correctly - none of these tools provides you with an option to create certificates for webinar or course attendees. But you are lucky - there's a solution, a certificate creator, you can definitely add to your marketing tech stack - Certifier.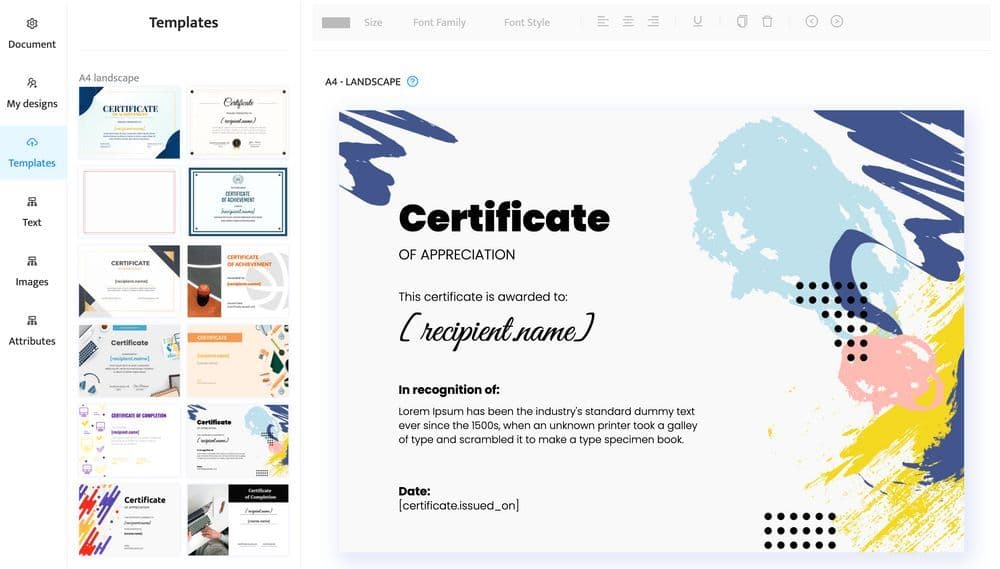 This certificate creator is easy to use and navigate, and it handles all of the steps of the certificate creation process conveniently. Certifier stands out among other online certificate makers due to its vast library of free certificate templates that are available to users.
If you don't want to use a ready-made certificate, the Certifier's powerful visual editor allows you to design your own certificate without relying on pre-made templates. You can use dynamic elements to populate your certificates with data once they look is ready. This feature allows you to create personalized and customized certificates.
Learn more: How to Create and Send Certificates for Webinar Attendees
What makes it even more unique and useful is the fact that it provides an option to send issued certificates automatically. You can then send them in bulk via an email sender built into the application.
Created certificates can also be downloaded and saved in a variety of formats, including PDF and ZIP. This is a missing piece in the operations around your online course.
Wrap up
To assess which webinar tools meet your requirements, it's best to use free trials each tool offers and test them. This way, you can check these solutions out before upgrading to a paid plan and make sure that your choice is the right one.
As you can see, the choice of tools and platforms for creating webinars, whether free or paid, is really vast.
Now that you know which ones I recommend, it's your turn: test, compare, and analyze until you find the one that best suits your business and enables you to organize the best online courses. And don't forget to create certificates for your online course attendees!
Share this article

WRITTEN BY
Sergey Butko
Tech entrepreneur. Forbes 30 Under 30 Europe. Digital Marketer.