Organizing an event requires a lot of work. Regardless of whether it's a webinar, workshop, or course – all of them demand preparation. For sure, you want your course to be interesting and knowledgeable, so you spend hours preparing it.
Also, promoting such events before is time-consuming and takes effort. We can help you to save the valuable time that you can spend developing your skills or just perfecting your course – read on.
Is making DIY certificates a challenge? 
A lot of things have to be done and remembered before your event takes place. 
First, you have to consider 
the topic 

the best way of sharing knowledge 

how to organize the teamwork to be the most beneficial for the attendees 
and it's just the tip of the iceberg.
After such an effort, making certificates seems to be a challenging task. Creating certificates without a proper tool can be extremely time-consuming. Doing it from scratch on your own can ground you for even a couple of days. You have to design the template and fill in all the details. 
Sounds like a lot of work, especially if you have a lot of attendees. There is no point in doing it manually and spending hours or even days on creating certificates. And finally, at the end of the workshop, you have to send them to participants. 
It doesn't have to take you hours or be a challenge. Why? Because Certifier will help you to make certificates in… 15 minutes!
Yes, only 15 minutes.
What is Certifier?
Certifier is a professional certificate maker. You can generate any type of certificate and make it fast by sending them in bulk to your attendees by email address in a few clicks. It is really easy and accessible for free. A user-friendly interface enables creators to create the certificates as they like using the builder.
Benefits of certificates
Because creating digital certificates is a challenge, many organizers decide to give up on this idea. You don't need to give up because it takes so long. A reward in the form of certificates gives a lot of benefits.
Digital certificates are proof of competence. People choose to attend some events to have proof of gained knowledge. It is very often a decisive factor whether to attend the course or not. 

Courses with certification are also perceived as more reliable.

Some people just give up during the course or conference. A guarantee of receiving certification will increase the motivation to complete the course.
Also, Certifier enables participants to share their certificates on social media, which is a nice way of promoting your business.
See? Only 15 minutes and so many benefits. 
How to make certificates in 15 minutes in 5 easy steps
Let's cut to the chase and show you how to make certificates in 15 minutes, step by step, using the example of Digital Marketing workshops.
Step 1. Sign up
If don't have an account yet, sign up for free, as it only takes a couple of minutes. 
Right after you log in to your account, you will receive a short survey. Providing that information is really helpful in adjusting the platform to your needs. It takes only a moment. 
Step 2. Make a list
In the beginning, make sure you have a list of your participants. It's good to have a list in the CSV file with 2 columns: one with participants' names and another one with their email addresses. Then upload the spreadsheet with the data. 
Step 3. Design from scratch or choose a template
Once your account is ready, we can start to design custom certificates. Think of the conception of the certificate. How would you like them to be? Elegant, simple, maybe colorful? What would be a certificate title?
With Certifier, the design experience is an enjoyable process. You can create the certificate as you like. The design you create can be used for future certifications. If you don't have time to create them from scratch, you can find many certificate design templates in our gallery.
Go to the Design tab

Click on Create Design

and have some fun!
With this online certificate maker, you can choose a free, ready template. There are many certificate template options that you can tweak when needed. It's all up to you.
If you are about to hold a marketing workshop, you can choose a universal template and change it to fit your workshops. Decide what information you would like to have on certificates.
Then add attributes in the Settings tab. These elements are used to create and personalize issued certificates. Thanks to this option, you can send a certificate by mail automatically.
To issue certificates in this way, you must upload the CSV file with Recipients' Names and Recipients' Email addresses provided. Then add dynamic attributes with participants' names and their email addresses.
You can make a certificate from scratch with Certifier as well. All you need to do is to upload the background. Then, adjust the text – what information to include and where it should be.
While placing, you don't have to worry that something is placed awry or the gaps between the texts are uneven. The guiding lines will let you align the text.
If you need to, add some pictures to your digital certificate. It is a great idea to add an element that reflects the topic of the conference. If you have a picture on your computer, upload it to Certifier and place it on the certificate. 
So now change the text as you like. Decide on the branded font – its size, type, and color theme. Italics? In bold? Underlined? It is all up to you.
Dynamic attributes also work while creating the certificate from the ground up.
Then, give the dynamic attributes – names of the participants and email addresses. It's a vital step that determines sending the emails in bulk. Next, click on Validate & Preview. Now you can preview the certificates. If everything is correct, click Save and Publish or Save as Draft.
Step 4. Make a customized email template
When you send the certificates, you can include a personalized template with information about the finished course.
Go to the Emails tab.

Choose the group.

Click the General tab to fill in the Template name, Email subject, and choose Email branding.

In the Element tab, you can change the button and the image.

Use dynamic attributes.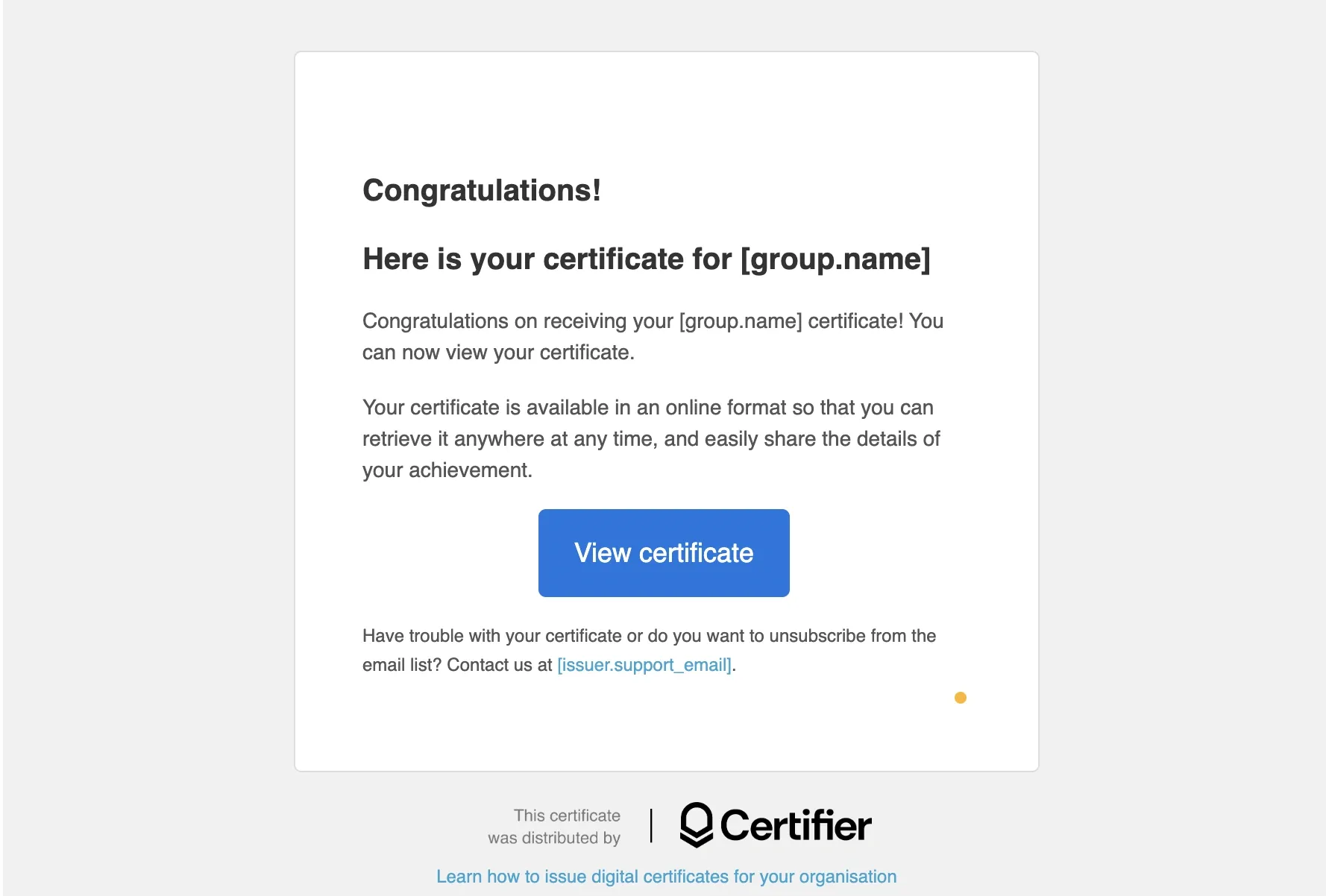 Would you like to create a custom email template? Click here for a Professional certificate editor plan. It provides:
high quality for printing 

editing and deleting certificates

engagement analytics

LinkedIn certificates

exportation of your data

visual Email Branding

custom attributes

custom sender details
Step 5. Send certificates in bulk
Everything is almost ready. All you need to do is to send the certificates. No worries, everything happens automatically. You uploaded the spreadsheet with recipients' names and email addresses, so it is almost ready. Click Publish and Send and let the magic happen. The certificates are in attendees' mailboxes. 
Remember to choose a suitable format for printing. Certifier can create a PDF file or JPEG documents with certification for you. It's good to remember to choose the format suitable for printing.
If you need more information about sending certificates in bulk ➡️ How to Use Dynamic Attributes to Create and Send Certificates in Bulk.
Useful checklist for creating certificates even faster
If you are in a hurry, here is a list of what you should pay attention to while creating certificates. We want to make the process as short as possible.
Make sure your digital certificate is 
easy to read – keep it clean

and not too wordy – include only the necessary information 

like your business card – make it eye-catching and professional
Certifier enables participants to share their digital certification, so there's a high chance that many people will see the certificate. Take advantage of it and treat the certification as your business card. Try to evoke in people good association with your company by making your certificates visually attractive.
You can edit already published certificates
If you need to change something after issuing the certificates, now you can! No more misspelled names. It is a new option that Certifier provides. And it also can be done with a few clicks: 
Go to the Certificates tab.

Choose the certificates you want to edit.

Make any necessary changes.

Click on Update.
And the certificate is ready to resend.
Check the certificates before publishing
Thanks to the Certificates Preview feature, you can check what they would look like before sending them to recipients. After creating a certificate, click Save without Publishing. Then you can preview unpublished certificates and check if everything is correct. 
Attendees can add their certificates to LinkedIn
People love the share their achievements. That's why we made it easy for your participants. After receiving their digital certification, they can share it on LinkedIn. That's great for you as an organizer because the shared online certification can generate new leads. Digital certificates work as a reward for attendees, and also they promote your business. (Don't forget to add these leads to your CRM software to make sure these prospects don't go stale.)
Get marketing insights thanks to Certifier
You can see how many certificates were shared on LinkedIn. Certifier is also a tool for tracking participants' engagement after the conference. You can analyze:
how many people share certificates

how many sent certificates were opened

how many email addresses were incorrect
These all are vital data points to get marketing insights and make data-driven marketing decisions.
DIY certificates on every occasion
With Certifier, you can create certificates on every occasion – webinars, workshops, conferences, award certificates, or even an academic certificate. All those beautiful certificate templates can be created in one place. 
Certifier is a great tool to generate digital certification if you need that type of document for your conference, course, workshop, webinar, or any of the events. Certifier, as a certificate generator, has thousands of printable certificate templates ready to use.
With us making awesome certificates is not a challenge anymore. Start today and sign up for free.
DIY certificates FAQ
Can I make my own certificates?
Yes, you can. You just need basic editing tools, and you can create certificates in minutes. By covering the simple steps mentioned above, you can make an amazing self-designed certificate.
How do I create a printable certificate?
If you use such a certificate creator as Certifier, there is no problem with creating designs that you can easily print. Just download the finished certificate to the PDF file and print it. Ensure that your certificate colors will look good when printed.
What program can I use to make certificates?
There are many advanced design tools available on the market. One of them is Certifier which offers a selection of certificate templates you can use to create your perfect certificate without having to learn Adobe Photoshop or Illustrator. Aside from that, it has additional tools, such as bulk certificates and automatic name changes.
Share this article

WRITTEN BY
Sergey Butko
Tech entrepreneur. Forbes 30 Under 30 Europe. Digital Marketer.