An honor roll certificate is a powerful tool in the realm of academic recognition. It's a custom-designed, printable certificate that serves as an award for students who have shown exceptional hard work and dedication in their studies.
Often available in PDF format, this certificate template can be downloaded and printed on 8.5 x 11-inch paper, making it an easy way for educators to recognize the academic success of their classroom superstars.
What is an honor roll certificate?
An honor roll certificate is a customizable, printable award given to students for outstanding academic achievement. It's an excellent way to recognize hard work and encourage further excellence. With printable honor roll awards, you can quickly re-create school certificates and achieve straight A's by giving your students a custom blank certificate.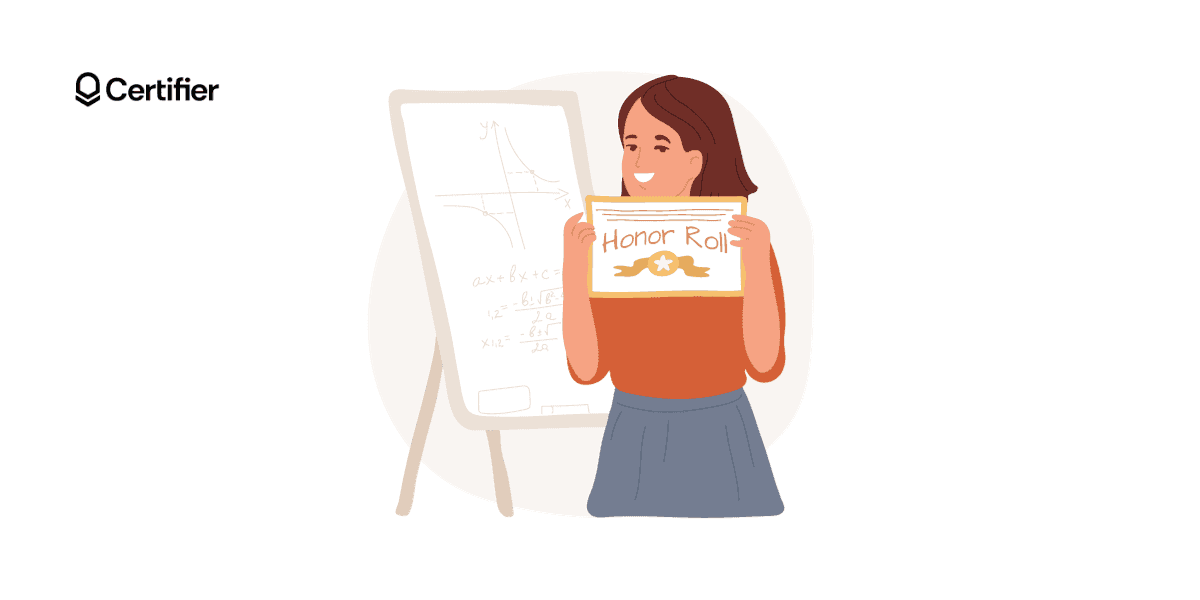 Benefits of issuing an honor roll award certificate
Honor roll awards come with many benefits. Here are a few of the most notable.
Boosts self-esteem and GPA
Honor roll certificates boost a student's self-esteem and contribute to their grade point average (GPA). It's a great way to recognize the dedication and hard work they've put into their academic success.
Encourages consistent studying
The prospect of earning an honor roll certificate encourages consistent studying and academic excellence. It sets a standard that students aim to meet, like achieving straight A's.
Enhances educational resources
The certificate comes with a customizable design, allowing educators to personalize it with the student's info, the date of the award, and their own signature. It's a valuable addition to a student's educational resources. It can also be emailed to the rightful owners, verified by using real time email validation.
Fosters long-term achievement
The honor roll certificate is not just for the end of the semester or trimester; it's a reward that students will cherish for years to come. It serves as a lasting recognition of their accomplishment.
Where can you use honor roll certificates?
Ever wondered where those shiny honor roll certificates can make a real impact? Let's explore the perfect moments and places to showcase these symbols of excellence.
In the classroom
The classroom is the most common setting where honor roll certificates are issued. Teachers can easily print these certificates, often two per sheet or even in half-page sizes like 8.5 x 5.5 inches, to recognize achievement.
During award ceremonies
Honor roll certificates often come in three levels – bronze, silver, and gold, making them perfect for end-of-year award ceremonies. A free printable honor roll can be given alongside medals to celebrate various levels of academic achievement.
For scholarships and academic recognition
These certificates can be used in scholarship applications to prove academic success. They are often available in generic templates, allowing for fields you write in to be edited as needed. They can be given at the end of the school year. 
Online and digital platforms
In today's digital age, students can also showcase their honor roll certificates on online portfolios or even social media. Adobe software can be used to edit PDF files, making it easy to customize the design. 
Get your free printable honor roll certificate template
Creating a stunning honor roll certificate doesn't have to eat up your time. With Certifier, you can create a professional-looking certificate in a flash.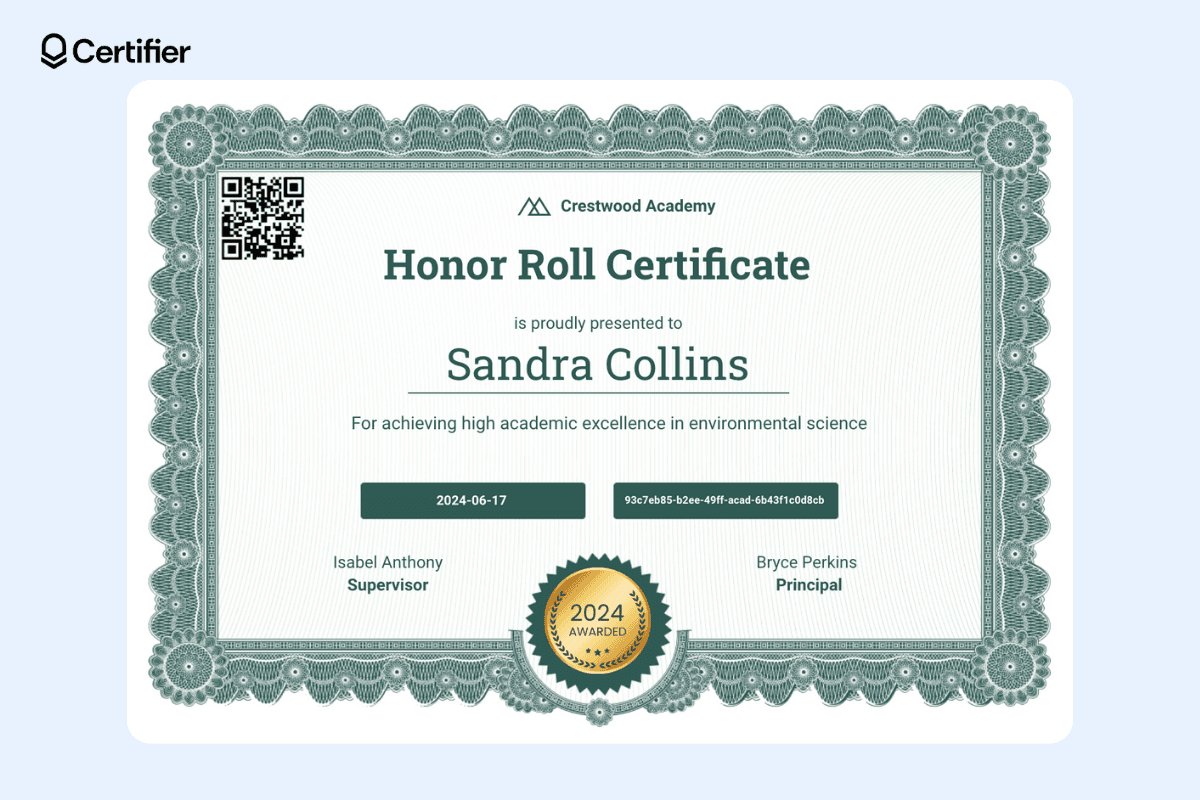 [Get free honor roll certificate template]
Here's how to create a printable honor roll certificate template.
Pick your style. Choose from hundreds of pre-designed templates. Find one that speaks to you and your institution's vibe.

Become a member. Just a quick sign-up to the Certifier and its super intuitive editor.

Make it yours. Tweak, adjust, and personalize. Add your school's logo, play with the colors, and make that certificate truly unique.

Print or send them out. You can download ready certificates to PDF. Send those certificates with one click, whether to one student or the whole class. You can track how your recipients interact with their certificates thanks to Certifier's handy analytics.
Conclusion
An honor roll certificate is more than just a piece of paper. It's a testament to a student's academic achievement, hard work, and dedication.
With various options for customization, from the border to the grade and even the pack it comes in, it offers an easy way for educators to give students the recognition they deserve.
So, whether it's rewarding students for perfect attendance or for what it takes to achieve straight A's, this certificate is a great way to celebrate accomplishments, both big and small.
So, fire up Certifier tool and start giving your students the recognition they've earned!
Share this article

WRITTEN BY
Sergey Butko
Tech entrepreneur. Forbes 30 Under 30 Europe. Digital Marketer.